Once Upon a Farm Launches New Organic Baby Food Subscription Box Program
SAN DIEGO, CALIF.– Once Upon a Farm, pioneer of cold-pressed, organic baby foods for all stages of infant development, unveiled its new Subscription Box Program enabling parents nationwide to access the company's farm-fresh fruit, veggie and superfood blends from the comfort of their homes in a few simple clicks. Each Subscription Pack includes 24 re-sealable pouches and is fully customizable, allowing shoppers to tailor not only the frequency of their deliveries but the box contents to their personal needs. The new service is available exclusively through www.uponafarm.com, for $59.95 per shipment (a savings of 17 percent off retail), and includes free shipping.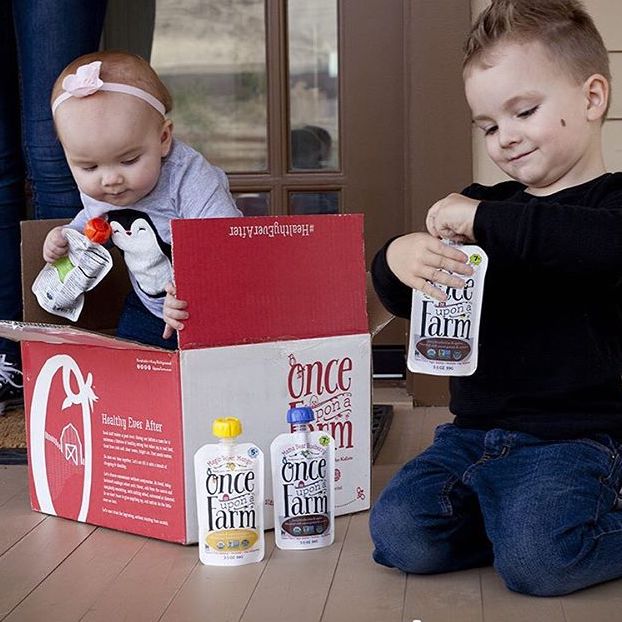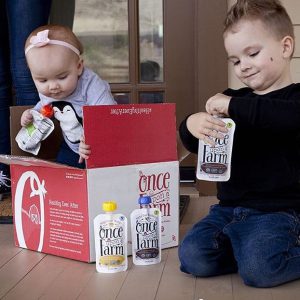 "Once Upon a Farm grew out of my passion to give my babies the best nutrition possible. As a busy working mom, making their food from scratch wasn't always realistic, and the shelf stable options lacked the ingredient integrity and transparency I was looking for," said Cassandra Curtis, co-founder and COO of Once Upon a Farm. "I know firsthand how difficult it can be to ensure little ones get the high-quality, real food nutrition they need, and parents shouldn't have to choose between convenience and giving their child the best nourishment possible. Our new Subscription Box Program is a first-of-its-kind that I hope will empower parents everywhere to choose wholesome, organic food for their babies since we've finally developed a way to make it easy and accessible for all."
Once Upon a Farm's new Subscription Box Program is available for the brand's entire portfolio of 12 flavorful and wholesome, ready-to-eat meal pouches, including Simply Pure (for 5+ months) in Magic Velvet Mango and The Fairest of Pears; Simple Meals (for 7+ months) in OhMyMegaVeggie, Green Kale & Apples, Mama Bear Blueberry and Wild Rumpus Avocado; Hearty Meals and Textures (for 9+ months) in Carrot-y Coconut-y Quinoa, Just Right Porridge, Gold-y Mango & the 3 Coconuts, Caroberry Mousse and Sun-shiny Strawberry Patch; and Meals and Sweet Alternatives (tots 2+ years) in Chocolate Ever After. First time shoppers are offered a free trial of up to eight blends, and after will be auto-enrolled in the full subscription plan where they can easily build their Once Upon a Farm Subscription Box online in three easy steps:
Choose Your Blends – Customize the pack by selecting up to eight flavors (three of each for a total of 24).
Delivery Schedule – Choose a frequency from every two, three, four or five weeks.
Preview & Place Order – The first custom shipment will arrive within one week.
No Commitments: Pause, resume, or cancel your shipments at any time.
All Once Upon a Farm foods are USDA Certified Organic, Kosher, and Non-GMO Project Verified, and are free from any processed purees, concentrates or preservatives. Unlike traditional shelf-stable baby food, Once Upon a Farm foods must be refrigerated as they are made with high pressure pascalization (HPP); a cold pressure process that preserves the nutrients, flavors, aromas, colors and textures of the whole, fresh ingredients. The result is a one-of-a-kind baby food that delivers optimal taste and palate development. Once Upon a Farm's unique BPA-Free Certified pouch packaging also encourages self-feeding, while offering flexibility and convenience whether at home or traveling. The blends can also be left un-refrigerated for up to four hours, taken on-the-go with an ice pack, or frozen and thawed to accommodate mealtimes anywhere at any time of day.
Once Upon a Farm is available online through the brand's website, as well as at traditional grocers nationwide including Wegmans and Kroger, as well as select Whole Foods Markets. For more information on Once Upon a Farm, its products and ingredients, please visit www.uponafarm.com.
About Once Upon a Farm
Once Upon a Farm is the pioneer of early childhood nutrition, offering 12 specially designed blends of whole fruits, vegetables and superfoods, specifically customized for three of the most important nutritional stages of an infant's life. All blends are free of concentrates, preservatives and processed purees, and are infant nutritionist certified and pediatrician recommended. Unlike typical shelf-stable baby food, Once Upon a Farm uses high pressure pascalization (HPP), which preserves the flavors, aromas, colors, textures and nutrients of the whole ingredients. Packaged in convenient, refrigerated and re-sealable pouches, Once Upon a Farm is USDA Certified Organic, Kosher and Non-GMO Project Verified. To learn more about Once Upon a Farm, visit www.uponafarm.com, 'like' us on Facebook or follow us on Twitter and Instagram.