subscription
Once Upon a Farm, pioneer of cold-pressed, organic baby foods for all stages of infant development, unveiled its new Subscription Box Program enabling parents nationwide to access the company's farm-fresh fruit, veggie and superfood blends from the comfort of their homes in a few simple clicks. Each Subscription Pack includes 24 re-sealable pouches.
A year after launching with its first coffee expressions, Carta further expands its offerings with the release of Meridian, its lightest roast to date; a new signature Side-by-Side (SBS)Tasting Sampler featuring different roasting styles and a coffee subscription service for fans wanting seamless ordering.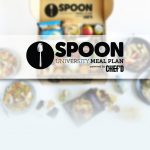 Spoon University, a food-focused media company aimed at millennials, is helping brands reach those hungry college students. The company announced earlier this month that it's joining forces with Chef'd, an online meal kit marketplace, to launch a meal kit subscription service specifically designed for college students.