The Perfect Bite Co Introduces New Line of Sophisticated Cookies
Glendale, CA– The Perfect Bite Co continues to build its brand by launching a new line of Sophisticated Cookies. All three flavors are inspired by quality, high end ingredients that complement our premium line of frozen appetizers. Cara Bates, VP of product development at The Perfect Bite Co explains:
"We are building our brand to be the go-to destination for entertaining by expanding into other categories that will provide our customers with a full range of party ready solutions. Our chefs created this line of sweet and savory sables inspired by European flavors. Each cookie features an herb or a spice that distinguishes them from any other ordinary cookie. Our sophisticated cookies come in three flavors: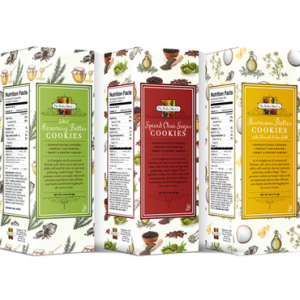 Salted Rosemary Butter
Parmesan Butter with Fennel and Sea Salt
Spiced Chai Sugar
We suggest serving these unique cookies with tea or coffee, alongside a cheese board, for any occasion that calls for dessert, or at any party whether you are serving or attending! We strive to make The Perfect Bite Co signify quality and convenience. Our mission is to make a trusted connection with our customers through great food that they are proud to serve to their friends and family."
These cookies will also be available in a beautiful gift pack featuring all three flavors.