Hammond's New Mellow Fluffs Offer a Flavorful Twist on Traditional Treat
DENVER– Hammond's Brands, the parent company of Hammond's Candies, Old Dominion Peanut Company, and McCraw's Candies, today announced the launch Mellow Snacks, its newest brand that features a line of innovative and better for you snacks. The new Mellow Snacks line launches with Mellow Fluffs, handmade marshmallow snacks that pair innovative flavors with the sweet, gooey goodness that consumers know and love. Renowned for its inventive candies that pay tribute to traditional treats, this latest release demonstrates Hammond's Brands ability to branch out of confections and into the ever-popular snacking category.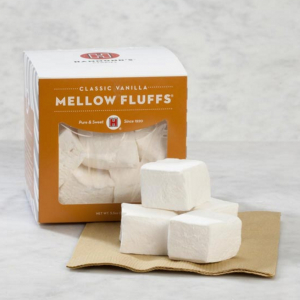 Mellow Fluffs are marketed as a better for you snack, with only 100-calories-per-serving. Marshmallows are available in six delightful flavors: Toasted Coconut, Birthday Cake, Vanilla Bean, Key Lime, Snickerdoodle, and Mocha Latte. These snackable marshmallows are packaged in 6-per-case 4 oz. re-sealable pouches that retail at $3.99 with strong profit margins and promotional programs, making them an ideal addition to grocery, club, drug, mass, and specialty store stock.
"There's a reason that almost 80% of the US population exceeds the recommendations for added sugars1: Our nation has a sweet tooth!" said Andrew Schuman, Hammond's President and CEO. "A serving of Mellow Fluffs offers a healthier way to get a sugar fix without sacrificing the marshmallowy flavor that snackers love. Even those with the most severe New Year's resolutions will appreciate this new line!"
With the Mellow Snacks line, the innovative and forward-thinking Hammond's forges a new frontier, filling a niche that combines sweetness with a savory twist and addresses the rise of snacking as a must for increasingly busy consumers. The next wave of the line's snacks will hit the shelves in the form of Mellow Pop, Mellow Chips, and Mellow Crunch in early 2018.
About Hammond's
Hammond's Candies began delighting candy lovers with artisan candy canes, beautifully spun ribbon candy, and larger-than-life lollipops when it was founded by the Hammond family in 1920, making it Colorado's favorite handmade confectioner for decades. In 2007, the company became the Hammond's that it is today through its acquisition by current President and CEO Andrew Schuman, growing from a much-loved, local candy company to a leading gourmet sweet provider with national regard (and has doubled the number of employees). Since then, Hammond's has gone on to acquire such companies as McCraw's Candies in 2010 and Old Dominion Peanut Company in 2012 as well as to gain impressive recognitions for their brand packaging and product innovation.
Stop by the Hammond's booth in January 2017 at the Winter Fancy Food Show to see how the confectioner maintains a commitment to using the same old-fashioned recipes and fresh ingredients even as it grows and expands it product lines. Follow Hammond's Candies on Facebook at http://www.facebook.com/hammondscandies and on Pinterest at http://pinterest.com/hammondscandies/ to stay up to date on their latest releases. More information is also available at www.hammondscandies.com or by calling 1-800-CANDY-99 (1-800-226-3999).