The Freezer Forecast: DeeBee's Organics Launches Unveils New Creams and Super Fruit Freezies
ANAHEIM, CA. — DeeBee's Organics, a manufacturer of organic snack foods both shelf stable and frozen treats, expands their line of Organic TeaPops with two new revolutionary treats, Organic Super Fruit Freezies and Organic Coconut Creams. Be the first to taste what' s in the store for this summer at Natural Product Expo West, Booth #4682 from March 10 to 12, 2017.
Make room in your freezer for DeeBee' s NEW! shelf stable, Organic Super Fruit Freezies made from 100% fruit juice, no sugar added and absolutely free from artificial flavors and sweeteners. They are sweetened naturally with nothing but organic fruit juice and purees. Shelf stable and ready to be frozen at home, Organic Super Fruit Freezies are available in gusseted bags of 12 delicious bars with three juicy flavors, Tropical, Grape and Strawberry. Also, perfect for keeping lunch boxes cool and to be enjoyed as a snack time slushie.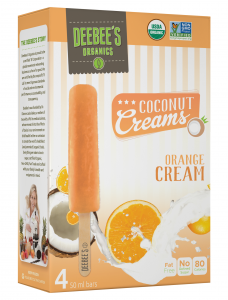 With two soda-fountain inspired flavors of Strawberry Shake and Orange Cream, NEW! Organic Coconut Creams are the luscious, non-dairy frozen treat you' ve always dreamed of. Rich and creamy, sweetened with organic fruit and a tiny bit of organic unrefined cane sugar, these guilt-free treats are under 90 calories. Now, you can enjoy a creamy frozen treat that is non-dairy and vegan too!
"DeeBee' s Organics is proud to offer consumers a selection of the healthiest treats on the market," says Dr. Dionne Laslo-Baker, the creator of DeeBee' s Organics. "First with our award winning TeaPops, and now Super Fruit Freezies and Coconut Creams, you can finally say yes to freezies and popsicles without worrying about artificial ingredients or refined sugars. A freezie or popsicle can be a healthy and nutritious treat for anyone."
Made delicious from simple to pronounce ingredients, DeeBee' s products are made with real ingredients and no antibiotics, no hormones, no chemicals, no pesticides, no preservatives and no genetically modified ingredients. Packed with organic fruit, coconut cream, juices and purees, DeeBee' s entire lineup of products are bursting with natural vitamins, minerals and antioxidants. All DeeBee's Organics products are organic, non-GMO, vegan, dairy-free, gluten-free, kosher parve and fair trade.
"We' re excited to be back at Expo West and to be a part of the greater movement towards clean, natural and delicious food for families everywhere," says Dionne. "DeeBee' s is committed to disrupting the food industry by setting a new standard and pushing the boundaries of what is possible for a food manufacturing company."
As a certified B Corporation, DeeBee' s is a new type of business with higher standards of transparency, accountability and performance. All of DeeBee' s ingredients are ethically and sustainably sourced from trusted farms with organic and Fair-Trade practices. DeeBee' s believes in creating delicious and nutritious treats, as much as they believe in positively impacting the environment and society. If you' re attending Natural Products Expo West, stop by and taste all of DeeBee' s refreshing and delicious treats at Booth #4682 from March 10 to March 12. DeeBee's New Organic Super Fruit Freezies and Organic Coconut Creams will be hitting freezers this April. TeaPops are available at select retail and natural food stores and locations including Whole Foods, Bristol Farms and HEB. For more information about DeeBee' s Organics or to arrange an interview, please contact: Shari Cogan, on behalf of DeeBee' s Organics, shari@coganpr.com, 416-985-2360.
About DeeBee' s Organics
DeeBee' s Organics is leading the shift to healthy, conscious eating, by creating clean, nutrition-focused food for kids and adults alike. DeeBee' s Organics first product, TeaPops was the world' s first organic, Non-GMO verified, unrefined frozen treats made from antioxidant-rich tea and fruit. Many of the desserts in your local grocer are filled with refined sugar, unidentified "natural flavors,"and artificial colors. Made with only the highest-quality certified organic and ethically-sourced ingredients, DeeBee' s are good for the whole family and the planet. Founded in 2012 in Victoria, B.C. Canada, by Dr. Dionne Laslo-Baker, DeeBee' s is a certified ' B' Corporation, and a ' Women Owned Business' . Visit www.deebeesorganics.com. ABOUT THE NATURAL PRODUCTS EXPO WEST: Showcasing more than 2000 exhibits, the Natural Products Expo is the world' s largest natural, organic and healthy products trade show. The event is hosted at the Anaheim Convention Center located at 800 W. Katella Ave., Anaheim, CA 92802 from March 10 to March 12. Visit www.expowest.com.