Bixby & Co. debuts Bixby Bites: Organic, Craft Candy Snack Bar Minis
Rockland, ME (May 23, 2016) — For consumers eager to indulge, satisfy and energize one bite at a time Bixby & Co. announces Bixby Bites™: .5 oz single-servings of handcrafted certified organic craft candy snack bars. Bixby Bites are available in the NEW milk chocolate peanut flavor Nutty For Me™ and its dark chocolate equivalent Nutty For You™, which was the recipient of the prestigious 2016 Good Food Award™ in the confections category.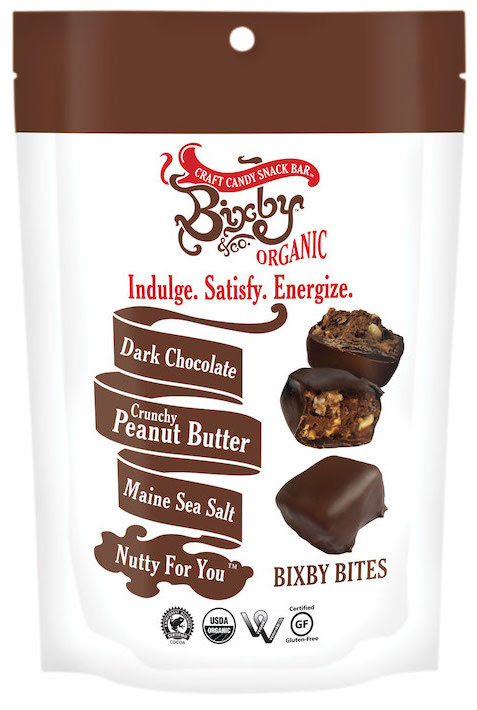 "We get it, sometimes you just want a small treat," said Bixby founder Kate McAleer. "Our new Bixby Bites™ offer that and protein and fiber to help satiate hunger cravings. We've also added the milk chocolate version of our most popular bar, Nutty For You™, so that everyone can enjoy a satisfying treat."
Bixby Founder Recognized by Tory Burch Foundation
For her ingenuity and business savvy, McAleer was awarded a prestigious 2016 Fellowship with the Tory Burch Foundation, a national program that invests in the success and sustainability of women-owned small businesses by providing access to capital, entrepreneurial education, mentoring and networking opportunities.
"To be a recipient is an incredible honor," McAleer adds. "With the foundation's support we can focus on Bixby's three business goals: innovation, growth and brand building."
Manufactured in a historic refurbished ice factory on the waterfront in scenic Rockland, Maine, the organic Nutty For You™ bar was singled out by the Good Food Awards™ for its superior taste, nutritional value and commitment to social responsibility. According to McAleer, the 1.5oz Nutty For You™ and Nutty For Me™ bars have five times as much protein (5g/serving) and four times as much fiber (3g/serving) as most standard candy bars. In addition to its organic certification, the Nutty For You™ and Nutty For Me™ bars are also is certified Kosher, Non-GMO Verified, certified Gluten Free, and Rain Forest Alliance™ certified. All Bixby Bars are made without corn syrup, palm oil, artificial flavors, artificial colors, preservatives or additives.
Nutty For Me™ and Bixby Bites™ will be available nationwide in August. For wholesale inquiries contact kate@bixbyco.com. Visit BixbyCo.com for more information.
About Bixby: One hundred percent women-owned, Bixby & Co. was founded in 2011 by Kate McAleer in Rockland, Maine. Constantly inspired by her mother's courageous response to living life to the fullest with chronic cancer, Kate developed a line of better-for-you craft candy snack bars, called Bixby Bars for the natural candy market. With a degree from New York University and a certificate in pastry art and culinary management from Institute of Culinary Education, Kate also is the winner of the 2015 Maine Young Entrepreneur of the Year Award. Bixby & Co is a recipient of Whole Foods Market's Local Vendor Loan program. Bixby Bars are available online and in Whole Foods Market, Sprouts, Natural Grocers by Vitamin Cottage, Giant, Stop & Shop, and other leading natural, organic and specialty food stores; and through distributors including UNFI and KeHE.