Bare Snacks Partners with Bear Naked For Custom Made Granola Ingredient Options
San Francisco, CA (Nov. 17, 2016) – Bare Snacks®, creator of delicious Snacks Gone Simple®, is giving snack lovers everywhere a reason to rejoice with the availability of its new line of bare Organic Coconut Chips as an add-in ingredient to Bear Naked® Custom Made Granola blends. Customers can now choose from three on-trend bare coconut chip flavors – Toasted, Coffee Bean, and Sweet Ginger – to customize their Bear Naked granola at BearNakedCustom.com.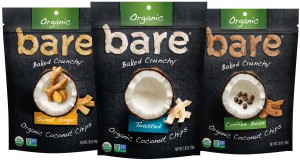 "People today love mixing up snacks that uniquely reflect their own personal preferences and palates. Our exclusive partnership with Bear Naked Custom Made Granola lets anyone invent their own snack creation by adding our boldly flavored coconut chips to their one-of-a-kind blends," said Dana Cohen, director of marketing at Bare Snacks. "Whether they want to snack straight from the canister or use their creations as a topper for yogurt or smoothie bowls, the combinations are endless."
Bare Toasted, Coffee Bean and Sweet Ginger Organic Coconut Chips are three of 50 Non-GMO Project Verified ingredient options available through Bear Naked's custom granola platform, ranging from jalapeños to pomegranate to bourbon flavor. The perfect gift for food lovers this holiday season, Bear Naked Custom Made Granola blends are easy to create: 1) choose between three granola bases; 2) mix and match three additional ingredients such as bare Organic Coconut Chips to create the perfect ingredient pairings; 3) complete the order by personalizing the canisters. Shoppers can also maximize their custom snack experience by utilizing IBM's Chef Watson, a cognitive computing system that sorts through thousands of possible flavor combinations to suggest a match tailored to each person's distinct preferences.
A healthier alternative to traditional chips, bare Organic Coconut Chips are made from naturally sweet and sustainably harvested USDA Certified Organic coconuts that are sliced fresh and baked to a crunch using a proprietary baking process. Seasoned with whole-food ingredients, bare Organic Coconut Chips are also Non-GMO Project Verified, gluten-free, and contain no added oils or preservatives.
Available only online, each 11-ounce canister retails for $9.99.
About Bare Snacks: Bare Snacks® is a line of delicious Snacks Gone Simple®, including bare Apple Chips, Coconut Chips and Banana Chips. Crafted using only real, whole-food ingredients, Bare Snacks helps consumers enjoy truly good-for-you snacking any time of day. Bare Snacks is on a mission to create a snacking revolution nationwide, motivated by a founding philosophy of creating delicious snacks with simple ingredients and nothing artificial ever. The company is also deeply committed to sustainability, and has been carbon neutral since 2012. To learn more, please visit www.BareSnacks.com, follow us on Twitter, Instagram, or Pinterest, or 'Like' us on Facebook.
About Bear Naked: Bear Naked offers a full line of granolas and snack bars made with big, delicious chunks of nature to deliver epic taste. Launched in 2002, the company is passionate about creating great-tasting foods everyone can enjoy, and is best known for its signature, soft-baked granola made from real whole grains and minimally processed ingredients. Today, Bear Naked has evolved into a nationally-recognized consumer brand whose food is available across the U.S. For more information, visit www.BearNaked.com.