Oscar Meyer Adds New Varieties to P3 Portable Protein Packs Line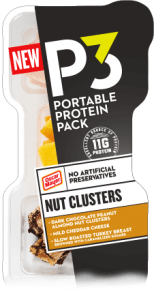 MADISON, Wis., July 14, 2015 /PRNewswire/ — After a wildly popular launch in 2014, Oscar Mayer is building the P3 Portable Protein Packs family with two new varieties, Nut Clusters and Grill Snackers, that add even more excitement to the protein snacking category. Each new combination offers three delectable flavors, while still packing a protein punch perfect for on-the-go power snacking.
Similar to the original line, all new P3 Portable Protein Packs contain meats with no artificial preservatives and at least 10 grams of protein. New items include:
P3 Nut Clusters: Similar to the original line of P3, Nut Clusters include the protein power team of meat, cheese and nuts, but with crunchy mixed nut clusters

Slow Roasted Turkey Breast, Mild Cheddar Cheese and Dark Chocolate Peanut Almond Nut Clusters
Applewood Smoked Turkey Breast, Sharp Cheddar Cheese and Peanut Almond Nut Clusters
Brown Sugar Ham, Mild Cheddar Cheese and Peanut Almond Nut Clusters

P3 Grill Snackers: The natural lean protein found in delicious grilled chicken strips, served alongside delectable complimentary dipping sauces

Grilled Hickory Chicken  Breast Strips with Sweet Barbecue Dip
Grilled Hickory Chicken Breast Strips with Lite Ranch Dip
Grilled Teriyaki Chicken Breast Strips with Asian Toasted Sesame Dip
"We initially developed the P3 line in response to growing demand for more protein options during snacking," said Kaz Gunay, Brand Manager of P3 Portable Protein Packs.  "We received such a great response in year one that we felt it was only natural to add more flavors and combinations, giving protein-seekers even more options for snacking."
In its second year, Oscar Mayer is continuing to support P3 through a fully integrated marketing campaign, emphasizing the ingredients, meat, cheese and nuts, as the "Original Protein." In a marketplace full of protein-filled powders, goops and gels, P3 offers at least 10 grams of protein per serving. Taking nutrition back to its roots, the protein in P3 comes from foods that are rich in protein: meat, cheese and nuts, or in other words, the original protein.
The campaign is supported through TV spots developed by McGarry Bowen, a series of social content created by 360i, and a fake workout trend video created by Olson Engage, all geared to encourage consumers to stick with the "Original Protein."
P3 Portable Protein Packs are available nationwide and can be found in the refrigerated meat case at grocery and convenience stores. A single, two ounce pack retails at $1.79. Visit www.ProteinProteinProtein.com for more information on various product offerings.
About the Kraft Heinz Company
The Kraft Heinz Company (NASDAQ: KHC) is the third-largest food and beverage company in North America and the fifth-largest food and beverage company in the world, with eight $1 billion+ brands. A globally trusted producer of delicious foods, The Kraft Heinz Company provides high quality, great taste and nutrition for all eating occasions whether at home, in restaurants or on the go. The Company's iconic brands include Kraft,Heinz, ABC, Capri Sun, Classico, Jell-O, Kool-Aid, Lunchables, Maxwell House, Ore-Ida, Oscar Mayer,Philadelphia, Planters, Plasmon, Quero, Weight Watchers Smart Ones and Velveeta. The Kraft Heinz Company is dedicated to the sustainable health of our people, our planet and our Company. For more information, visit www.kraftheinzcompany.com.