Chia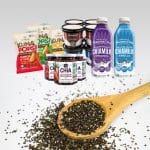 The small but mighty chia seed has increasingly moved beyond beverages, bars and the bulk bin toward savory snacks and breakfast food as consumers seek added function from everyday foods. But after a temporary boom in attention during the middle of the last decade, under brands like Health Warrior, the Chia Company, and Mamma Chia, the ingredient still hasn't fully reached the masses.
Kunachia, the first brand in the US to create a superfood blend that combines chia with a probiotic, launched a quinoa and chia seed processing plant earlier this month in Ambato, Ecuador. The launch of the plant will help, 1500 agricultural families secure jobs producing chia and quinoa.
Mamma Chia, the pioneer of the chia revolution, is launching a new line of Organic Chia Vitality Bars with just four grams of sugar. The organic bars combine nutrient-rich chia seeds with almonds, peanuts, pecans, quinoa, popped sorghum, brown rice crisps, and a touch of sea salt. Each nourishing bar provides 1000mg of Omega-3s, as well as protein and at least four grams of fiber
Cabo Chips is introducing their newest healthy snack, Ancient Grain tortilla chips. Hand-crafted from stone-ground non-GMO corn, their newest tortilla chip incorporates three varieties of grain: Teff, Chia, and Amaranth.
MIAMI, Aug. 26, 2015 /PRNewswire/ — Today, Kunachia, the first brand in the US to create a superfood blend that combines chia with a probiotic, began selling its new product in more than 30 Sam's Clubs including North Dakota, Minnesota, Michigan, Maryland, Florida, Illinois, Maine and Hawaii. The introduction of this product to Sam's Club… Read more »