Cabo Chips Unleashes Native Nutritional Power With New Ancient Grain Tortilla Chip
Orange County, CA — What's old is new again. Cabo Chips is introducing their newest healthy snack, Ancient Grain tortilla chips. Hand-crafted from stone-ground non-GMO corn, their newest tortilla chip incorporates three varieties of grain: Teff, Chia, andÂ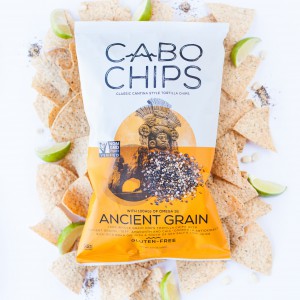 Amaranth. Each of these grains has a long history of providing high-quality nutritional fuel for our ancestors. The chip is perfect for those who seek heirloom-quality, non-hybridized foods closer to their wild roots, as well as those with an active lifestyle who are in need of energy replenishing foods.
Health benefits of these ancient grains include:
Teff has been cultivated for millennia in Ethiopia, known today in nutritional circles as the new "It" grain, with nutrients far more metabolically accessible and absorbable than those found in Quinoa. It also leads all grains in calcium content, contains eight vital amino acids, and albumin—the primary protein in blood plasma—making Teff a viable dietary alternative to eggs.
Chia is one of the earth's richest plant sources of Omega-3s, and has been enjoyed for centuries in Mexico and Central America in "energy drinks" and other endurance foods.
Amaranth was a sacred indigenous food to the Aztec civilization long before the arrival of the Spanish in the New World, and is high in vitamin C and protein. Sustainable, drought-resistant, Amaranth is considered a crop of the future worldwide.
This hearty, cantina-style chip provides 100mg of Omega-3s (vital fats which protect against internal inflammation) per serving, with high fiber-content for the perfect crunch. All three featured ingredients are considered robust plant-based sources of protein and are gluten-free. In addition to being a delicious snack for anyone that craves a major crunch, Ancient Grain Cabo Chips are a natural choice for vegetarians, vegans, and individuals who avoid gluten.
The chips are cooked in Rice Bran Oil, a fat with an abundance of Omega-6 fatty acids, Vitamin E that fights free-radical damage in the body, and Gamma Oryzanol, which has been shown to help reduce absorption of cholesterol. Based upon the belief that the best foods often require the fewest ingredients, Cabo Chips recipes are free from the fillers and flavorings present in most commercial snack foods. The chips are cut from whole tortillas rather than extruded or pressed from a mill in paste form. This cutting process produces a sturdy chip ideal for dipping. Like all Cabo Chips, the new Ancient Grain flavor is also Non-GMO Project Verified, 100 percent Whole Grain, Kosher, contains no Trans Fat, and is presented in 100 percent recyclable packaging.
About Cabo Chips: Born in Baja, Cabo Chips deliciously authentic tortilla chips are inspired by the beautiful beaches and colorful city of Cabo San Lucas. A unique fusion of the old and the new, this premium snack food is created in the traditional way—kettle-cooked from stone-ground tortillas—then updated with vivid flavors and unexpected combinations for a taste sensation that's seemingly endless. There are no GMO's, no preservatives, nothing nasty. Cabo Chips represent where California meets Mexico – there's nothing simpler and nothing better. Flavors include Original, Blue Corn, Churro, Mango Chili Lime and Ancient Grain. The wildly popular chips are sold by retailers including Ralphs, Vons Pavilions and Whole Foods, at a SRP of $3.49 per bag.