Certification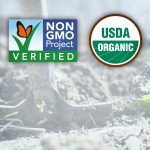 During a discussion at Natural Products Expo East 2017 in Baltimore, Md., panelists spoke about why they look to certifications, how certifications drive many of the decisions they make and which certifications can be "deal killers" for both consumers and retailers when missing from a package.
The announcement makes Stonyfield the largest national yogurt brand to be certified as a B Corp.
Beginning September 1, 2016, all of Niman Ranch's pork, beef, lamb and processed products, including bacon, sausages, hot dogs, and hams, will officially become Certified Humane making them the largest multi-protein company in the U.S. to join the program.
Franklin Baker Company of the Philippines earned the Roundtable on Sustainable Biomaterials (RSB) certification for the growing, harvesting and supply of coconut products from farms located in the Mindanao Island, Philippines.
Mizkan America Food Ingredients Division announces the addition of four new vinegars to its vinegar offerings with the introduction of Organic Red Wine Vinegar, Organic White Wine Vinegar, Organic Balsamic Vinegar and Balsamic Vinegar without caramel coloring.