FDA Issues Final Guidance for Nutritional Labeling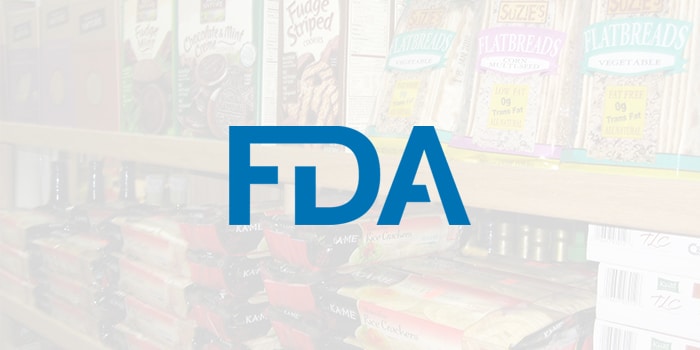 The Food and Drug Administration (FDA)'s long-awaited new Nutrition Facts label regulations went into effect January 1 for companies with over $10 million in annual sales. In preparation for this launch, on December 30, the agency issued final guidance to address questions submitted by the industry.
The FDA approved the new guidelines in 2016 and released its draft guidance in November 2018. Notably, the final guidance includes the FDA's latest definition for a single-serve container, as well as clarifications for packages that now require two columns of nutrition facts, one for a single serving and one for the entire product's contents. This dual column label, the FDA noted, better reflects American consumption patterns, especially around snacking.
"Americans are eating differently, and calories and nutrients on the label are required to reflect what people actually eat and drink," the FDA wrote on Twitter. "The new label, including the dual column layout, will drive consumers' attention to what they are actually consuming."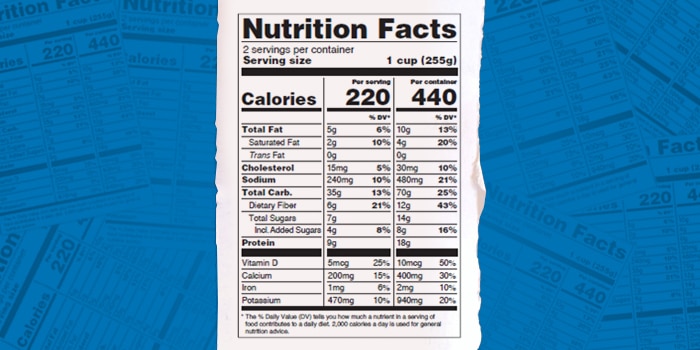 The rule applies to products that contain between 200% and 300% of the reference amount customarily consumed (RACC). A product's RACC is essentially a unit of food by product category used to help manufacturers determine serving sizes and help the FDA designate single-serve products. The dual column rule also applies to products in "discrete units," such as sliced bread and multi-serve packs if each unit weighs between 200% to 300% of the product category's RACC.
But in this new guidance, the FDA says some products with limited space are exempt from the two column rule. A product is exempt if its total surface area for labeling is under 12 square inches, or a total surface area is 40 or less square inches, and the package shape or size doesn't allow space for a standard vertical column or tabular display. Additionally, the FDA said it will exempt products that already have two columns: foods that require further preparation (like pancake mix or popcorn) and already have a second column for the "as prepared" version, and cereal that already has an extra column for nutritional content with milk. Also according to the final guidance, products listing Recommended Daily Intakes (RDIs) for both infants and children are exempt. These products will not need to add a new column.
Additionally, the new guidance includes the FDA's definition of a single-serving container: a product packaged and sold individually, labeled as one serving on its Nutrition Facts panel, and containing under 200% of the RACC for the product type.
For example, the FDA notes a 20-oz bottle of soda contains about 167% of the RACC (12 oz) for carbonated beverages. Thus that product's serving size can be "1 bottle." But the FDA said there may be exceptions to the definition: manufacturers will have flexibility to decide if products above 200% of the category's RACC — such as a small packaged brownie — can be reasonably labeled as single-serve.
The new guidance adds that Nutrition Facts or Supplement Facts labels cannot be placed on the bottom of packages unless doing so creates visibility in normal retail displays and consumer handling.
While some companies have already switched their products to the dual column labels, and others start the transition, the FDA will not issue violations before July 1.
Companies with under $10 million in food sales have until January 2021 to comply, and manufacturers of single-ingredient sugars — honey, maple syrup and certain cranberry products — have until July 1, 2021 to update labels and incorporate added sugar changes. Other labeling updates include larger font size for calorie counts and listing the actual amounts of nutrients in addition to Daily Values.