Brands Launch New Plant-Based Innovations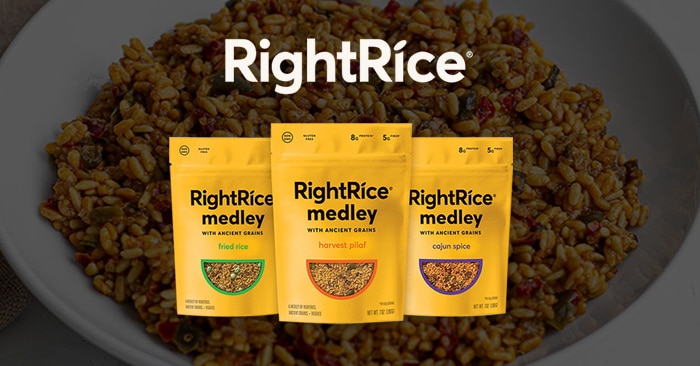 You can't find a hotter buzzword than "plant-based" as a signifier for innovation in the meat and dairy categories — or in center store, as the following product launches indicate. Read on for three new traditional products that have been plantified:
RightRice Launches Medleys: A 'Healthier Rice-A-Roni'
RightRice, a brand that sells a rice substitute fortified with legumes, is expanding its line with the launch of Medley — a blend of RightRice and ancient grains.
Medley, which is sold in Harvest Pilaf, Fried Rice and Cajun Spice varieties, will launch as an exclusive item at Whole Foods Market and on Amazon. Each 7 oz., four serving bag retails for $4.99, compared to the brand's core line of rice alternatives which retails for $3.99.
The new Medleys blend together RightRice with ancient grains including quinoa and sorghum alongside, in the case of Fried Rice and Harvest Pilaf, dehydrated vegetables. The result is a dish can cross over from a being see as more of a side into the center of the plate.
"One of the things that's really struck a chord with us is how much people are looking for not just nutrition and taste but also convenience," Belling said. "We've done more of the prep work so that someone can enjoy that more nutritious, flavorful bowl of fried rice in 12 minutes."
The Medley line will keep with RightRice's monochromatic look, which Belling believes will create a strong brand block in the grain set where he hopes to disrupt large legacy brands with large marketing budgets and create a "healthier Rice-A-Roni," Belling said.
He argued that the shift towards more nutritious, plant-based, upmarket foods is one that echoes similar moves in the milk, cereal and meat categories.
"It's been years since there's been any innovation," he shared. "It's a segment that's ripe for innovation and disruption with a premium priced, healthier alternative."
Less than a year in, RightRice has already made waves in the category — launching into over 5,000 stores and selling over a million bags of product. The brand had help with its initial launch, with investors (and online advocates) including supermodels Ashley Graham, Molly Sims and Karlie Kloss; Kris Jenner, Wesley Pentz (Diplo), Jillian Michaels and Gary Vaynerchuk. Despite the initial PR burst, there's still work to be done with 2020 largely spent investing in brand building and sales strategies.
"We've got two product lines that are very complimentary and now we'll focus a lot more around driving brand awareness," Belling said about the upcoming year. "It's about building enough of a presence that we can support across this broad based distribution."
KRAVE Launches Plant-based Jerky
Protein snack brand KRAVE yesterday launched a line of plant-based jerky, the brand's first non-meat based snack.
Featuring a similar texture to its meat-based counterparts, the plant-based line is made from a blend of peas and fava beans. KRAVE previously launched meat and bean-based sticks, but for this release wanted to offer an entirely plant-based option in order to expand its customer base. The result of a two year-long R&D effort with its parent company, The Hershey Company, the new jerky, which will launch in Smoked Chipotle and Korean BBQ, will roll out regionally at an MSRP of $5.99 in two flavors.
"The demand was clearly there – it was just a matter of being able to develop a plant-based product that delivered the same taste, texture, and nutritional value as KRAVE Gourmet Cuts," KRAVE brand manager Jimmy McClain told NOSH.
McClain added that the opportunity to disrupt jerky now — via plant-based options — will employ a similar strategy (and messaging) that the brand used at launch over a decade ago — emphasizing taste, upscale flavors and quality ingredients.
While the jerky category has evolved to keep up with dietary trends (such as lower sugar and protein callouts) and pack size preferences (with more single-serve options) the plant-based trend has yet to fully cross over. Although some brands have tested the waters, with recent additions like Perky Jerky's four new flavors of plant-based jerky and vegan brand Upton's Naturals line extension, there has yet to be the same disruption as the meat counter has seen.

Vegan Rob's: A More Serene Future
Plant-based snack brand Vegan Rob's sees a future full of mellow moments. The brand's most recent innovation is a line of functional teas — with promises to deliver benefits via herb, root and flower blended tea bags. The products will debut next week at the Fancy Food Show in San Francisco.
The mental health teas will retail for $5.99.
Founder Rob Ehrlich worked with herbalists, psychologists, dieticians through two years of R&D to create offerings for issues like loneliness, boredom, anxiety and depression. Mental health is difficult to speak about publicly, he explained, and the hope is that this product line will build awareness — along with offering shoppers more natural solutions.
Ehrlich told NOSH that scientific research (along with folklore) shows that herbs, roots and flowers can lower the use of pharmaceuticals, lower blood pressure, increase mental stability and ease the mind. Though the brand up until now has steered toward snacking, Ehrlich said mental health is closely tied to physical health. After all, people often eat due to stress and anxiety, he shared.
"We've always wanted to help solve a problem," he noted. "Society is looking for ways to open these conversations, and a lot of herbs and flowers do work."
Although to-date the brand has focused on snack items, Erlich told NOSH the salty snacks set limited the brand's ability to make medical claims around efficacy. The brand previously launched gut healthy snacks, including probiotic puffs and in 2017 a line of kombucha bars, which Ehrlich said were hindered by production issues.
Moving forward, the brand will maintain its snacking roots — and also plans to combine the mental health ethos into snacks and bars later this year. The brand will also launch Fonio Flyers, featuring the trendy protein-packed ancient grain, this month, and soon debut a Sea Buckthorn popcorn.