Ample Hills Files for Bankruptcy, Cites Manufacturing Issues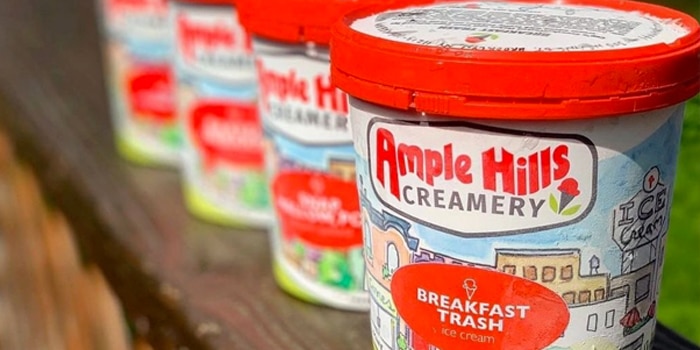 One brand's dream of becoming the next Ben & Jerry's has ended — or at least will be on hold. Yesterday gourmet ice cream chain and producer Ample Hills filed for chapter 11 bankruptcy in the Eastern District of New York.
The producer cited issues with its Brooklyn manufacturing facility as the main cause of its financial distress, noting that it had built out a factory to increase volume and lower costs, but instead it resulted in increasing losses.
In a statement provided to NOSH, a company spokesperson said the filing was made in order to "to preserve and ultimately bring Ample Hills into its next phase" and "course correct."
Started in 2010 by husband and wife team Jacky Cuscuna and Brian Smith, Ample Hills was founded with the goal of creating an ice cream shop that could "transport us back in time," Smith said in the bankruptcy declaration. The company initially had a push cart but within a year, opened its first scoop shop in Prospect Heights, spending $250,000 to open the location.
After selling out of ice cream in four days, a subsequent story in the New York Times helped spark a cult following for the brand that has continued to grow. As noted in the bankruptcy declaration, the first shop went on to generate over $1 million in sales in the first year.
In 2013, Ample Hills opened a third store, a more expansive location which included a 1,000 square foot commissary, private party room and roof deck and reported sales of over $1.4 million. A mail-order business soon followed in 2014; after former Walt Disney Company CEO Bob Iger became a fan, the brand opened a shop in Disney World in Orlando.
Flush with success, the company took on investors, raising $4 million in 2015, as well as securing a loan to build out new locations, open a factory in Red Hook, Brooklyn and "to automate and expand Ample Hills's wholesale business," according to the bankruptcy declaration.
Unfortunately, the factory was plagued with issues including legal problems surrounding construction, cost overruns on machinery, and a slower-ramp up on production. Instead of the projected one year build out and $4 million cost, the factory was ultimately completed after 2 ½ years at a cost of $6.7 million.
"Because the factory delays impacted Ample Hills' expansion strategy, the factory has not been as fully utilized as Ample Hills originally planned, which has led to continuing operating losses," the declaration states.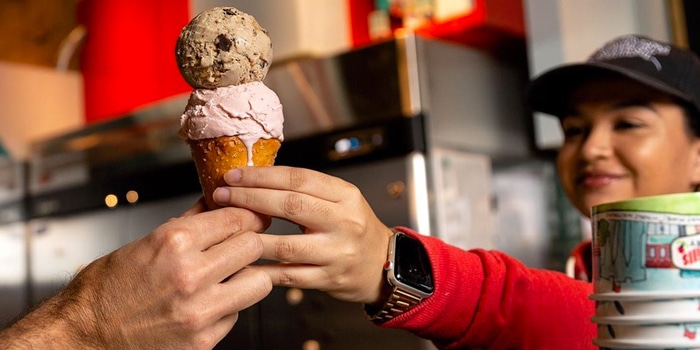 The company also underestimated the required volume for the Red Hook factory needed to to yield the economies of scale-related cost savings that would balance the cost of the factory itself. The company attempted to build out its wholesale business, though not quickly enough, and opened more shops for a total of 16 stores across four states (New York, New Jersey, Florida and California).
To continue to fund the business, the company raised $8 million more in 2017.
Despite the modest growth, over the last three years the brand has lost millions, the declaration states, and in 2019, leadership began looking to sell the company after contacting "dozens" of potential or existing investors for more capital. Unfortunately, without a sale, and facing "continuing losses and decreasing liquidity," the company decided to declare bankruptcy in hopes of "finding a buyer for its business and maximizing the value of its assets."
"Ample Hills business is not sustainable over the long term under its current cost structure and sales value," the declaration notes. "No bidder has been willing to assume Ample Hills's liabilities — in particular its substantial lease and debt obligations — in connection with the purchase of Ample Hills stores."
The company's 15,000 square foot factory, which can produce 500,000 gallons of ice cream a year, only produced 200,000 in 2019. And although the company wanted to make wholesale sales a priority, brick and mortar stores represent 90% of the company's sales, with wholesale sales only accounting for 7%. Furthermore, store sales were uneven. Despite having
positive EBITDA on an annual basis, Northeast locations saw losses during winter months.
Another New York-based upstart gourmet ice cream brand, Van Leeuwen, announced late last month the close of $18 million in funding. Unlike Ample Hills, that company has diversified its sources of revenue, adding 1,500 wholesale accounts in grocery, specialty and natural stores over the last 16 months, according to founder and CEO Ben Van Leeuwen. The company also expanded west, opening several scoop shops in Southern California, which sees less impact from harsh winter seasons, and is using much of the funding to create efficiencies at its own Greenpoint, New York plant.
"We're taking more money so we can put the discipline and organizational structure in place that allows us to operate in a more lean way, which will allow us to accomplish our mission of making great ice cream and making it to more people," Van Leeuwen told NOSH last month. "We still see a ton of whitespace in almost every grocery store."