With New Line, Atlantic Sea Farms Tries to 'Kelp the Earth'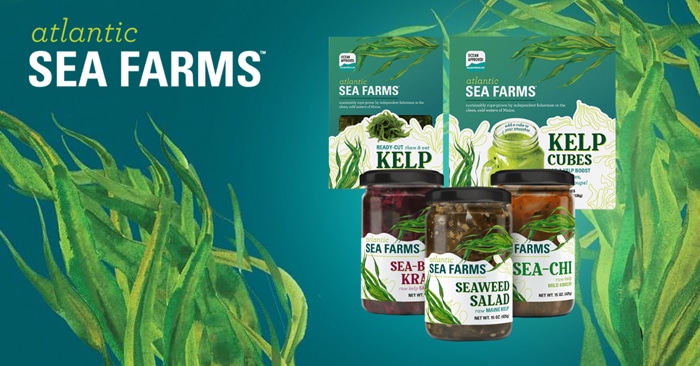 Maine is already known for its lobsters, but Ocean Approved wants the state to be known for another ocean crop: kelp. Led by new CEO Briana Warner, the company is launching a line of products under the Atlantic Sea Farms brand to bring awareness to this briny delicacy and has new investors and supply chain strategy to support this growth.
Founded in 2009 under then president Paul Dobbins, Ocean's Approved raised just over a million dollars from its inception through 2017. In later years, the company brought aboard investors including Fresh Source Capital, Maine Venture Fund, and Coastal Enterprises Inc. During this period, the company grew its own kelp and sold the resulting product into food service.
Following Dobbins departure from the company in 2018, Warner, a former board observer, was hired to take over as CEO. Her first step was to raise $2 million from True Wealth Ventures, Maine Venture Fund and angel investors in an oversubscribed round that closed earlier this year. Even with the new investors, the company maintains no majority owner.
"Investors were excited by the idea that we could be cleaning the ocean, providing a new food source and that we were first movers," Warner said. "Sometimes you show up to investor meetings and have to say 'actually there's no market data on this because we're legitimately the first movers.'"
Next, Warner set out to launch consumer facing brand Atlantic Sea Farms into retail with five products — three new kelp salads (a seaweed salad, a kelp kimchi and a kelp kraut) and two frozen products (kelp cubes and Ready Cut Kelp).
Atlantic Sea Farms launched earlier this month into a handful of stores and will roll out in more Northeast retailers over the course of the year. Warner told NOSH that kelp — which is rich in potassium, Omega 3's and iodine and has more calcium per ounce than milk — fits several popular dietary trends.
"People want the gut health and probiotics that they can achieve from fermented foods. But they also want the vitamins and minerals of kelp," Warner said. "And people want to eat American sourced food, they want to know where their food is coming from."
Although Warner is focused on building the Atlantic Sea Farm brand in retail, the company is still selling via food service and also working as an ingredient supplier. Its kelp cubes or blanched and frozen kelp can be found in dishes served by Legal Seafoods, Flatbread Company, Luke's Lobster, the award-winning Blue Hill at Stone Barns and in the smoothies offered by subscription service Daily Harvest.
Warner told NOSH these partnerships help introduce consumers to kelp and drive trial. Most consumers have only tried dried, imported kelp — 99 percent of kelp is imported from Asia — and expect a fishy taste. Atlantic Sea Farm's products are made with line-grown, "baby" kelp that is more tender and has a milder flavor. Additionally, the company goes from sea to processed in under 24 hours and never dries its kelp.
But the biggest advantage to farming kelp, Warner says, is the economic benefits it provides to the fishermen of Maine. Ocean Approved previously farmed its own kelp, but under Warner's oversight has shifted its kelp growing over to contracted farmers.
Under this new model, the company provides Maine fishermen with seeds from its kelp nursery and establishes contracts at the start of the season. The fishermen, in turn, grow kelp during the off-season for lobster. This year Maine fishermen will farm roughly 350 to 400 thousand pounds of kelp for the company. It's a relationship, Warner said, that allows the company to focus on its product and brand while also advancing an economic social mission.
And as climate change and shifting marine life populations impact the lobster fishing industry, it's this potential to help the Maine population that motivates Warner the most.
"We've built this company on the integrity of working with these fishermen and the fact that we can mobilize a fairly large group of people to do fairly small scale farming," Warner said. "We also have a story that people can't replicate… and now we have a beautiful brand that is getting a lot of cache. Right now we have a sweet spot that we think will sell really well."