Biltong Launch Marks Start of New Era At Chef's Cut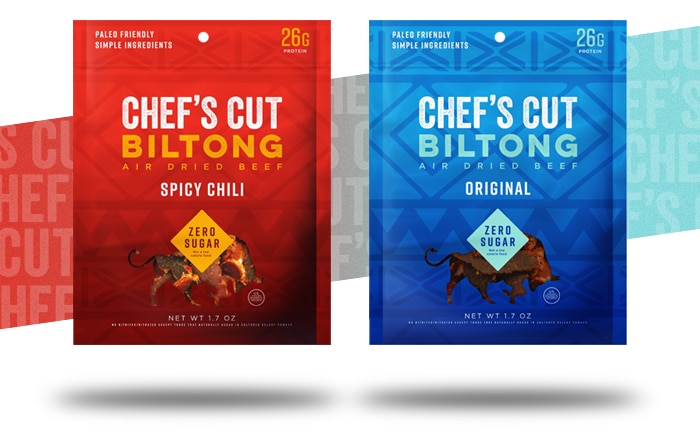 Meat snack brand Chef's Cut announced yesterday the launch of a new line of beef biltong — a thinly sliced, cured beef from South Africa — which new CEO Bart Adlam hopes will give the brand a versatile and on-trend snack option for young consumers. The new line will also sport refresh packaging for the brand and comes as the company has added a spate of new executives in recent months.
The biltong, debuting at this week's Sweets and Snacks Expo in Chicago, will launch into retail later this summer. Each 1.7 oz bag will be line priced with Chef's Cut's traditional jerky at an average MSRP of $5.99, and contain zero sugar and 26 grams of protein.
Calling the new line "magic," Adlam told NOSH that, while the paleo and keto diet trends had an influence in the decision to launch biltong, he believes low carbohydrate, low sugar snacks are a macro-trend that will resonate with all shoppers. The product's messaging will focus on these nutritionals, rather then the exotic appeal of biltong in order to connect with the greatest amount of shoppers. The strategy is similar, Adlam said, to the approach he took at Siggi's with its high protein skyr.
"Siggi's didn't spend a significant amount of time emphasizing the Icelandic nature of the product or explaining what skyr was as much as it explained what Siggi's was," Adlam said. "[With biltong] first and foremost we're just bringing this nutritional magic of a zero sugar, high protein [snack] to as many consumers as we can."
Those nutritional attributes also allow biltong to be positioned as a mini-meal, in contrast to jerky, which is often perceived as only a snack. In addition to providing consumers with more use occasions, the company also expects the line will bring younger, female consumers to the brand.
Chef's Cut will face competition in the biltong set, most notably from Stryve, which recently closed a $16.5 million round of funding. Although Stryve claims to be the leading domestic biltong producer in the US, Adlam said Chef's Cut is not copacking with them.
The new line features a new package design: Unlike Chef's Cut's jerky, the biltong bags feature a window to view the product as well as a logo that's no longer split onto two lines.
The design will be integrated across the rest of Chef's Cut products by the third quarter, Adlam said. The traditional Chef's Cut jerky and meat sticks will feature packaging that's predominantly black, rather then its current iteration that's split between a black background and colorful center graphics.
"Our current graphics are great, so this is just a fresh new look. This wasn't one where we were solving for something," Adlam said. "With the window, I'm a big believer in showing the product. I think in this category it's been reinforced that consumers like to see what they are going to get."
In addition to launching biltong, Adlam also made the hard choice to discontinue Chef's Cut's meat bars and snack packs, the latter which combined jerky and dehydrated cheese in a plastic bowl. He told NOSH that while consumers had expressed interest in the products, they didn't establish adequate distribution volumes or sales velocities fast enough to justify continuing either.
Part of the challenge, Adam added, of selling the bars and packs in was the way meat snacks are typically merchandised conventional grocery and convenience stores. The set is generally composed to emphasize bagged meat snacks and sticks and doesn't easily accommodate new form factors and packaging types. While speciality and natural channels may have more room for different types of products, Chef's Cut is committed to being a mainstream brand.
Helping Adlam make these strategic choices has been the support of a new executive team. Over the past few months the company has added Mark Kavanaugh (formerly of Siggi's and Back to Nature) as VP of R&D, Linda Lee (formerly of General Mills and Kraft) asVP of marketing, Ken Stettmier (formerly of Costco and Walmart) as VP of operations and Erin Summers (formerly of Siggi's) as VP of sales for East and national customers.
This year, Adlam said Chef's Cut is ready to back up its new packaging, new product focus and new team with heavy investment in marketing.
"I think we're just really reving up in terms of the actual impact in the market… [and] we're hitting a stride now from six months ago when I joined," Adlam said. "The meat snacks category should be much larger than it is… there's absolutely an opportunity for Chef's Cut and chef's cut biltong to grow the category."