Tofurky Revives Pockets Line & Launches Moocho Sub-brand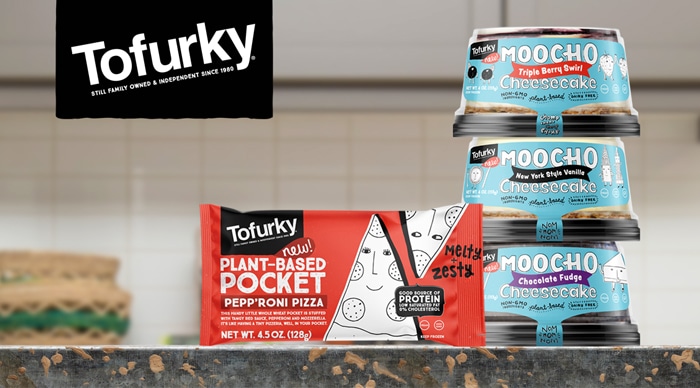 In response to consumer demand, Tofurky announced today that it will launch two products at Natural Products Expo West: Moocho cheesecakes, the company's first sub-brand, and a revamp of the previously discontinued Tofurky pockets.
The Moocho frozen cheesecakes will debut in three varieties: triple berry swirl, New York style vanilla and chocolate. Each 4 oz. cheesecake will retail for $3.50-$3.99 each. Tofurky had previously included a cheesecake as part of its seasonal holiday "feast" kits, but has never sold them individually. That changed after consumers continued to ask for the product to be sold separately.
Athos told NOSH that, after reviewing consumer feedback, he decided that a sub-brand was needed as the Tofurky brand was too connected to savory items. The packaging still has the Tofurky name, now in smaller type, as a marker of quality, he added.
"[The Moocho Brand was] to appease our retail partners who want that imprimatur of Tofurky on the label because they know that consumers are familiar with it," Athos said. "But we're also not trying to create confusion for consumers."

Athos added that other dairy products could potentially be launched under the Moocho brand, apart from milk products. For example, Tofurky has produced the vegan cheese used in some of its products at its factory in Oregon for years, but it has never brought that product to market as a standalone item.
"For years the core items have been our singular focus," Althos said. "Behind the scenes, we've had all this development going on. We just haven't had the bandwidth to really bring those things to fruition."
Joining Moocho on shelves is a new iteration of Tofurky's frozen vegan pockets that will debut with three varieties — Ham & Cheddar; Turk'y, Broccoli & Cheddar; and Pepp'ronni Pizza, and retail for between $3.00 and $3.99. Athos told NOSH the was struck by how many conventional Hot Pocket-esque products are sold in mainstream grocers, but how the natural channel lacks indulgent options to meet the same need.
"When I look for white space in the marketplace, what I'm looking at is what are those really high volume items that there is not a vegan analogue to," Athos said. "[But] we're not just courting vegans perse, we're courting the broader marketplace."

Savvy shoppers may recognize the product line. The pockets were first released in 2017 as an exclusive with a major retailer. However, Tofurky was forced to discontinue the line after a few months on shelves. Just as the retailer was preparing to add the line to thousands of stores, the brand's dough copacker told Tofurky it no longer wanted to produce the line, Athos said.
"That's a story we've all faced as vegan companies a lot… we're kind of the last priority with these contract manufacturing relationships," Athos told NOSH. "It strained the relationship with the retailer, but it also strained the relationship with our customers too."
But the time has yielded some advantages. Athos told NOSH that in the interim the company (and its new copacker) have improved the pocket's crust and texture when microwaved, the most common way of cooking the pockets.
For Athos, the process of developing and launching both the cheesecake and pocket lines underscored what a loyal (and vocal) a fanbase the company has. Both products, he added, were created or revived in direct response to consumer feedback. And by being an independent, family-owned business, Tofurky could respond to those demands quickly.
"[There are] disadvantages to not having access to equity-based capital but one of the advantages is the ability to be true to our own vision. Not having to think short term," Athos said. "We have the luxury of being true to the promises that we've made to ourselves and to our consumers."