RightRice Donates 1% of Company to Charity, Expands Retail Presence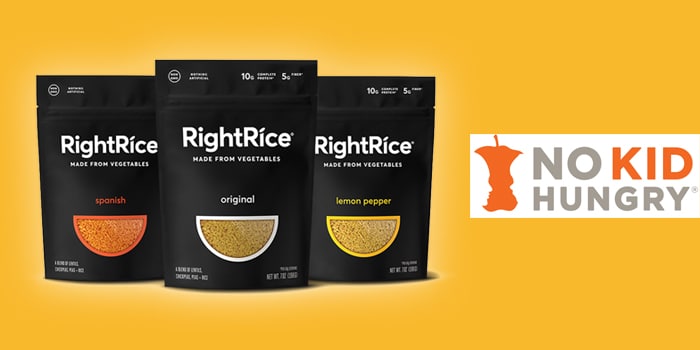 Plant-based rice alternative RightRice is giving back as it continues to grow.
Keith Belling, the CEO of the three month old company, announced this week that he has donated 1% of the company's equity to non-profit No Kid Hungry. At the same time, the brand also announced it has expanded beyond its initial retail partner Whole Foods into conventional supermarket Kroger.
The two pieces of news are an example of how RightRice plans to focus on both social impact and profitability, Belling said.
In February RightRice launched into Whole Foods nationwide and on Amazon with original, Spanish, lemon pepper and garlic herb varieties of its legume and rice-based rice-substitute. The brand subsequently announced in March that it had closed a $5.5 million round of funding led by Strand Equity.
This week the company launched into nearly 2,000 Kroger owned stores and banners including Kroger, Ralphs, Fred Meyer, King Soopers, Dillon's, Mariano's and more. Kroger will have a new SKU, Thai Curry, as a 90 day exclusive and each 7 oz bag will have the same retail as Whole Foods at $3.99. While it may be early in the brand's development to be adding so many doors, Belling said he felt it was important to expand access to consumers.
"Whole Foods is an incredible launch partner," Belling said, "But Kroger and their banners do give you a broader reach into the rest of the country and to a great group of consumers. I think the health conscious consumer is shopping across all these banners and retailers now."
The brand is also announcing it is joining the Pledge 1% campaign to help resolve food insecurity and support increased access to healthy food options. Primarily backed by tech companies such as Box, Carbonite, Glassdoor and Salesforce, Pledge 1% encourages companies to donate 1% of equity, employee time, product or profit to non-profits.
Belling went with the former, choosing to grant No Kid Hungry 1% of the company's equity. The non-profit will receive monetary support from RightRice if the company becomes profitable, and in turn shares that profit with shareholders, or exits. If more investors come in, the 1% stake is treated as any other shareholder and has the possibility to be further diluted.
Belling told NOSH that he chose No Kid Hungry — which typically has partnered with retailers, chefs, multinational CPG brands and restaurants — because of the group's commitment to children.
"From the very beginning our DNA was always about kids," Belling said. "I love kids and I think they are the stakeholders of our future. They're what matters."
Going forward, Belling also plans to donate free RightRice to schools and find other ways to encourage healthier eating in children. Although some might call the partnership a marketing move, Belling countered that the same amount of money invested into traditional marketing would see far greater results. His hope, Belling said, is to show other brands that doing good and making a profit don't have to be mutually exclusive.
"It's okay to prioritize profits and it's okay to prioritize social impact. I think the forward thinking companies are going to focus on both," Belling said. "This is the whole notion of double bottom line companies. There's a bottom line about social impact and a bottom line about profits. What excited us was how we could be innovative in both spheres."