Post-Rebrand and Reformulation, Ithaca Cold-Crafted Closes Round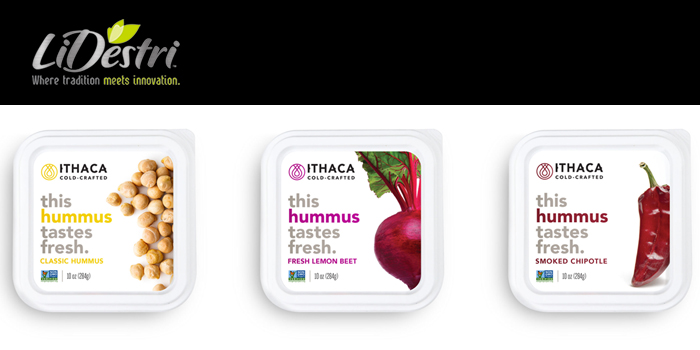 Hummus maker Ithaca Cold-Crafted announced today it has closed a $2.7 million round of funding from LiDestri Food and Drink, a contract manufacturer and producer of private label products. The raise comes after two years of growth, thanks to a repositioning of the Ithaca line.
LiDestri has produced Ithaca's line of high pressure processed (HPP) hummus since the company transitioned from producing the line at their own facility in 2017. CEO Giovanni LiDestri told NOSH the company has invested in roughly half a dozen brands, including beverage brand Bai, which sold for $1.7 billion to Dr Pepper Snapple Group in 2016.
"Our relationship [with Ithaca] grew from dating, to going steady to a marriage, if you will," LiDestri said. "I really fell in love with the product and frankly I really fell in love with [Ithaca's founder/president] Chris, his whole thought process. I know that you need funds to take a company from point A to point B, especially if you want to make an impact on a large regional scale or large national scale."
In fall 2017, Ithaca not only redesigned its packaging to use a distinctive (for the hummus category) square container, but also switched to using HPP and rebranded from Ithaca Hummus to its current moniker. At the time, founder and president Chris Kirby told NOSH, LiDestri was the only copacker who supported the company's vision and did not ask Kirby to compromise.
Kirby's steadfastness and belief in the company paid off. At the time, the brand was in 500 stores. Now, less than two years later, the line is in over 3,000 retailers including Wegmans, Publix, Stop & Shop, Shoprite, and The Fresh Market. The goal for 2019 is to triple revenue, velocities and distribution — and much of the funding will go towards those efforts.
"The number one priority is to drive velocity in the stores," Kirby told NOSH. "The first thing that I want to do is to continue to develop marketing and continue to tell our story and drive trial of the product. So the majority of the proceeds will be used for the goals of developing the brand, marketing the product, retail execution and shopper marketing."
Kirby added that both he and LiDestri believe this may be the only round of funding the company will need to take, with the company "self-sustaining" from this point on. Part of that plan includes a possible expansion beyond hummus, Kirby said, although he's "cautious" of expanding too quickly.
"I think we want to broaden the spectrum of what our brand could be in terms of product offerings," Kirby said. "I don't think we want to be backed into a corner, but today we are a hummus company 100 percent focused on disrupting that category."