New Communication Pathways: Broadhead Acquires Kohnstamm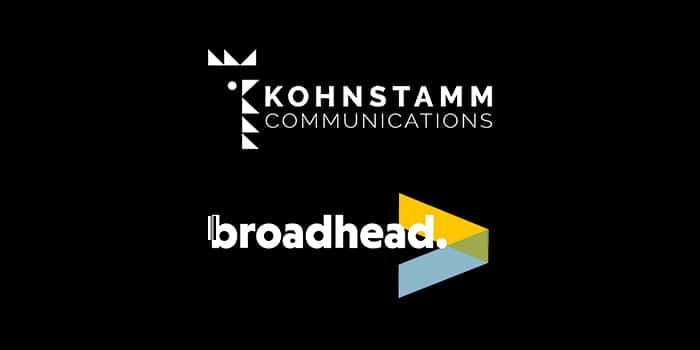 One of the veteran nice guys of the natural products business, Josh Kohnstamm, has sold his eponymous public relations firm to another Minneapolis-area marketing agency, broadhead.
News of the sale of Kohnstamm Communications, a 28 year-old food-focused consumer public relations agency based in Saint Paul, emerged last week. Kohnstamm's team of 11 employees and four part-time contractors will transfer to broadhead's office space where over 100 employees work with Fortune 500 companies, including food producer and distributor Cargill and agribusiness cooperative CHS.
"We have kind of an overlap of interests," CEO Josh Kohnstamm told NOSH. "It seemed like two sides of the same coin to be able to join forces and compete [further] on a national level."
Kohnstamm Communications' clients include companies ranging from food and beverage brands to food safety suppliers and manufacturers. The company's first major food and beverage client was organic beverage stalwart Honest Tea, which eventually was acquired by Coca-Cola's Venturing and Emerging Brands (VEB) unit. Kohnstamm Communications' natural brand portfolio now includes baby food brand Beech-Nut Nutrition, yogurt brand Noosa, acquired by food and beverage company Sovos Brands last year, and better-for-you popcorn brand Angie's Boomchickapop, acquired by Conagra Foods in 2017.
Kohnstamm Communications' early days saw small startups navigating the burgeoning natural foods space before it became the booming industry it is today, and Kohnstamm was an advisor to many of them.
"Having good PR for a better-for-you brand became an essential ingredient in growing and finding an investor or buyer for these brands," he said. "It was good timing on our part."
He noted that while terms like "natural," "organic," "fair trade" and "gluten-free" were mainstays of early conversations, packaged food categories have widened to include more specific diets and ingredients — paleo, low FODMAP, sprouted grains, probiotics and more.
"This is all part of the education and awareness the new PR group needs to demystify," he said.
The acquisition will also enable Kohnstamm Communications' clients to utilize broadhead's creative and studio services, including video, package design, digital, consumer insights, media planning and buying and analytics, among others. In contrast to PR firms that are owned by international holding companies, Kohnstamm noted broadhead's independent vision as a source of excitement about their combined future. By adopting an "agency within an agency" model, Kohnstamm said he will work more closely with clients, serving as more of a "unit president," rather than a business owner managing human resources, finance, spreadsheets and other responsibilities.
"It's a joy for me to be able to round out my career by focusing on client brands because that's what I really love," he said. "I'm a big believer in the transformative nature [marketing and PR] can have on a brand when it's done smartly and resonates with the marketplace."
Kohnstamm said the agency, founded in 1991, has become profitable by prioritizing food brands — and has shared revenue across its team. Additionally, the company was named a "Top Place to Work" by industry hub PRNews last year. Kohnstamm noted that food brands have always brought growth to the agency, even through a few economic downturns.
"There's a lot beyond our control," he said. "[But] the food world is not going to go away any time soon. There's a lot of original stuff still out there."