IRI Reports: Small Brands Have Mighty Presence as Pacesetters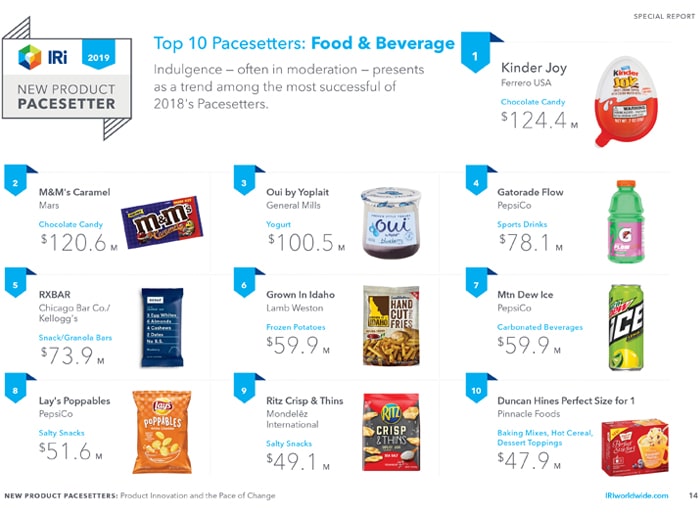 For the first time small companies with revenues under $1 billion make up more than half of IRI's New Product Pacesetters report, which was released yesterday.
The research firm's 23rd annual Pacesetters report lists 2018's most successful new food and beverage product launches in both major retail and convenience stores, as well as non-food by multi-outlet dollar sales. The list was dominated by smaller companies; according to Larry Levin, IRI's executive VP of market and shopper intelligence, one third of consumers say it's important to buy from small businesses.
The diminishing size and scope of new product launches that made the list for 2018 was also notable, Levin said, adding that the median sales for Pacesetters' food and beverage launches has declined by 50% over the last seven years.
The report highlights brands that finished their first year of sales in 2018. Tracking begins when a brand reaches 30% distribution and continues for 52 weeks.
Sales for products making the list have decreased overall since 2012, Levin said. In 2012 the number 10 product, Daily's Frozen Pouches, had sales of $89 million in its first year. Today, to crack the top 10 required roughly half the amount in sales, with Duncan Hines' Perfect Size, at $48 million in sales landing in the tenth spot. In 2012, the same amount of sales would have put Duncan Hines in 27th. As a result of these shifts, total Pacesetter sales dollars have declined by nearly $3.4 billion from 2012 to 2018, according to the report.
Levin attributes this change to a more fractured consumer base that not only has its attention split over multiple channels, but also increasingly has more nuanced dietary desires.
"This [change in sales] is largely being driven by smaller companies breaking through in more targeted innovation," Levin told NOSH. "[It's also] partly because of the U.S.'s changing demographics and more focus on convenient, healthy, clean eating."
Key trends across all Pacesetter products included "experiential, expectation and simplicity," according to the report, with wellness, convenience and sustainability driving sales across food and beverage and non-food items. For convenience, "taste and price are the tickets to the category," Levin said, while brand stories around sustainability are key for connecting with consumers, especially early adopters.
Healthy Trails Sweet
While more conventional sweet indulgence took the top two spots for food and beverage, with Kinder Joy at number one and M&M's Caramel at number two, natural products had a presence too.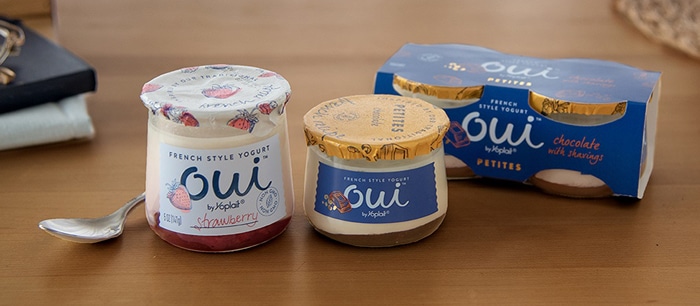 Oui by Yoplait, which grossed $101 million in sales, ranked third, and RXBAR, which grossed $74 million in sales, ranked fifth. Both Oui and RXBAR were rising stars (that is "budding brands" with 30% all-commodity volume) on the 2017 Pacesetters list as well. Levin attributed both brands' success to their "transparent" packaging, with Oui by Yoplait's recyclable glass container and visible ingredients and RXBAR's simple, clean ingredients list on the front of its packaging.
The Pacesetter report focuses on more conventional retailers and does not include some higher profile merchants known for their natural assortment, such as Costco and Whole Foods. The lack of natural brands breaking the top ten shows that while natural brands may have buzz with consumers in the natural channel, there is still plenty of space in conventional to pick up new consumers.
Though the top ten products may not be the healthiest options, they are indicative of how consumers want a balance of both healthier options and small, permissible indulgences, Joan Driggs, IRI's vp of content and thought leadership, said in the webinar.
A Natural Opportunity for More Food Brands in C-Stores
Within convenience stores in particular, beverages took eight of the top 10 Pacesetters spots in 2018, with M&M's Caramel and Kinder Joy the only food brands making the list.
C-store is really the channel to get "energized and hydrated," Levin told NOSH, as evidenced by the number of water brands and energy drinks topping the Paceletters list.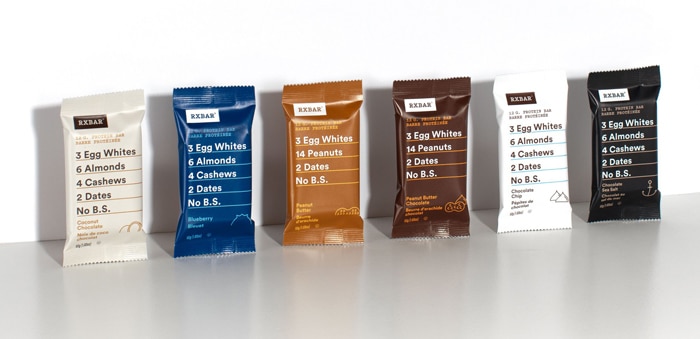 But snacking is growing rapidly, Levin added, and a recent nationwide survey by facilities management and research firm company Vixxo showed 1 in 3 consumers said they would shop more regularly in a convenience store if it offered healthy snacks, while 50% said their convenience stores could improve product quality in variety.
The trend of smaller businesses dominating the list, however, is likely to remain, Levin said.
"They may not amass the dollars that larger companies enjoy due to their broad reach, but they are making a mark and appealing to a particular segment with answered need states," Levin told NOSH. "We don't expect to see a tailing-off of innovation coming from small companies because consumers like their overall ideals, and early adopters have a passion for buying from small companies."