Hippeas Expands Platform with Chips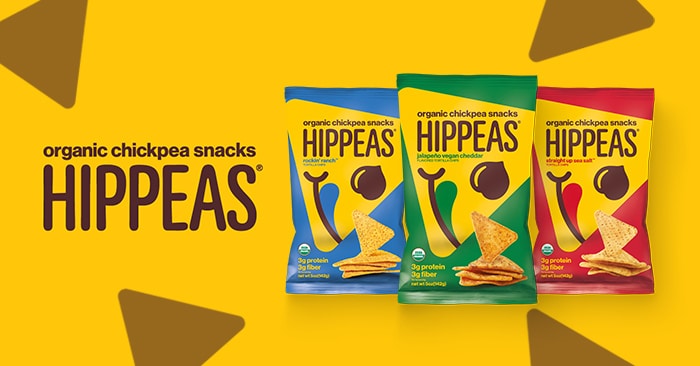 Chickpea brand Hippeas has always wanted to move beyond its initial line of puffs and become a "lifestyle" platform brand. Now the brand is taking its first steps in that direction; last week it launched a line of chickpea-based tortilla chips nationwide in retailer Whole Foods Market.
The chips, which launch in Straight Up Sea Salt, Rockin Ranch and Jalapeno Vegan Cheddar, have a suggested retail price of $3.99 for a 5 oz. multi-serve bag. Whole Foods has a six month exclusive on the product line. CEO Joe Serventi told NOSH the brand first began discussing launching a tortilla chip with Whole Foods at Expo West earlier this year, with an eye toward releasing them around the Super Bowl.
"They wanted to do it and we facilitated it and made it happen," Serventi told NOSH. "I think the timing is perfect for this brand to succeed and I think the whole platform play is really significant. We made a big effort to stay close to home and I think this is the right first step in terms of where the brand is going."
Serventi pegs the tortilla chip market at about $5 to $6 billion.The bean-based tortilla chip market is significantly smaller — with other players including Beanfields and Beanitos — but, as in other categories, consumers have proven receptive to enhanced or alternative options, as long as there's no compromise on taste. Investors have also shown interest: Hippeas is backed by venture capital firm CAVU Ventures, Beanfields counts Powerplant Ventures as a shareholder, while Beanitos is backed by private equity firm L. Catterton Partners.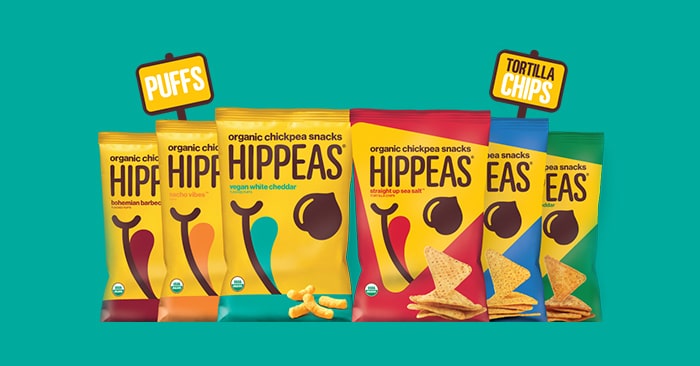 The Hippeas chips have 150 calories, 3 grams of fiber and 3 grams of protein (thanks to the use of chickpeas and pea fiber) in each 1 oz. serving. Beanfields and Beanitos both have slightly higher protein and fiber counts and lower calorie counts, while using only beans as their legume component..
Moving forward, the brand plans to focus its innovation pipeline in 2020 around pack sizes for both lines. Hippeas will test the chips concept in Whole Foods during the exclusive, and in the back half of 2020 plans to explore broader distribution.
Despite the new addition, Serventi told NOSH that the brand plans to remain focused on its flagship line. Currently the brand is in 50,000 points of sale, but has a 26 all commodity volume (ACV) in multi outlet (MULO), he noted. Within specific SKUs there's even more room for growth — Hippeas vegan nacho puffs, which were designed in part to appeal to the conventional Cheetos-loving shopper, has an 8 ACV.
When asked what's held the company back from wider distribution, Serventi replied, "It's been me," adding that he prefers a methodical approach to growth.
"I'm lucky to have an amazing team with me that gets building brands the right way… I don't look at a 26 ACV in MULO as a bad thing, I look at that as a great thing. And I think that number will be significantly higher going into 2020," he told NOSH. "Now is the time for the overall brand to have that hockey stick trajectory, and it's going to be led by puffs."