Give Peas Another Chance: PeaTos Rebrands, Expands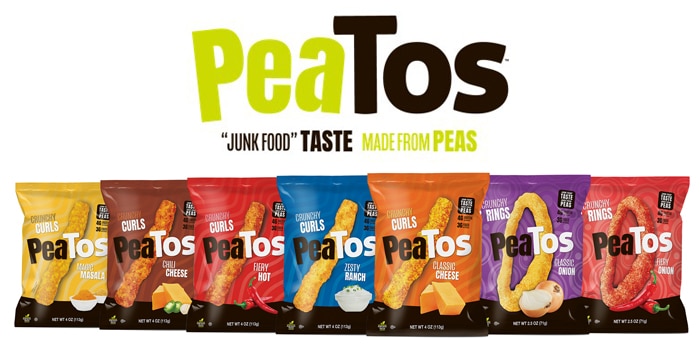 Less junky junk food? Healthier, but not necessarily healthy? It's hard to comprehensively categorize the PeaTos ethos, but one thing is clear: the brand has decided the route to success is blending in with the conventional competition, rather than standing out.
As part of a sprawling branding update, PeaTos' new packaging has a bolder look and ditches the reclosable zipper top in order to be visually similar to the typical junk food. Even though the pea and lentil-based snacks have more fiber and protein than corn-based snacks, having the right packaging is key to truly competing with conventional snack players, Desai said.
"Consumers are used to a pillow-style bag with that style of snack," Desai told NOSH. "People didn't quite get [the zipper pack.] It feels like it's healthier or something."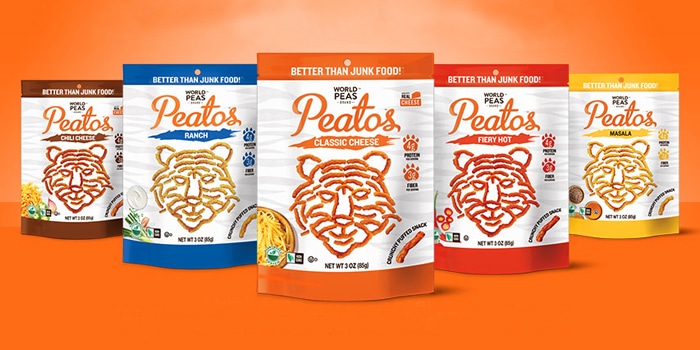 That's not to say that the brand wants to completely imitate a highly popular brand that rhymes with PeaTos. In fact, the brand in May 2018 received a cease-and-desist letter from snack company Cheetos, owned by PepsiCo's Frito-Lay, alleging trademark infringement. The letter stated that PeaTos' name and paw-print logo were confusingly similar to Cheetos (PeaTos' mascot at the time was a tiger) and that PeaTos' slogan, "Tigers live longer than cheetahs" unfairly denigrated the Cheetos brand. Rather than fight an expensive legal battle, the company decided to simply move on.
"Basically we agreed to move past the tagline, and they agreed they wouldn't challenge us on the PeaTos name," Desai said. "We decided to move away from the tiger bag anyway."
It may be moving away from the tiger bag, but the company wants to be in the cage with the conventional competition. Desai spent the middle of this week hawking a new variety of PeaTos, Crunchy Rings, on the floor of the National Association of Convenience Stores (NACS) convention in Atlanta. Crunchy Rings, a variation of the onion ring snack best known as Funyuns, is available in two flavors — Classic and Fiery Hot, and will come in single serve .6 oz. bags and multiserve 2.5 oz. bags, which will carry an MSRP of $1.29 and $3.59, respectively. According to data provided by PeaTos from research firm IRI, the Funyun market is worth $362 million, and it's a top 10 brand performer in 'Other Salted Snacks,' a category that excludes potato and tortilla chips. The new Crunchy Rings will debut in Kroger later this fall.
As a brand, PeaTos is taking on the traditional corn-based recipes most often used in American snacks. CEO Nick Desai said the idea was inspired by his family trips to India, where snacks are often made of legumes. Peatos' recipe also includes fava bean protein and pea fiber.
So how to express that pea-forward mission? The new packaging features the line "junk food taste made from peas," which will appear on all PeaTos products. It's a more focused value proposition that tells the consumer exactly what they're getting, Desai said, and works across all SKUs as the brand builds out its portfolio. Peas are becoming more popular in snacking: research firm Mintel reported 757 new pea-related foods launched last year. To build on this buzzy ingredient, Desai also changed the brand's word mark to emphasize the pea within — the new branding sports a capital 'T' in the middle of the name.
"We wanted to make it not just a Cheetos play," he said. "It's a broad platform of snacks using peas as an ingredient."
So where to engage the rest of the category? Although the Crunchy Curls and Crunchy Rings are sold in the snack aisles in natural retailers, Desai said that in conventional grocery the brand is placed in the produce department, which helps it stand apart from Frito-Lay and offers a better chance to capture younger consumers, who tend to shop in the perimeter of the store. The Crunchy Rings will be placed in Kroger's produce department.
"It's hard to battle Frito-Lay on their turf," Desai said. "They have a monopoly; they control that whole part of the store. So to go after them in that part of the store, you're going to get crushed. We learned a lot by being in produce; it's sometimes a challenge, but it's part of our identity. "
Despite the focus on legumes, the goal is to mimic the taste and texture of conventional products — with no detectable pea and lentil flavor, Desai noted. The brand continues to tweak its Crunchy Curls to be closer to the taste of Cheetos. Although for now the brand is striving to create better-for-you versions of popular snacks, Desai is convinced that with education, the average consumer will come around to peas — and as that understanding grows, PeaTos might not always have to try to replicate popular products to capture consumers. Desai said that despite the massive power of brands like Frito-Lay, PeaTos has advantages as well as it builds its better-for-you mission.
"We're faster, more nimble and can react more quickly," he said. "One of the reasons no one wants to take these guys on is because they are afraid of them, and they should be. It's a little bit of a 'David and Goliath' story here. It's in and of itself fun."
PeaTos, owned by wholesale distributor Snack it Forward, launched in late 2017 with a goal to bring plant-based snacks to mainstream consumers. Since its initial debut, the brand had already changed its packaging slightly once before its retail launch, but this time executed a full rebrand as it readies to enter Sprouts nationwide this fall and Whole Foods in early 2020. The expanded distribution increases the brand's presence about 20%, Desai said, and brings its store count to 6,200, with retailers including Safeway, Meijer and Fairway Market.
Desai said the brand has adapted a "simplified marketing" approach, one that he hopes will set it up for success as it aims for 200% growth in 2020. The goals include a gross revenue increase of 132% by 2023 and a 40% gross margin target by 2021.