Farmwise Gives Americans their Appetizers — and Veggies, Too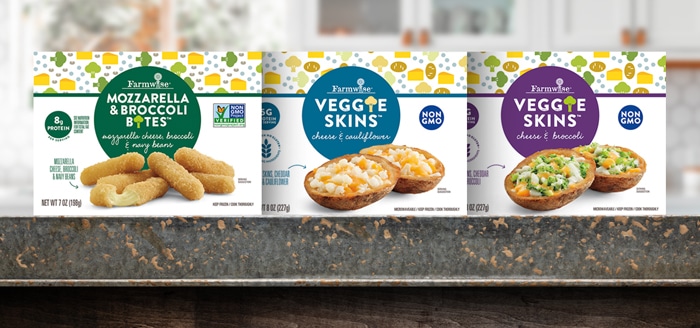 Continuing on its goal to create better-for-you, kid-friendly American staples, frozen brand Farmwise is looking toward the start of a meal, launching a new line of appetizers into retail this month.
Farmwise has always aimed to produce vegetable-forward versions of "traditional foods that Americans love on the table," CEO Dave Peters told NOSH.
With this launch, Farmwise looked to make the most popular frozen appetizers, like potato skins and mozzarella sticks, but with a veggie-infused twist: all have finely-chopped veggies blended in — to be seen and tasted without overwhelming the flavor, Peters explained. While the products were crafted to appeal to children — for example, avoiding large chunks of vegetables — Peters believes a slightly indulgent format, with plenty of cheese, will entice kids and parents alike.
The new appetizers, with an MSRP of $4.99, are currently in 300-500 doors, including Harris Teeter, Big Y and Lucky's Markets. They join Farmwise's existing lineup of better-for-you fries, tots and onion rings, along with blended chicken nuggets and tenders.
A General Mills and Nabisco veteran, over the years Peters saw veggie sticks and chips become a multibillion dollar snacking category, but realized that it was built on "fairy dust," with vegetable powders often comprising a miniscule portion of the ingredient decks. Moved to create better options for their kids, Peters and his wife, co-founder and VP of sales Cristina Peters, bet on Americans' love for a classic staple: the French fry. With an eye toward bringing fresh veggies into familiar and well-loved foods kids would actually eat, Farmwise in 2014 launched a fry with a base of beans, potatoes and vegetables like broccoli and cauliflower. Onion rings (cauliflower and onion or squash and sweet potato, both with white beans) and tots (broccoli, cauliflower or beet blends) were subsequently added to the lineup.

That bet on veggies last year caught the eye of someone very familiar with the French fry: former McDonald's president and CEO Don Thompson — whose food and drink accelerator Cleveland Avenue led a $4.5 million funding round for Farmwise. But vegetable-heavy frozen foods have become more commonplace, with Tyson launching blended chicken nuggets and numerous cauliflower innovations hitting freezer doors. To stand out, Farmwise recently redesigned all of its packaging, replacing an emphasis on food photography with new, bright illustrations of ingredients. It's a push the company felt was right after entering into more mainstream supermarkets, relying on simplicity to tie its variety of products together.
"It became pretty clear we needed to strengthen our visual identity and create more distance from them," Peters said. "It's a good opportunity to harmonize everything."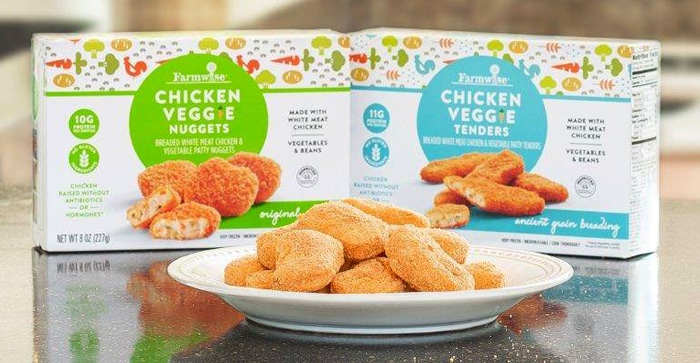 Meanwhile, the nugget and tender line is still "in the process of trying to carve out," as it reaches more stores and blended products become a more ubiquitous trend, Peters said. Flexitarian diets are on the rise; according to data firm IRI's 'The State of Meat Report' for 2019, 28% of consumers reduced their meat intake from 2004-2014, and another 14% expressed interested in doing so. Additionally, as more better-for-you frozen options seek to reach consumers' plates, Peters noted, the freezer section's real estate will need to evolve. Though health-conscious consumers are often steered into the fresh perimeter of grocery stores, which makes up about a quarter of MULO sales, according to IRI, the frozen section is a $51 billion category that grew by 2% in the past year. But despite ample white space to grow in the frozen aisle, Farmwise may eventually warm up to other categories beyond the freezer, Peters said.
"That first category pick is going to be really important," he said. "We're still having those conversations."