Clio Nabs Second Investment from ACG, Will Diversify Product Line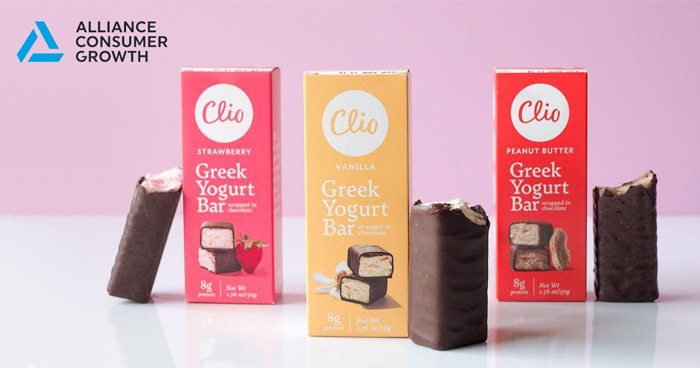 After a first course, investment firm ACG has found that it wants another bite of Clio Snacks. Earlier this month the group reinvested in the chilled yogurt bar brand. The brand declined to disclose the amount invested, but SEC filings indicate $5 million was raised.
Clio previously closed a $5 million round from ACG in late 2017. At the time, the company represented a new type of investment for ACG, Julian Steinberg, Co-Founder & Managing Partner at ACG, told NOSH.
"It was earlier than we've ever invested in a business before. The business was smaller than we'd ever invested in and the check was the smallest check that we've ever invested," Steinberg said. "Today, it's a full on ACG business in terms of size of the business and the size of our check, because the business has grown so fast."
Clio Founder and CEO Sergey Konchakovskiy told NOSH that the brand has grown by triple digits and added over 2,000 new doors over the last year. In 2019 the brand has picked up distribution in a second region of Whole Foods Market and all Albertsons/Safeway banners, adding to its existing pool of retailers which include select Walmart locations, two Costco regions, Haris Teeter and Shoprite.
Some of the capital will be used to upgrade the company's manufacturing facility. Although Clio does not make its own yogurt, the company does flavor, shape into bars and enrobe the yogurt in its own plant. Konchakovskiy said the company will max out on production capacity at their current plant by year's end, so the brand is in the process of building a new facility, five times larger, also in New Jersey.
R&D will also be a big focus for the upcoming year, particularly as Clio tries to launch new products for specific diets.
"Our product is basically… a [general] better-for-you product. The product currently on shelves is not solving for any specific type of diet," Konchakovskiy said. "However, we are listening to the community and are working on parallel product lines that would satisfy those communities better."
Innovation examples, Konchakovskiy said, include lower sugar and lower fat offerings, and possibly a plant-based option. The company, which has a new head of R&D, is currently working on five to six new offerings with two new products expected to launch later this year. However, the brand plans to stick with the bar format for the foreseeable future, Konchakovskiy said, unless they find a "more convenient" way for consumers to eat yogurt.
Clio also plans to expand its head count — the company currently has 25 full-time employees and roughly the same amount in contract employees working in its plant — and expand its marketing spend, Konchakovskiy added.
Marketing is key to the company's growth as Clio tries to educate consumers that an indulgent, dessert-like product can actually be found in the yogurt set, he added.
"We're learning the need to over-communicate," Rachel Moore, Marketing Director at Clio, told NOSH. "We're changing expectations in the yogurt category so it's just requiring a heavy hand in education. Paralleled with the right tone of voice and brand… that's what's going to help drive that turn at shelf."
According to IRI data provided by Clio, within covered U.S. retail channels including convenience, conventional retailers, club and drug for the last twelve weeks ending March 24, Clio was the number four and six dollar growth driver for the single-serve yogurt category.
"Consumers are using [Clio} for incremental usage occasions relative to other products in the yogurt set," Moore said. "It's a new, uncharted space for yogurt which is helping us drive very strong and competitive turns in the set."