Can Two Legacy Dairy Companies Make Cottage Cheese Cool?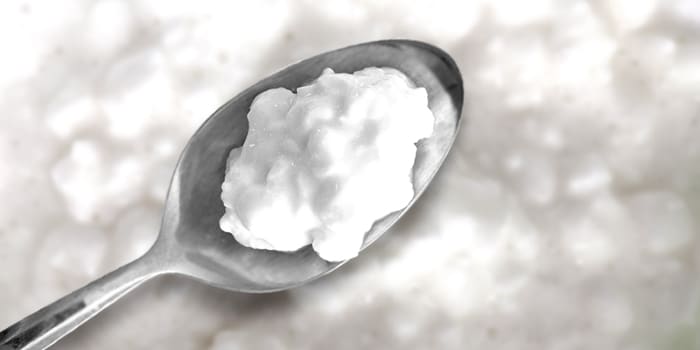 Despite its long association with diet food, two legacy dairy brands think cottage cheese is ready for a comeback. To modernize the snack, they're looking to non-traditional, savory flavors.
Cottage cheese consumption has dwindled in recent decades the category was still valued at $1.1 billion in 2016. It also had the 10th highest growth for a dairy category, with 0.5 percent growth from September 2017 to September 2018, according to an IRI report. That's in a category hungry for growth, as many dairy products have declined in the face of plant-based alternatives in the past decade.
What's interesting is that the same attributes that made cottage cheese a food associated with weight loss are what make it ripe for a comeback in low-carb diets: according to the USDA, one cup of low-fat cottage cheese contains 28 grams of protein and six grams of sugar. Still, a 2018 Nielsen survey showed that a majority of consumers didn't recognize cottage cheese as a high-protein food. The product's dairy content may have prevented consumers from embracing its nutrition value.
So for two major dairy brands, the question became how to reframe the category.
DairyPure: Mixing up the Cottage Cheese Game
Started in 1925, Dean Foods is a $9 billion dairy brand that has produced cottage cheese for decades through its network of regional dairies. However, it wasn't until 2018 that DairyPure, its national fresh milk brand, launched its first cottage cheese, Mix-Ins.
The objective? To make the category more "exciting and dynamic," via the use of flavors and toppings together, Joe Reske, senior director of marketing for DairyPure, told NOSH.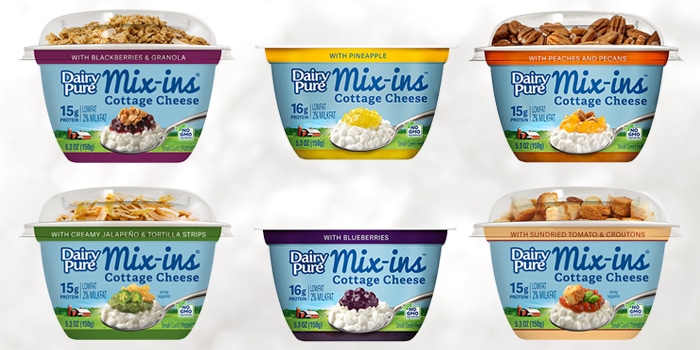 The line launched with four fruit flavors: blueberry, peach and pecan, pineapple, and strawberry and almond.
Last month, the brand added blackberries & granola as well as two new savory flavors: creamy jalapeño with tortilla strips and sundried tomato with croutons. All of the toppings are paired with a two percent low-fat cottage cheese. The MSRP is $1.59 for a 5.3 oz. cup, and it's available at thousands of retailers nationwide including Albertsons/Safeway, Dollar General, Publix, CVS and Amazon Fresh and Prime Now, with more locations being added throughout the year, Reske said.
The idea for savory options with toppings was a crucial part of the sub-brand's long term plan, Reske said, adding that the goal was to shift cottage cheese from a breakfast item or snack to a mini-meal.
"If texture has been a barrier for some, having toppings like we do creates a dynamic taste and texture that kind of makes it a lower barrier to trial," he said.
The other goal is to appeal to a younger consumer base that's looking for simple, fresh ingredients and global flavor combinations.
"The design of them is such that you could find them — or something similar — as an appetizer at a Mexican or Italian restaurant," Reske said. "It's not just a grandma snack stuck in the seventies."
Hood: Ahead of the Curd?
A 173-year-old dairy company with $2 billion in retail sales, HP Hood has been producing cottage cheese since at least 1969, Chris Ross, VP of marketing for Hood, said. In 2010, the brand developed a multimillion dollar advertising campaign for cottage cheese and launched new single servings and savory options in order to bring new life to the category, Ross said.
The company's research found that consumers considered cottage cheese savory about 70 percent of the time, Ross said, a preference that differentiates cottage cheese from yogurt.
"Consumers in this country don't embrace the savory side of yogurt. So when you plot sweet versus savory, cottage cheese and yogurt really start to separate even more," he said.
The results of the initial cottage cheese marketing push were "staggering," he said, and since then Hood's cottage cheese category has grown 30 percent.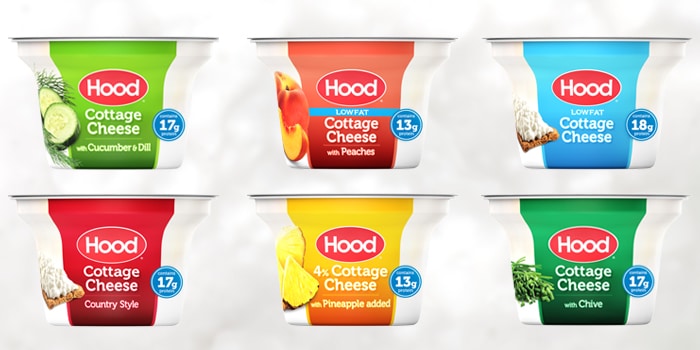 The product line recently expanded into new markets, along with two new flavors: cracked black pepper and strawberry. The cracked pepper flavor had previously launched about 20 years ago without much success, but the Hood team thinks consumers will warm to it now, Ross said.
The brand's most popular savory choice is chive, followed by cucumber and dill. Other savory offerings include low-fat chive and toasted onion and garden vegetable, all with an MSRP of $1.49 for a 5.3 oz. container and $2.69 for a 16 oz. container.
The brand also found that shoppers were not just using cottage cheese as a snack or spread, but also as an ingredient, often in place of other condiments such as mayonnaise. Inspired by these use cases, the brand is also teaching shoppers to use cottage cheese in more day parts.
Entering new geographical areas has proven successful, Ross said, adding that six months after entering Baltimore and Washington, D.C. in 2017, Hood's cottage cheese category grew by over seven percent, leading to its recent expansion to Cleveland, New York and Pennsylvania. The brand expects West Coast consumers to be equally receptive, but is focused for now on serving its current markets to become the country's top cottage cheese brand.
These advances are taking place, in some ways, despite the slow advance of brands that were supposed to reignite interest in cottage cheese through their contemporary marketing and flavors. Good Culture, for example, is a brand that launched earlier this decade with savory flavors and a plan to bring cottage cheese into the present; it has since moved away from its less-sweet positioning. Muuna, which launched in the U.S. in 2016, currently has no savory options.
"We were excited to see new brands come into the cottage cheese category because we believed more attention to this great category would help it explode," Ross said. "Unfortunately that hasn't yet materialized."
Can Creativity and Brand Power Heat Up a Cold Category?
Cottage cheese first became popular in the 1950's as a diet food. Consumption of cottage cheese was at its highest in the early 1970's, when the average American ate roughly five pounds of it per year, according to the U.S. Department of Agriculture. Though overshadowed by a yogurt industry that's now filled with a plethora of dairy and plant-based options, cottage cheese tends to stand alone as a simple, wholesome food.
The simplicity and utility are what both the big brands and the smaller ones are betting on. As a high-protein snack or meal replacement cottage cheese is "perfect for the wellness-minded millennial," Reske told NOSH. Although many millennials are looking for plant-based products, others are looking for high-protein, ketogenic options.
"It has higher protein than Greek yogurt [and] lower sugar than a lot of options in the category today," Reske said. "[It] has a pretty simple ingredient statement."
Yogurt sales have been dwindling year after year after a peak in 2015 — the height of the Greek yogurt boom. By 2023, research firm Mintel predicts a further drop to $8.2 billion in sales — a decline of 3.5 percent from 2018.
So the question becomes, can cottage cheese steal a spoonful of yogurt's spilled market share?
"When you look at the roots of cottage cheese, there's more sustenance and physical satisfaction there," Ross said. "It's played a different role historically than yogurt."