Back to the Roots to Help Consumers Grow Hemp Superfoods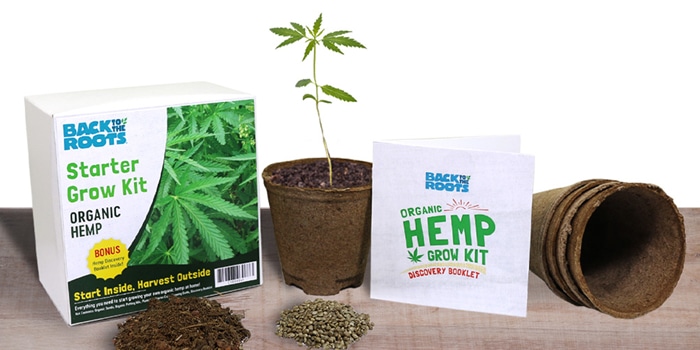 Aiming to reconnect consumers with their food, organic food and indoor gardening company Back to the Roots this week announced the launch of its Organic Hemp Starter Grow Kit. The kit, which will retail online for $49.99, allows consumers to grow five hemp plants that can be used to produce hemp oil, hemp tea or hemp hearts.
Co-founders and co-CEO's Nikhil Arora and Alejandro Velez told NOSH that once the 2018 Farm Bill legalizing hemp cultivation passed, they were inspired to produce a kit that could introduce the plant to a new generation of consumers.
"It's an incredible product but it's suffered from a mistaken identity," Arora told NOSH. "We have a chance to bring [this plant] back."
Like all of Back to the Roots' other kits, which allow consumers to grow functional foods, the Hemp Starter Kit comes with educational materials to help instruct consumers on both how to grow the plant as well as how it can be used in day-to-day life.
Arora and Velez told NOSH that in the years since the company's inception, they have come to realize that education is one of the key tactics they use to keep consumers engaged with their products, which can take weeks — even months — to finish growing.
"It's more about the journey and discovery," Arora said. "It's less about the end result and more about the process of doing it."
The Hemp Starter Kit is one of the company's first releases since its February announcement of the close of a $3 million dollar round of funding led by garden and pet company Central Garden & Pet. As part of that investment, Velez told NOSH, Central Garden — which has its own garden products — has begun to assist the company with sales and marketing efforts. Central Garden has over 600 sales team members, far more than the startup could ever hope to have.
On top of this shift, last year Back to the Roots turned over the production, sales and distribution of their organic cereal line to Nature's Path in a licensing deal. Together, Velez added, these changes have given the two co-founders and their team more time and capital to direct towards product development.
"We're able to do more with less," Velez said. "Nikhil and I can focus on what we love the most, which is around innovation and creating beautiful products."