All in the Family: Rao's Expands into Soup and Freezer Aisle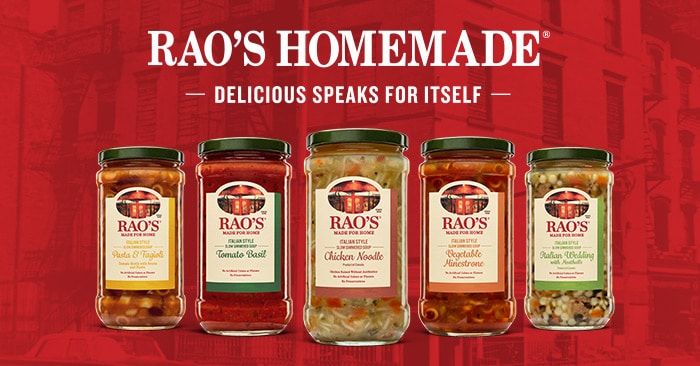 For Italian food brand Rao's, clean-label isn't a new concept. After seeing success in sauce, the company is steering toward new categories.
Rao's, named after the legendary restaurant in New York, has been serving up jarred versions of its premium sauces since 1992. Acquired by food and beverage company Sovos in 2017, the company is expanding its homestyle cooking with a new line of jarred soups and frozen entrees.
The company has followed its familiar playbook of bringing comfort food to store shelves with the launch of a line of soups in Italian Wedding, Vegetable Minestrone, Pasta and Fagioli, Tomato Basil, Chicken and Gnocchi, and Chicken Noodle soup, each with an MSRP of $4.99 for a 16 oz. jar. The soup follows a summer test of Rao's frozen Italian entrees in 1,000 locations of Whole Foods, Sprouts and Harris Teeter. The brand is banking on authenticity to lead a premium soup and entree set, Risa Cretella, senior VP and manager of food and beverage company Sovos, which owns Rao's, told NOSH.
"We're mirroring what was done in sauce," she said. "It's a natural connection for consumers and retailers to make."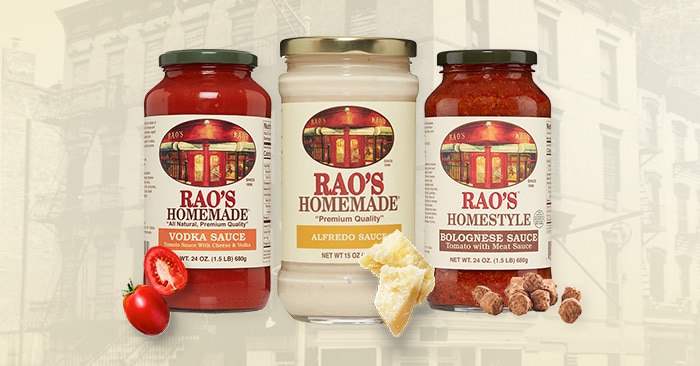 Rao's already has broad reach — with placement in nearly every conventional grocery store and 70% of natural retailers in the U.S., Cretella said. The company is the second fastest growing brand in center store and the top 'super premium' sauce brand, with $159 million in sales and 42.2% growth for the year ending August 11, according to data firm IRI. Building on this existing distribution, the soups will be in over 10,000 stores by the end of 2019.
While the story of Rao's soup is admittedly "a little tougher" than pasta, which was a more obvious addition to the portfolio, Cretella said, the proof is in the glass jar, which lets consumers see exactly what's inside. In Sovos' consumer research, 80% of consumers preferred glass jars. In response, the brand created a smaller label than the sauces have so that more of the soup could be seen.
"To put something in an opaque package — a can or tetra pack — and say 'trust us, this one is clean and natural,' there'd be a lot of skepticism there," Cretella said. "It's disruptive to the consumer's eyeline as they're looking at the shelf."
Though soup consumption has been stable overall, the premium set hasn't grown, Cretella said. Banking on its sauce legacy, she noted, there's an opportunity for Rao's to re-define the premium soup category.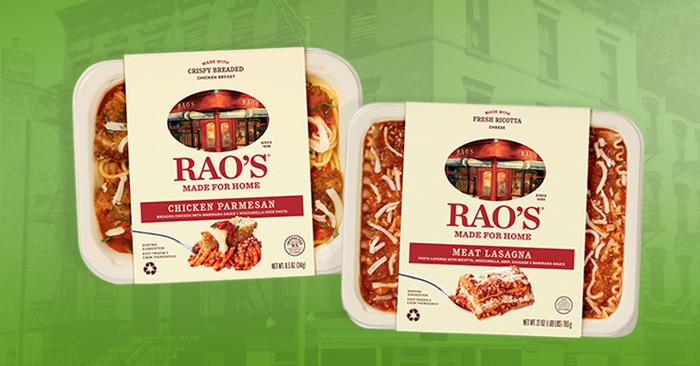 But Sovos isn't just seeking center store success; the company will also expand distribution for Rao's frozen Italian entrees within the next six to eight months. Italian frozen entrees aren't new for Sovos: the company in 2017 acquired Italian food brand Michael Angelo, but Rao's line features higher quality ingredients to differentiate it from its partner brand, Cretella explained. And while the team was unsure consumers would go for premium-priced frozen meals ($5.99-$6.99 for single serve, $12.99-$13.99 for family size), the test run showed they would. Moving forward, Rao's will seek to fulfill other meal categories that need reinvigorating.
"Sauce is the heart and soul of the brand and family legacy," Cretella said. "We think it will always be what's core to our hearts and business. When it comes to innovation the first question is about the consumer: what is the unmet need right now in meals, and how can we help? That's our starting point."
While it can be "absolutely tempting" to alter these brands based on trends, Sovos plans to preserve the brands' identities. To do that, the company still works closely with all three brands' founders. It also recently relocated its headquarters to Montclair, New Jersey, where 12 employees manage Rao's.
"You can tell the difference between an authentic and inauthentic story," Cretella said. "You can be totally authentic when you talk about [Rao's] and its roots. Once people learn about the brand it really resonates with them."