All Grown Up: Pipsnacks Debuts New Snacks, Fresh Packaging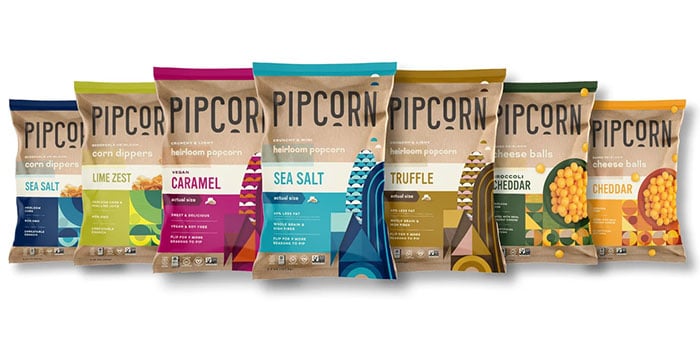 Former Shark Tank winner Pipsnacks is growing its family of heirloom corn snacks, launching new cheese balls and corn chip dippers into retail this month. The Brooklyn-born company is also rebranding its image, growing from its small batch roots as it seeks to expand. New to store shelves will be a line of Cheese Balls (available in Cheddar, Broccoli Cheddar, and soon Jalapeno Cheddar) and Corn Dippers (available in Lime Zest, Sea Salt and Truffle flavors.) Each corn-based snack will retail for $3.99-$4.99, the same price point as Pipsnacks' flagship line of Pipcorn. Whole Foods and Sprouts have both already picked up the Cheese Ball line, which differs from conventional alternatives with a cleaner ingredient deck. Pipsnacks has also added a vegan caramel SKU to the Pipcorn lineup to offer shoppers a sweeter snack that's lighter than most caramel corn.
After winning a $200,000 investment on Shark Tank in 2014, Pipsnacks gained national attention for its small-batch, small kernel popcorn. Teresa Tsou, who-co-founded Pipsnacks with her husband, Jeff Martin, and his sister, Jen, said a $6 million investment from innovation center Factory in March helped the company achieve a long-time goal: updating more "favorite childhood snacks" with "sophisticated flavors" and clean ingredient lists.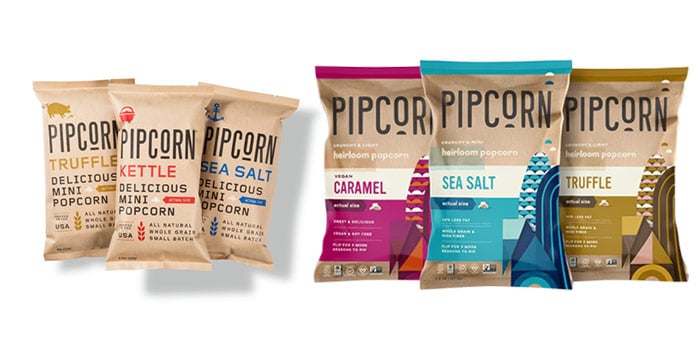 Launching the new product lines inspired the company to take a larger look at its branding, which Jen Martin said was ready for a refresh. The new packaging features bright colors and shapes for a "nostalgic, retro vibe" that reflects the brand's efforts to "modernize heirloom," she explained. Although its craft-paper backdrop has remained the same, more intense, bold colors are used to help the brand stand out in a crowded category.
"We're in a place where we wanted to pop a little bit more off the shelf," Jen Martin said. "We also wanted to bring lightness to the bag. It's about clean, heirloom ingredients — not necessarily about adding extra functionality."
Nutrition also plays a role, with the previous callouts on Pipcorn's packaging for "small batch" and "gluten-free" replaced by statements highlighting that the product is lower in fat and calories than conventional options, while the Corn Balls' packaging calls out "real" ingredients and a lack of artificial colors.
Although there is still plenty of information about the products' heirloom nature on the package, the new look focuses less on the "artisanal" aspect, and more on a futuristic vibe, Jen Martin said. The company's revamped website, which launches next month, will also reflect the change.
"It was time to go from a small artisanal looking brand to what we really are," Jen Martin said. "[Consumers] want a brand they can really trust and we wanted to make sure that what's inside of the bag is clearly reflected on the outside."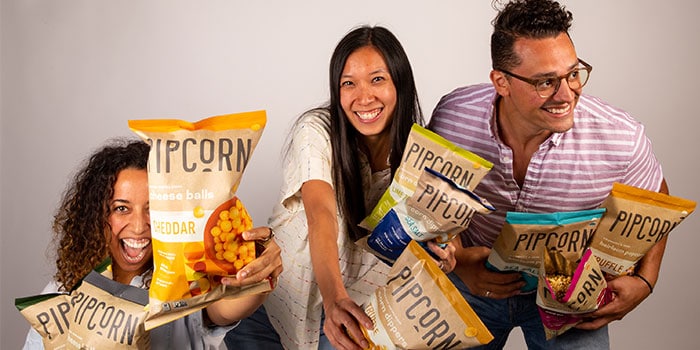 Perhaps the move away from artisanal also reflects the brand's broader distribution goals. Pipsnacks, which is currently sold in about 3,500 stores, hopes to expand distribution to conventional retailers this year, Tsou said. She added that conventional retailers are now seeking the same level of clean, quality ingredients as natural retailers.
With this focus — and Factory's assistance with production and supply chain — the brand is also lowering prices. At Whole Foods, Pipcorn's products will drop from $4.99 to $3.99. Jeff Martin explained that the company has wanted to lower the prices for a while.
"That's the way we win," he added. Consumer education and field marketing will also play a major role in growing the brand, he said.
But all of this takes time and effort. With the Factory investment, the team has been commuting from Brooklyn, but Jeff Martin and Tsou will soon move to the Lehigh Valley to work directly with Factory on logistics and operations. With two large projects under their belts, both Factory and Pipsnacks are ready for the future.
"[Factory] saw the way we work," he said. "It's a great snapshot of how things will be done going forward."