Aiming for Profitability, Bobo's Raises $5.5 Million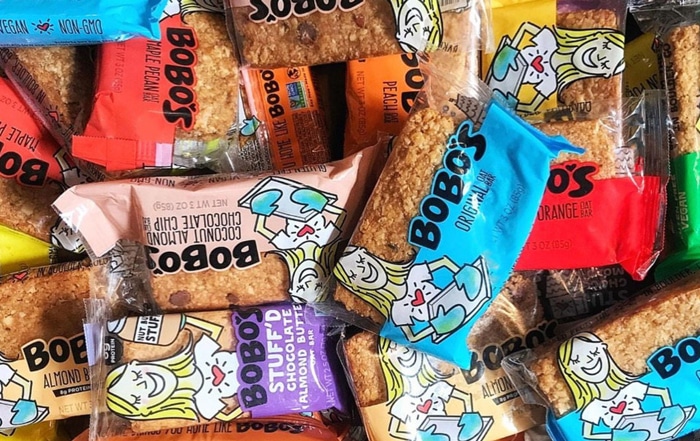 Snack brand Bobo's is ready for its next phase of growth courtesy of the close of a round of capital investment and the opening of a new production facility, CEO TJ McIntyre told NOSH.
The $5.5 million round was led Boulder Food Group (BFG) with existing investors Ridgeline Ventures and BIGR Ventures also taking part. Bobo's previously raised $8 million in March 2017, followed by a $3.5 million round in September 2018. The plan, McIntyre said, is to have this subsequent round carry the brand through profitability, which will be achieved in the first half of next year.
The goal is to eventually sell the company, and the raises are necessary steps, McIntyre told NOSH.
McIntyre told NOSH that the company had not originally planned to raise more capital but needed to in order to continue growing once it "unexpectedly ran out of capacity." Just as the company closed its 2018 funding round, Bobo's new vp of operations, Rob Streight, quickly ascertained that the brand would need another facility. Complicating space restrictions, the company's line of jam-filled Toast'r pastries, which launched in March 2018, were taking far longer to produce than expected.
To resolve both issues, the company purchased the former Canyon Bakehouse facility in Loveland, Colorado, which McIntyre said was a "plug and play" production space. Although the brand could have moved to a co-packer, the team didn't feel it would be able to maintain its quality standards.
Currently Bobo's is operating a 98% fill rate, he added, telling NOSH that, "We now have line of sight to our ability to close to double our business with our current capacity." The Loveland facility came online with 20 ovens and every 45 days Bobo's can add another oven.
Doubling the business will come via a focus on building velocity with its bars and bites, particularly within conventional retailers such as Kroger, Albertson's and Safeway. Together, McIntyre said, the bars (which are sold in the nutritional bar set) and bites (which are sold in the cereal bar set) form a "dual category strategy" for the brand, despite their similar form factors and ingredients.
Down the road, Bobo's plans to launch a subcategory of similarly baked bars and bites in partnership with Whole Foods in 2020. But what the brand won't turn to for expedited sales are ingredients, form factors or dietary trends that the team sees as too trendy. Looking at Nielsen data, particularly with snacks, products that launch targeting a specific dietary trend see sales cool after 12 to 24 months once consumers have moved onto a new fad, McIntrye said. At the same time, products that emphasize clean ingredient lists and taste see longer, more sustainable growth.
"We didn't do protein bars three years ago. We didn't do paleo bars a year ago. And we're not doing keto this year — whatever the trend is in January that's the diet du jour, we're not doing that, either," McIntyre said. "We're just going to continue to make delicious oat bars and serve a real incremental purpose for category managers."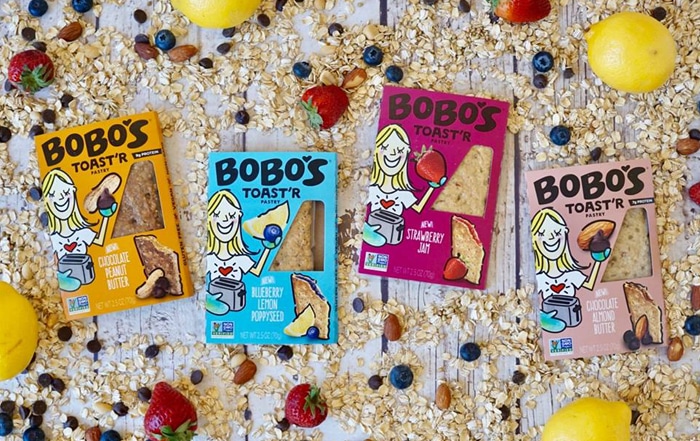 Currently Toast'r has a 40% market share in the natural toaster pastry set and has helped the category shift from "red to break-even," McIntyre said. And due to its proximity in stores to the cereal bar set, Toast'r helps build brand awareness for the bites as well. That said, McIntyre added, Bobo's will be keeping the line in more limited distribution for now.
"There is an interest from category buyers from all banners in what is brand new and potentially trendy, but there is also an enormous amount of risk in going out and grabbing a ton of distribution on an idea that's still proving itself out," McIntyre said. "We're not looking for any quick hits that have question marks around how sustainable they are going to be."
With numerous private equity firms involved, as well as founder Beryl Stafford's 15 plus year journey growing the company, at some point Bobo's will look for a financial exit, McIntyre said. At that point, a strategic would want to be able to see how the company could continue to scale into a $100 to $200 million franchise across several key categories.
"We don't want to hit a bunch of singles and doubles," McIntyre said. "We want some home runs."