4th & Heart Closes Round to Scale Ghee Platform
Artisanal ghee brand 4th & Heart announced the close of a $7.6 million round of capital today. Harbinger Ventures led the round with previous investors Boulder Food Group, Blueberry Ventures, Cambridge Companies SPG, Finn Capital Partners and Monogram Capital also taking part.
Since its inception four years ago, 4th & Heart's line of highly clarified butter has raised a total of $16 million. Founder and CEO Raquel Tavares told NOSH the company's fundraising strategy has been to raise enough capital to grow at a sustainable rate, while also remaining "disciplined" in spending.
"Fundraising is truly an art and a science, as you don't want to undercapitalize or overcapitalize your business, as both situations pose specific threats," Tavares said. "Our capital raise is simply based on our capital needs to hit forecasted gross revenue multiples, to educate, to market and continue to innovate in our respective categories."
4th & Heart's products are currently sold in over 10,000 stores including Whole Foods Market, Sprouts, Ralph's, Giant Eagle, Wegman's, Earthfare and more. The brand recently gained entrance into its first mass retailer, Tavares told NOSH, when select Target P-Fresh and SuperTarget stores picked up its Original and Himalayan Salted ghees in a new, smaller-than-before 6 oz. jar.
The company makes five ghee spreads, three chocolate ghee spreads and four oil blends in pourable or sprayable formats. But, 4th and Heart's original ghee represents the bulk of the company's revenue, Tavares said. Historically an Indian staple item, ghee has picked up momentum in recent years as keto and paleo diets have also gained steam, but mainstream consumers still don't know much about it.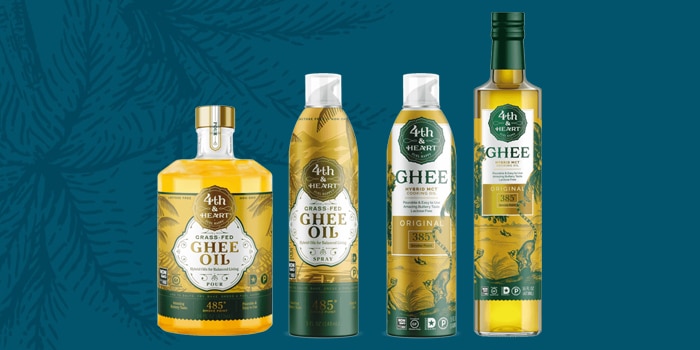 For Tavares, expanding beyond the natural or health conscious shopper initially meant offering ghee in new form factors such as liquid or sprayable oils and single serve pouches. But increasingly the company is turning to ghee as an ingredient, launching chocolate ghee spreads with a creamy consistency. Moving further into finished products, 4th and Heart this fall will start selling WOKE bars, made with collagen, eggs and ghee, on its website.
Tavares told NOSH that the current round will go towards both education and continuing product innovation. But investors are excited about the potential that already exists for the brand.
"4th & Heart sits at the intersection of multiple trends: Consumers are increasingly interested in healthy fats/gut health and food as a way to satisfy wanderlust," Megan Bent, founder and managing partner of Harbinger Ventures, told NOSH "Whether in cooking, as a condiment or spread or as an alternative to cream, healthy fats are being incorporated consistently into households."
To learn more about Tavares' goals for 4th & Heart and how she plans to use this capital to expand access and awareness of ghee, please view the video above.