40 Years In, Deep Plans for the Next Decade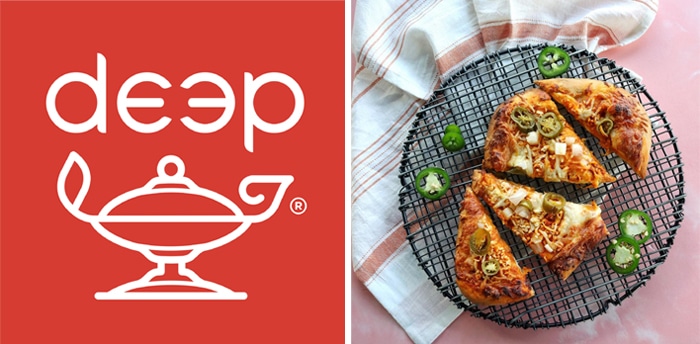 In 1977 Slim-Fast launched in stores, Chuck E. Cheese opened its doors, and Kellogg's Cracklin' Oat Bran was introduced to consumers. Most Americans, let's say, were not as culinarily adventurous as they are today.
Meanwhile, in suburban New Jersey, Bhagwati Amin decided to start making Indian snacks in her garage and selling them to her neighbors. The result would quietly become an Indian food giant: Deep Foods, whose widest selling line was Tandoor Chef.
The American palate has evolved in the subsequent 40 years, and so has the Amin family business. The company is now catering to a new generation of shoppers by repositioning Tandoor Chef under its Indian food brand, Deep Foods, in an effort to tell a larger, authentic story.
At-Home Origins
Deepak "Deep" Amin, the current CEO of Deep Foods and Bhagwati Amin's son, told NOSH that his mother initially wanted to start a restaurant, but settled for a catering company that could be run from their home while also taking care of her family.
"It wasn't so much an idea as a drive and passion to make great Indian food," Amin told NOSH. "At the time it wasn't really a business venture."
The catering business eventually fell by the wayside in favor of pre-packed food items sold in Indian grocery stores — almost as retailers' private label brand. From snacks, the company grew into other categories including ice cream, frozen meals, flatbreads, spices, appetizers and individual, quick-frozen fruits and vegetables.
Today, the company has 800 items in its portfolio, 300 of which they manufacture, and the Deep Brand is sold in 2,000 ethnic Indian grocery stores. Across ethnic retailers, Deep estimates (the data is not officially tracked) that it owns 60% of the frozen food category. The company has two plants in the U.S., including one for dairy alone, and two plants in India, along with more than 4,800 employees globally.
Mainstream Exotics
That's where Tandoor Chef comes in. A decade ago, Deep Foods sought to grow beyond Indian consumers and launched the Tandoor Chef line of frozen appetizers and entrees to capitalize on a growing "foodie" market that was increasingly interested in international cuisine.
"All the indicators were there for people looking for flavor, even ten years ago we were starting to see that," Amin said. "This was our initial dabble."
That "dabble" paid off: Tandoor Chef's 25 SKUs are now sold in more than 11,000 retailers, including Whole Foods, Kroger, Albertsons, Safeway and Publix. According to data provided by Deep, when looking at Indian frozen food offerings in the natural channel, Tandoor Chef has 30% share.
Within the natural channel, Tandoor chef faces competition from Saffron Road, which produces an array of Halal-certified frozen items, as well as mainstream brands that produce Indian offerings, such as Amy's Curry Korma Wrap or Evol's Chicken Tikka Masala Bowl.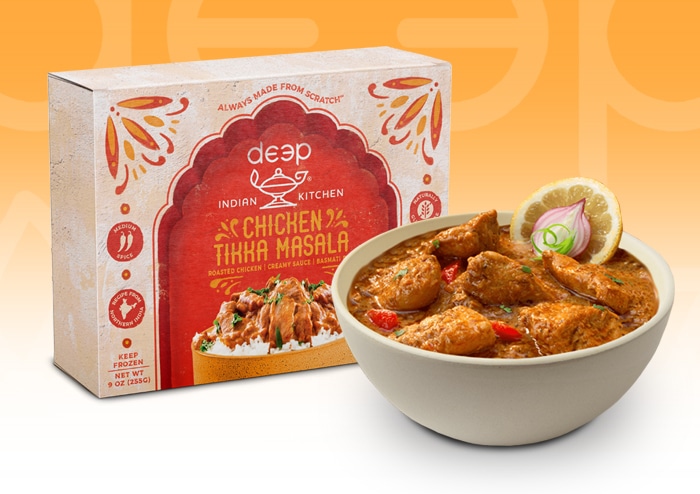 An Evolution
Amin took over from his father as CEO in 2018, and faced a new era of consumers who have different desires (non-gmo, natural and authentic) for their food. To keep up with that shopper, Amin, with Kiernan Laughlin, Deep's executive director of sales & marketing, decided to take radical steps: rebrand Tandoor Chef under the Deep Indian Kitchen brand and create one marketing strategy that targets the next generation of shoppers. It's a move that's reflective, Amin said, of just how much the American shopper has changed.
"Ethnic flavors have always been on the rise," he told NOSH, "But, today is different. It's actually real and we're starting to see a tipping point."
That includes an acceptance of food trends that, at their root, connect back to Indian cuisine. Amin cited coconut water, turmeric, ghee and plant-based proteins as trending flavors and themes that all can be found in India. According to a 2019 report by research firm Nielsen, sales of fresh turmeric have grown at a five-year compound annual growth rate (CAGR) of 76%.
Along with the name change, the packaging will undergo a total rebrand that's "uniquely Indian," Laughlin said, thanks to design firm Interact on Shelf. Each box now resembles a building wall and features a trompe l'oeil of an archway — the architectural feature where, in India, residents would place their lamp, or "deep." The redesigned products will roll out over the next few months, and flow directly onto retailers' shelves, as no UPC codes have changed in the process.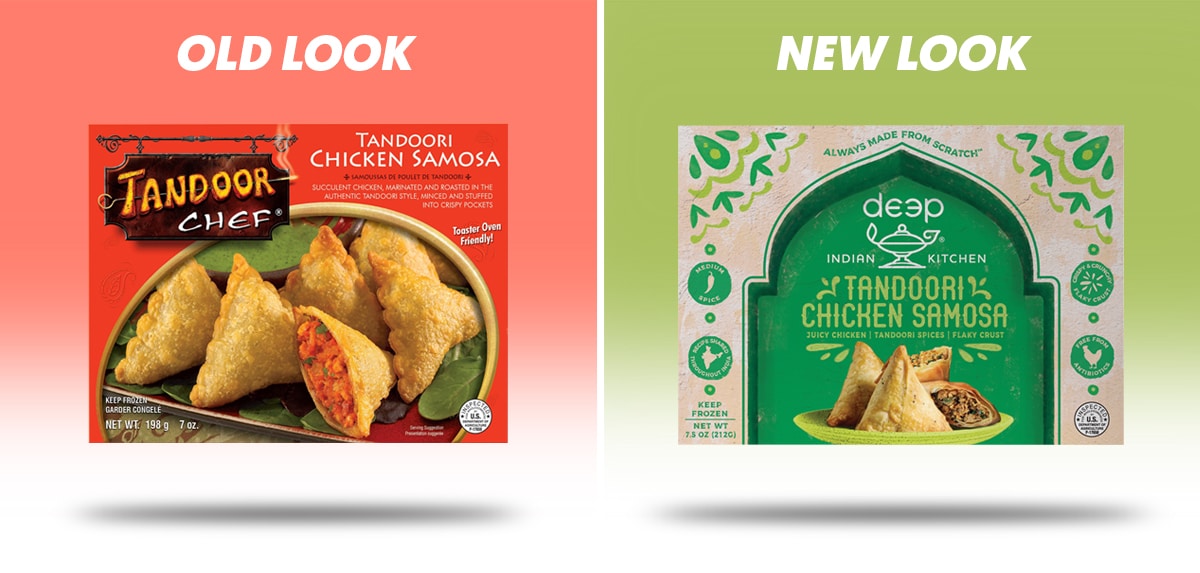 Continuing Education
Deep's new packaging will also reframe dishes to better resonate with American shoppers by including nods to popular food trends and functional benefits — such as calling out the use of plant-based protein. The company has also reframed classic dishes to make them easier to identify — think spinach paneer instead of palak paneer — while still avoiding oversimplifying, such as calling palak paneer spinach and cheese.
"There's a balance between having something be authentic and educating consumers," Laughlin told NOSH. "It needs to be accessible without being inauthentic."
This combination of education and exploration is what shoppers are looking for, research group Innova Market Insights found. Earlier this year the firm stated that "discovery: the adventurous consumer" — aka products with a global exploration bent — was their top trend projection for 2019. Innova found that 35% of new launches had a "discovery" claim, utilizing words such as explore, uncover, unveil, discover or unravel.
But even with a rising adventurous nature, most American consumers have only been exposed to a small part of the Indian culinary adventure — after all, the country has hundreds of dialects and 14 different languages, supporting dozens of cooking styles.
Over time, Amin hopes to expose them to more culinary styles and also sell in some of Deep's other lines —moving from items that require little preparation to more culinary options. By 2025, he projects the Deep "mainstream" line will reach $100MM in sales — potentially a feat considering that according to current SPINS data, food and beverage products with ethnic Indian positioning only accounted for $153 million in sales over the last year.
"We have all kinds of products that they can make dishes with, but first we need to drive the brand through what's most accessible, which is ready-made meals," Amin said.
In expanding beyond frozen, Deep will face more competition in center store. Fellow frozen brand Saffron Road has snacks and sauces while Maya Kaimal, which is often credited as introducing the natural channel to Indian food, offers a variety of meal solutions. The latter recently closed a round of funding from private equity firm North Castle Partners as it seeks to "[expand] the brand and [take] Indian food to the next level," the company said in a release.
Although, despite the interest from investors, retail has yet to fully catch up. SPINS' data shows sales of food and beverage products with "ethnic Indian positioning" were relatively flat over the past year. However frozen is still somewhat a bright spot in the category as sales of frozen appetizers and snacks with ethnic Indian positioning grew 13.2% over the past year to $4.5 million.

From the Kitchen to indikitch
For consumers who find even the microwave too arduous, Amin has another solution: indikitch, a fast-casual Indian restaurant that is also owned by the family. Not only does indikitch serve as Deep's "experiential arm," Amin said, but it is also changing consumers perception of Indian food.
With a Chipotle-esque model, indikitch allows restaurant goers to quickly customize their orders, selecting a main ingredient, sauce, spice level, rice base, sides and naan. The restaurant has five locations in Manhattan and plans to expand throughout the Northeast. Amin's hope is by seeing that Indian food can be made to order from fresh ingredients, general consumer sentiment will start to change.
"We're on a mission to really introduce Indian cuisine done right," Amin said. "You look at the international markets — Europe, Canada — and where Indian food is today in those areas, and look at where Indian food is in the United States and you have to wonder what the deal is? We need to break that ice and someone has to do that."