Stone Beer Co-Founder: We're Bringing Craft to Nut Butter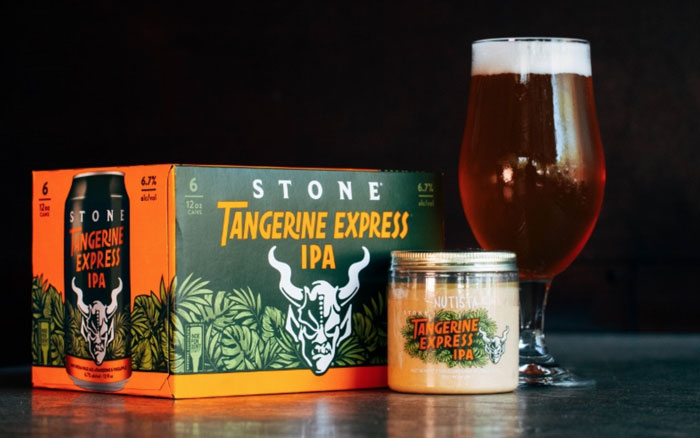 Something new is brewing in the nut butter set. Stone Brewing co-founder and executive chairman Greg Koch is moving beyond beer with the launch of with Nutista, an artisanal, stone-ground nut butter line. Joining him, and running the day-to-day operations, are co-founders Tristen Cross and John Huber. The company also enlisted Arctic Zero CEO Amit Pandhi for its board of advisors and is backed by tech investor FusionX Ventures.
Koch told NOSH that eight years ago he became fascinated with making his own nut butters, comparing the process with that of home brewing.
"I always liked peanut butter but it was nothing special to me," Koch told NOSH. "It was like beer before I discovered craft beer."
In 2017 he was introduced to Cross and Huber and the brand soon launched. Koch still is an owner in Nutista but now acts in an advisory role. Currently the brand's products are sold in 40 retailers including Jimbo's Naturally, Erewhon Natural Foods and Clark's Nutrition and Natural Food Market and retail for $12.
Nutista produces three core flavors — an original that's a blend of nut varieties, a banana nut butter and a maple nut butter — but Koch's influence is more apparent in other sub-lines. The brand recently released a Totalitarian Imperial Russian Stout Nut butter as well as a Tangerine Express IPA Nut butter, both of which are inspired by popular Stone beers. Huber also produces limited edition, online-only, "experimental" flavors that have explored other beer flavors, jerky, matcha and even kombucha. The most recent Experimental release was a "steakhouse" nut butter.
"The 'Experimentals' are an area we took advisement from Greg," Cross said. "At his brewery in Liberty Station, he allows his brewers to [try out] new beers. They can be crazy mad scientists and launch beers right then and there."
Cross and Huber told NOSH that they think many brands are ignoring a key consumer segment — young, urban millennials — and instead focusing on moms and families. One way the company is targeting this demographic is with its beer-based flavors.
"In today's world it's perfectly acceptable to realize, you're not for everyone," Koch said.
All three co-founders also said they think they can differentiate themselves within a crowded category through branding and a focus on craft.
One pillar of the craft category — and a personal passion of Koch — is sourcing. Just as Stone searches for the best hop for each beer, Nutista examines each nut type and finds the right variety for that blend, according to Huber.
"There are so many analogies to craft brewing because you learn that with hops, malts and temperatures and time and yeast," Koch said. "Instead of looking at it through the lense of a commodity, we look through the lense of a true artistic endeavor."
Having tested the concept at local farmers markets before heading into retail, Nutista will focus on expanding distribution in 2018. In the future, the company also hopes to expand beyond nut butters to other nut-based products. "Nuts haven't gotten the love," Huber said.
Also down the road may be a play into technology — hence the investment from FusionX. While exact details were not disclosed, Cross and Huber noted there is potential to offer retailers in-store, nut butter grinding technology.
It's the possibilities that excite Koch, and although the market is busy, Koch believes there's still an opportunity to disrupt with this current line.
"When we started Stone in 1996, I thought we were too late to make a mark. Steve and I did it because we felt compelled," Koch said. "If I'm going to project ahead a little bit, as long as you have a really great voice…and you follow that and you're good at it, then it's up to consumers and fans of nut butters to accept it or not."