SnackNation To Expand Beyond Offices With $12 M Investment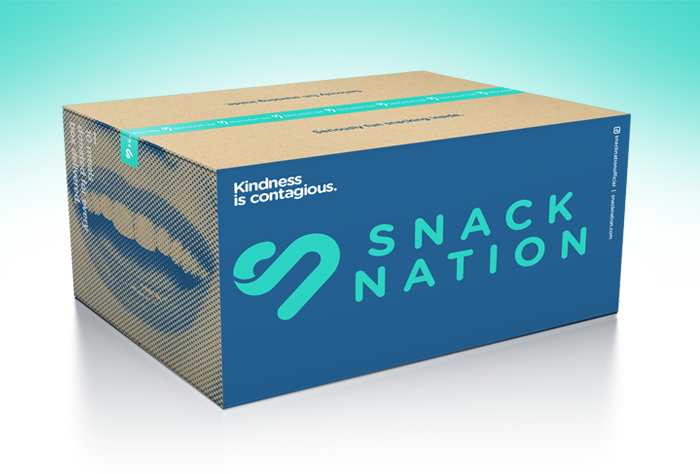 Tech-enabled snack delivery service SnackNation today announced the closing of a $12 million round of investment, bringing the company's total venture funding to $22.5 million to date. The Series B round was led by 3L Capital.
SnackNation said it will use the new funds to expand into new distribution channels such as hospitality and transportation and scale its direct-to-consumer business, which is currently 10 percent of the company's revenue. The goal is to further position the company as the go-to marketplace for emerging CPG brands in the natural space, according to SnackNation CEO Sean Kelly.
"We've focused on the office thus far because this is where people, especially the younger generation, spend the majority of their time," Kelly said. "As we grow, we're looking at other unique moments in a consumers day where we can connect with them in a meaningful way."
Founded in 2014, SnackNation curates and delivers better-for-you snacks for customers in thousands of member offices nationwide. To be affiliated with SnackNation, each brand and product must pass an ingredient review and tasting panel. The company offers over 5,000 better-for-you snack options from brands such as Chef's Cut, Clif, Dang and Mamma Chia.
This offering hits a sweet spot with younger consumers in particular: On average, millennials are willing to take a $7,600 pay cut in exchange for a better work environment, according to a recent study by Fidelity, and about 88 percent of surveyed employees consider employer-provided catering and snacks as an important benefit.
Many brands — and now investors — are looking to emerging platforms like SnackNation for an omnichannel approach to retail as shoppers spend less time in brick and mortar stores.
"We believe the average duration of success for brands is shrinking due to ever-changing consumer preferences and the perpetual entry of new brands and products to the marketplace," Kelly said. "An intense focus on distribution channels outside of traditional brick-and-mortar retail is essential to achieve sustained success in this ever-changing world."
Until now, SnackNation has focused on offices; about one-third of a person's life is spent at work, meaning a job can have a huge impact on diet. But now with new funding in hand, the company is looking at how consumers snack during the other two-thirds of their lives.
Kelly explained that the company is exploring partnerships with hotels, resorts, rideshare services, private jets and major airlines.
"We are telling brands and companies, 'We are a platform for emerging innovative brands. We have a very good understanding of what brands are received very well in the marketplace so work with us instead of trying to do it on your own," Kelly said.
By working with SnackNation, regardless of channel, brands also gain access to customer data. Kelly told NOSH that SnackNation hopes to expand its range of analytics, which currently comes from information gathered through its member portal and consumer surveys. Investor 3L, Kelly said, will be particularly helpful with this aspect of the business.
"[They're] unique in that they have strong experience and expertise in both data-driven businesses and marketplace models… while also understanding the world of consumer," Kelly said.
To meet SnackNation's future growth objectives, the company may also look to acquire other synergistic companies in the future, Kelly added.
SnackNation may face competition in its quest to service offices, which will remain a key focus for the company, according to Kelly. Earlier this month, ZeroCater, a provider of office catering and snacks, also raised $12 million in a Series B round led by Cleveland Avenue LLC. Regardless of other platforms in the space, Kelly said his goal is to focus on expanding SnackNation's reach to connect with and serve more consumers during their most engaged moments.
"We see ourselves as a 21st century retailer — we bring the good stuff direct to you, where you already spend your time, rather than ask you to go and find it on your own," Kelly said. "We're happy with the progress we've made but realize we have a great deal of work to do."