Sir Kensington's Launches Spice Line, Tests D2C Sales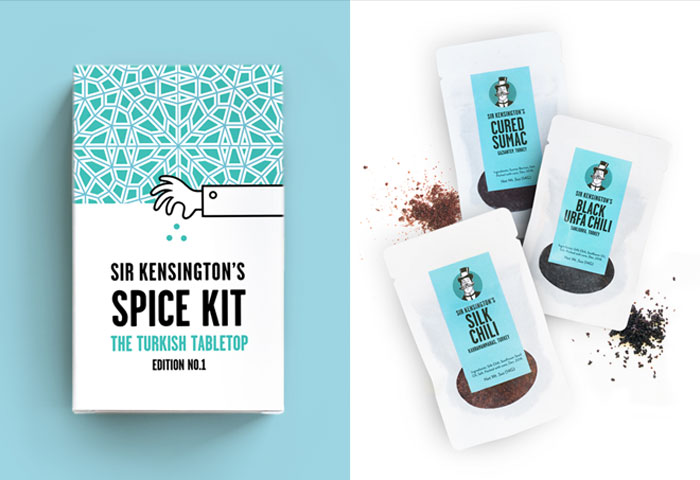 Condiment company Sir Kensington's is spicing things up with a new product line and sales channel. The brand, which was acquired by Unilever in April 2017 for $140 million, last week launched a spice kit that is sold direct-to-consumers via a microsite.
The kit, which retails for $20, contains three sachets of Turkish spices (cured sumac, black Urfa chili, and silk chili) along with two packets of Sir Kensington's mayonnaise. Sir Kensington's co-founder and CEO Mark Ramadan and director of special projects Zachary Seely told NOSH that the "Turkish Tabletop" kits are expected to sell out quickly, after which the company will release a different spice kit each month.
Seely and Ramadan said that condiments — which are what put Sir Kensington's on the map — and spices share similarities including being in "ordinary and overlooked categories" dominated by a large monopolies and having nebulous supply chains.
"We're a little crazy and backwards as company," Ramadan said. "Everyone told us not to make ketchup because it was 70 percent market share by one monopolist. And then everyone said why would you ever make mayo? Or mustard? And so that's the sort of opportunity we're attracted to, for better or for worse. It's in our bones to compete with monopolies rather then just chase a trend."
Unlike the condiments which started with ketchup, in developing the spice line, the company chose to start with a more exotic offering due to rising consumer interest in global flavors. Seely and Ramadan also pointed to chocolate and coffee as categories with far-flung supply chains that have seen a growing emphasis on sustainability, storytelling and differentiation as result of consumers' quest for new global products and stories.
"This is a generation that has been raised on Chipotle not McDonalds," Seely said.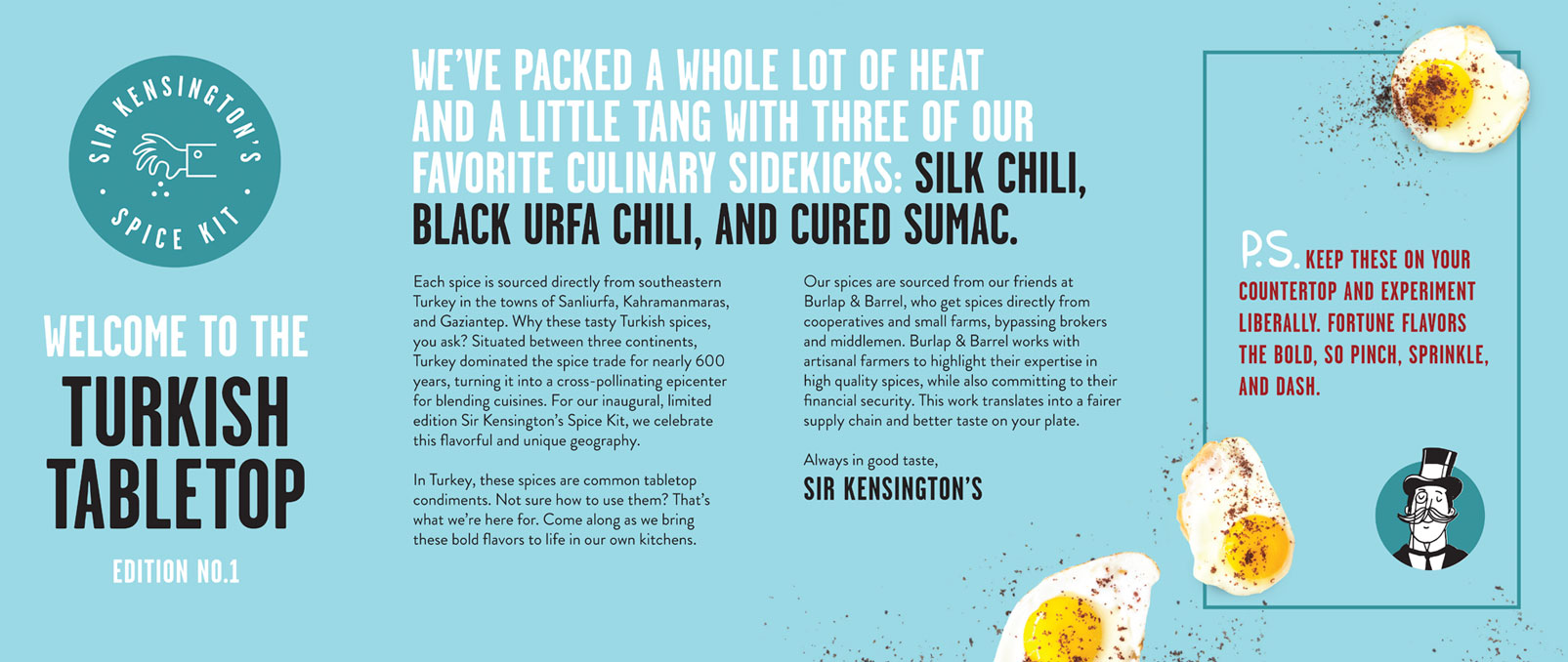 Beyond simply a new category, the spices also represent a new initiative for the company: selling direct-to-consumers.
"[Direct sales] allow you to have a one-to-one connection with consumers. And that is an interesting channel for us, but food has been particularly challenged in that space," Seely said. "Things spoil. Things break. We [couldn't] open up ketchup.com and sell our ketchup there because Amazon is going to beat us at that game, so we needed a differentiated proposition."
Ramadan echoed the need to evolve. When Sir Kensington originally launched, he recounted, "omnichannel" meant selling in foodservice and restaurants in addition to brick and mortar stores. Now, with the proliferation of online-only brands, that definition has changed. Additionally, he added, consumers want more of the story behind their favorite products, which is easier to do online.
That's not to say the spices will never be sold in retail. Seely told NOSH that 45 percent of Americans don't care about cooking, 10 percent love to cook and 45 percent are interested in cooking but lack the knowledge, skills and time. Although this first batch of spices targets the 10 percent of "foodies," Seely said the goal is to have a spice line that appeals to the last segment of consumers and helps them learn to cook.
It's this line of more familiar flavors that will eventually go into retail, likely in 2019. Ramadan said Sir Kensington's plan is to develop the in-store spice line in partnership with one specific retailer. The hope is to have a "curated" release in stores, while still having online only offerings as well.
"Yes we want to keep focusing on the core," Ramadan said, "but we also want to make sure we are meeting our fans where they are, which is not always in [retailers]."