Post WFM, Truesdell Joins Almanac & Ramps Up Canopy Copacker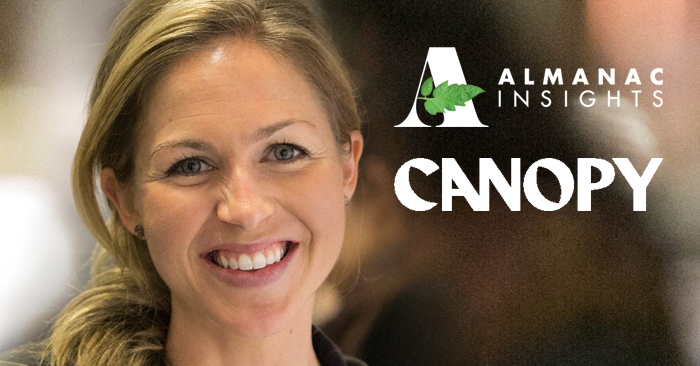 Less than a year after departing Whole Foods Market as its global director of local brands product innovation and development, Elly Truesdell has not one but two positions to add to her CV. In addition to serving as chief strategy officer to newly launched copacker Canopy Brands, as of this week Truesdell will act as a portfolio advisor to investment group Almanac Insights, which is run by David Barber.
Joining Truesdell as a portfolio advisor to the investment fund is Brian Hallweil, founder of Edible East End. Going forward, Truesdell will devote 25 to 30 percent of her time to Almanac and the rest to Canopy.
The copacker, which launched two years ago, has seen change in recent months with CEO and founding partner Forbes Fisher departing the company. In the interim, Truesdell has taken on more operations efforts in addition to helping build the manufacturer's brand and strategy. Canopy, located in Pennsylvania, produces fresh and shelf-stable condiments, soups, sauces, beverages, ready packed meals and plant-based alternatives.
At Almanac, Truesdell will help the firm evaluate possible investments, advise portfolio brands — which include Spindrift, New Barn, Foodstirs, Nona Lim and Sfoglini — and possibly sit on portfolio brand's boards. She told NOSH that while she was approached by several firms, Almanac's mission particularly resonated.
"I came out of my years at [Whole Foods] with insights in food and beverage that were valuable to investors. It sort of surprised me," Truesdell said. "I was really excited to work with Almanac because David and I look at food and the food system similarly. We are not as focused on, or as completely beholden to, CPG companies as the answer to improving food. We have a really strong team that cares about broader, systemic, solutions whether that is through some CPG companies, or technology or agriculture."
The relationship with Almanac also extends over to Canopy. The investment firm — along with a venture firm that has a vested interest in plant-based alternatives — has a strategic partnership with the fledgling copacker, feeding them emerging brands who perhaps don't have massive scale yet, but could in the future.
Truesdell told NOSH that these younger, smaller brands represent Canopy's "venture portfolio" and account for half of the manufacturer's business. The other half is comprised of high volume category leaders with premium products as well as private label items. Regardless of company size, Truesdell said there's a focus on product quality.
"Ultimately we're trying to address this major pain point for so many businesses in the food industry, which is to have a really high integrity product that scales… and finding a manufacturing party or third party who's going to do that on your behalf," Truesdale said. "We see our ourselves as number one, putting product first. We have no desire to be the most efficient, cost-effective, massive manufacturer who's just pumping out [product], we intent to be true partners."