Post Qualified Health Claim Status, Allergen Introduction Market Sees Growth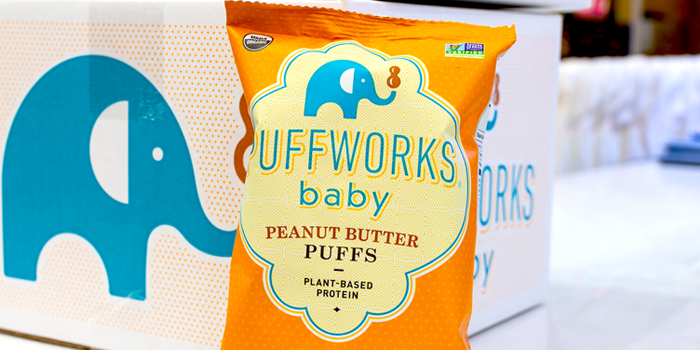 There's no denying that allergen-free foods are having a moment. As the number of Americans with food allergies rises, there has also been a jump in innovations that serve the needs of these consumers who don't want to compromise on taste or convenience. But what if there was a way for foods to actually help alleviate food allergies?
During last year's Natural Products Expo East, NOSH examined the emerging sector of baby food brands working to introduce controlled amounts of allergens — namely peanuts — to children in order to prevent allergies later in life. The brands have formulated their products based on a highly regarded study, LEAP, which FDA Commissioner Scott Gottlieb also used when he issued a guideline last year. The study officially linked early peanut introduction with the prevention of peanut allergies in high-risk children. It was the first time the FDA recognized a qualified health claim to prevent a food allergy and allowed it to be labeled as such on packaging.
The ability to provide reassurance through this claim has encouraged more companies to enter the allergen introduction category, including the category's newest entrant — Puffworks. Formerly a line of peanut puffs for adults, the brand launched its new baby and toddler line this year. Puffworks president Greg Murphy spoke with NOSH during this year's Expo East about why Puffworks thought this was a space they needed to be in, especially only a year after its launch.
Brands' — such as Puffworks  — efforts to prevent peanut allergies have inspired other brands to develop products that offer the early introduction of other allergens. In 2015, the CDC reported that there were 4.2 million children in the US who suffer from food allergies. Much of the affected are allergic to the "Big Eight": milk, eggs, fish, shellfish, tree nuts, peanuts, wheat and soybean.
In June, Philadelphia mother, medical researcher, and engineer, Meenal Lele, launched Lil Mixins, powdered egg and peanut lines meant to be mixed into breast milk, formula and baby food.
Inspired Start, a new fruit puree designed for babies four months and older, is also playing in the allergen space beyond peanuts. The ready-to-eat, shelf stable pouches introduce eight common food allergens and is available in a step-by-step model that is one of the first to be sold in retail, as its found on the shelves of Fresh Thyme stores and independent grocers.
Inspired Start gettings its products on shelves is an impressive feat. Navigating the retail environment has proven difficult as many retailers have expressed liability concerns for stocking such products. As a result, most brands in this space utilize an e-commerce model or sell through doctors' offices. While consumer awareness about the LEAP study and the benefits of early allergen introduction is growing, National Peanut Board marketing and communications manager Lauren Highfill Williams told NOSH that she thinks these new brands only help in the mission to prevent allergies.
"I think anyone who wants to be in this space and is doing it in an educated way is definitely a benefit," Highfill Williamss said. "The more that we can get awareness out there, the more products that are out there, that is definitely going to help us take the right steps in preventing peanut allergy for this next generation."
Still, she noted there is a long way to go in negating the fear many parents feel when it comes to allergens. Earlier this year, the National Peanut Board launched a campaign targeted directly to parents to help them understand the new guidelines and showcase parent testimonials to help make people more comfortable with this notion. The campaign has also partnered with celebrities like Jane the Virgin actor Jason Baldoni to appeal to parents about these shared experiences.
"It's a multi-tiered, multi-year approach because this is a dramatic change for people to get adjusted to," Highfill Williams said. "Retail partnerships and retail education is definitely something we are looking at taking a closer look at, but one of the other things we want to emphasize too is that your standard peanut butter and peanut butter powder are products that are already on the shelves for people to buy and already in their pantries."