Pig Out Launches With Plant-Based Bacon Chips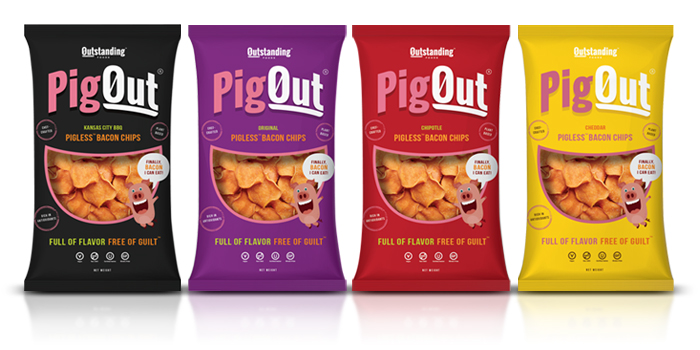 Add another player to the plant-based fray. Pig Out, a line of plant-based, pork inspired chips from two-year-old company, Outstanding Foods, launched this month. Founded by former financial executive Bill Glaser and former Hampton Creek co-founder and Beyond Meat executive Dave Anderson, the line will debut with Pigless Bacon Chips. Backing the brand is a slate of investors, including a former professional skateboarder- turned-reality star, a top podcaster, actresses and two investment groups.
Glaser says unlike bacon flavored snacks, Pig Out's chips will taste like eating a slice of crisp bacon. The chips, which come in original, BBQ, chipotle and vegan cheddar, will retail for $4.99 for a 3.5 oz. bag and will initially launch on the brand's own ecommerce platform before moving onto Thrive Market this summer. The line will hit brick-and-mortar retailers in the second half of the year.
Anderson and Glaser said that by launching in the snack aisle, they believe they'll attract more mass market consumers. While the team explored launching with other meat alternatives, such as pork rinds, bacon strips and bacon bits, the concern was that launching with a meat analog would relegate the brand to the "meat or dairy alternative" section — a category Glaser feels mass market consumers don't shop on a regular basis.
"I never wanted to have a business that just preached to the choir," Glaser said. "I wanted a business that would have an impact and make plant-based foods more accessible because they tasted great to mainstream consumers."
The chips have only a handful of ingredients — including a base of mushrooms. Anderson told NOSH that part of the reason he wanted to form his own company was to start a brand that, unlike other meat alternatives, only used clean ingredients.
To achieve these goals the brand raised $1.5 million dollars in mid 2017 — half of which came from Rob Dyrdrek, former skateboarder and creator of venture "studio" Dyrdek Machine. Also taking part in the round were actresses Emily Deschanel and Daniella Monet, Lewis Howes, the host of the podcast School of Greatness, as well as investment groups New Crop Capital and Blue Horizon.
Glaser said the goal with the round was to partner with investors who could either help get the product in front of consumers, or who had inside knowledge of the plant-based CPG space. The company is already trying to close a $2.5 million round to further support their retail launch.
The partners say they see Outstanding Foods as a platform that can support multiple brands providing plant-based chicken, beef, and dairy solutions.
Anderson and Glaser met almost a decade ago when Anderson owned and operated LA.-based restaurant Madeleine Bistro. Glaser, a regular, would drive up to an hour each way to visit the restaurant four to six times a week. Anderson later moved on to help start plant-based mayo brand Just, formerly known as Hampton Creek, and then later led product development at Beyond Meat.
The duo partnered two years ago on Outstanding Foods and decided to focus on plant-based meat-flavored snacking for their first release.
"We didn't want to be an incrementally better, new brand," Glaser said. "We wanted to really own a category."