Kite Hill Raises $40M: CEO Says Rate Limiting Factor is 'Time and Space Continuum'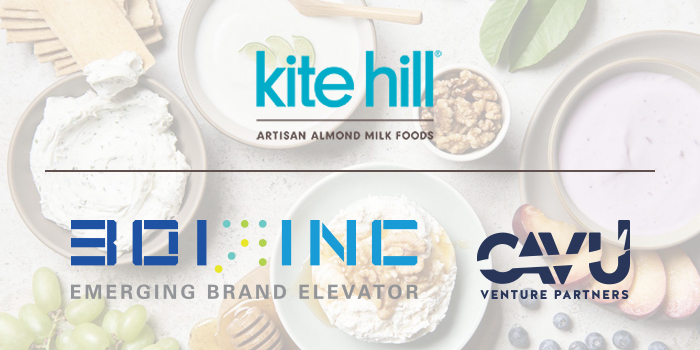 While plant-based milks are bringing in hundred of millions of dollars per year and plant-based meats such as Impossible Foods and Beyond Meat are the darlings of the burger crowd, plant-based yogurt and cheese have yet to generate the same buzz. But the CEO of plant-based dairy brand Kite Hill — and its investors — are betting that's about to change, and financed that bet with a $40 million round that will close at the end of the month.
The round was led by existing investors, including General Mills' venturing arm 301 Inc. CAVU Venture Partners, and (according to an SEC filing) Whole Foods Market. The company — which originally spun out of Impossible Foods — previously raised $18 million from 301 Inc and CAVU.
2018 has proved to be a year of transformation — at least on the executive team — for Kite Hill, with the hiring of a new CEO, Rob Leibowitz, who took over in February for interim CEO — and 301 Inc. general manager — John Haugen — Since then the company has also brought on a new VP of marketing, (Shannon Toyos), SVP of sales (John Murphy), CFO (Susan McDonald), VP of operations and supply chain (Josh Franks), VP of quality assurance (Stefanie Gilbreth) and head of research and development (Stewart Townsend).
The company also temporarily pulled back on production of its drinkable yogurts, kids' yogurt tubes, and two flavors of Greek yogurts — which were all originally launched in 2017 — to focus on production of its core line and increase capacity. All products were re-released into the market late this summer.
"Every single day is a struggle to make sure that we keep our top retailers in stock on the product so that every consumer who wants it within arms reach can get to it," Leibowitz said. "It's a great problem to have when your biggest struggle is to make sure you have enough capacity to get things out the door. [I felt that] I'd rather satisfy people coming after our core business then launch some new ones."
The company, which is in thousands of stores including Whole Foods, Publix, Target, Kroger, Whole Foods, Sprouts, Safeway and Albertsons, doubled sales last year and plans to double sales again this year and next, Leibowitz said.
"2018 is a 'poised for growth year,'" Leibowitz said. "We know what the future is going to look like and we know what it needs to get done and that was capital investment, people investment. And so while we were growing, we brought in the resources to make sure we could continue on in that vector. This is a year of 'get ready, get set, go.'"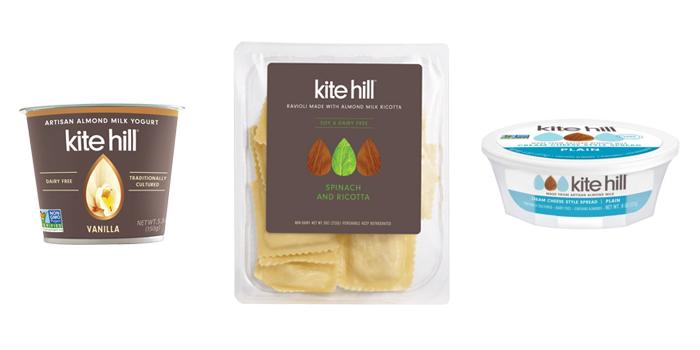 Both Leibowitz and Haugen told NOSH that the reason plant-based dairy alternatives — particularly yogurt — have yet to see the same consumer interest as plant-based milks is due to the lack of products that taste as good or have the same functional benefits as their dairy analogues. According to research firm Mintel, almond milk represents roughly 64 percent of the U.S. plant-based milk category, but almond-based yogurts — such as Kite Hill — are not seeing nearly the same growth.
Still, General Mills knows yogurt: The company counts Yoplait (and its subbrand YQ), Oui, Annie's yogurt and Liberté among its portfolio of brands. There's still room for innovation, Haugen said, adding that Greek yogurt has begun to plateau in terms of growth.
"For as much excitement as there is today with plant-based dairy in particular, you have to remember that these are still pretty early days," He said. "Kite Hill is up this year over 50 percent, but it just broke through the two percent market share barrier. If you look at plant-based within fluid milk, it's north of ten percent. So you can see there where the real growth opportunity is."
In addition to hiring and increasing capacity, part of the capital will be used for marketing, to get the word out to consumers that there is something new in the dairy case.
Innovation will also be on the docket, but more focused on the existing product set — first with new flavors and pack sizes. – As for other products in the dairy cooler, Leibowitz told NOSH that for every dairy product, there's no reason "there shouldn't be a Kite Hill version."