Key Takeaways from IRI's 'State of Snack' Report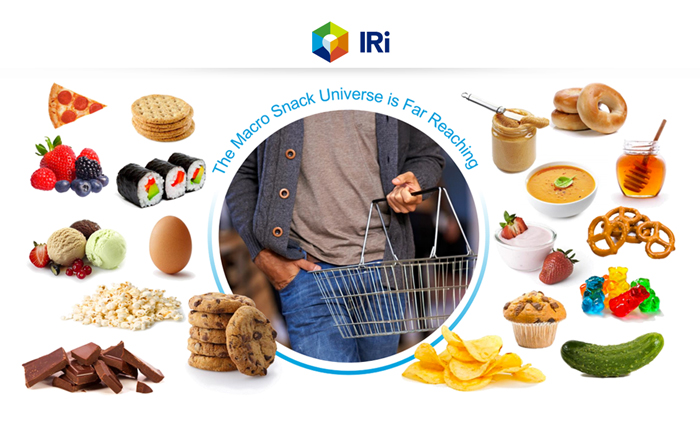 The state of the snacking industry is strong, according to consumer research group IRI.
During the webinar, "How America Eats: State of the Snack Food Industry," which was led by IRI VP and practice leader Sally Lyons Wyatt earlier this month, the group evaluated the latest growth opportunities in snacking by looking back on 2017 trends and forecasting those to come in 2018.
Here are four key takeaways from the report.
Online shopping is growing but not dominating.
E-commerce continues to thrive, as online sales increased by 27.8 percent, according to the report. This increase was widespread, as many categories — including dry fruit, granola bars and refrigerated dips — grew by double-digits.
But though business online is growing, it still has a long way to go, Lyons Wyatt noted. IRI reported that 39 percent of consumers still don't think to purchase snacks online. Furthermore, almost a quarter of consumers who have considered shopping for snacks online cited higher prices or the potential for damaged products through transport as reasons for ultimately shopping in-store.
This means that brands and retailers still need to accomodate for two distinct customer bases. As noted in other recent reports, there is value in taking a multichannel approach because it gives companies the ability to reach consumers with digital marketing and promotions to get them to buy either online or in-store.
Pay attention to packaging.
First impressions are everything, even in the natural food world. Strong packaging catches the eye and conveys the health benefits of a product — one of the top attributes consumers look for, according to the report. Lyons Watt noted that 57 percent of consumers believe that nutritional information on the package is important and half will pay more for those good nutritionals they seek out.
In terms of what brands should call out on packaging, 75 percent of consumers surveyed said they want snacks that are guaranteed fresh, 58 percent want snacks containing vitamins and minerals, 57 percent want snacks made with natural ingredients and 44 percent want snacks made with whole grains.
"[Packaging] is your last billboard to your consumer," Lyons Wyatt said. "Communicate your differentiations, communicate your benefits. Put on the packaging the nutritional components in the front; do the things consumers are saying makes a difference and you will continue to win with them."
Convenience is (still) king.
Consumers are increasingly seeking out on-the-go snacks to power them through their busy days. "Pack-ed" products, which IRI defined as "refrigerated meat/cheese/dessert snacks," grew by 45 percent in 2017.
"[Pack-ed snacks] deliver on protein, satiety and transparency and big time on-the-go convenience," Lyons Wyatt said.
Though convenience is important across eating occasions, both meal replacement and snack bars in particular seem to be seeing a boom because they naturally lend themselves to single-serve packaging. Nutritional bars grew by 1.8 percent, sales of breakfast/cereal/snack bars increased by 0.9 percent and all other snack/granola bars, such as nut and seed bars, grew by 22.6 percent.
Lyons Wyatt also predicted a growing interest in snacks that include caffeine.
Plant-based snacks are growing.
Plant-based snacks are enjoying a rich period of growth and innovation.
Many of these products, such as bars and yogurt alternatives, often tout their protein content and natural ingredients. And while these plant-based snacks are staples of the vegan diet, they carry a wider appeal to the growing "flexitarian" consumers, too.
Take legume based snacks, for example. Beans like chickpeas are transcending their traditional categories like hummus and can now be found in everything from cookies and brownies to nut-free spreads and granola. IRI projects that sales of beans will grow by 25 percent and chickpeas by 35 percent over the next few years.