Honey Stinger Fuels R&D with Snacks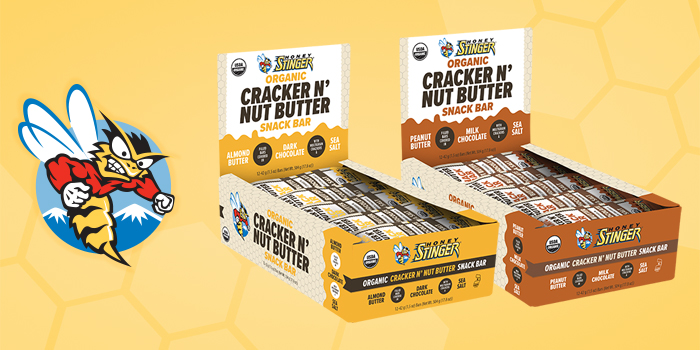 Honey-based, functional food producer Honey Stinger has always focused on providing low-glycemic, endurance products for its athletic consumers. But to go the distance with a wider range of customers, the Colorado-based company is now looking to grow its snack offerings, too.
Last month, Honey Stinger launched its Organic Cracker N' Nut Butter snack bars: a multigrain cracker mixed with honey and either peanut, almond or cashew butter, and topped with chocolate. The bars, which retail for $26.40 per 12-pack, also feature a new brand identity.
Honey Stinger was born in 2002 by parent company EN-R-G Foods, Inc. with the goal of making high quality, natural, honey-based "energy foods." The father of one of EN-R-G Foods founders, Bill Gamber Sr., owns and operates Dutch Gold — one of the largest family owned honey companies in the U.S. — and sits on Honey Stinger's board.
Honey Stinger's entire portfolio includes performance oriented products such as energy gels, chews and protein bars as well as honey-based waffles. Their products can be found in more than 10,000 retailers such as Whole Foods Market, REI, Murdoch's and Natural Grocers.
According to the company, since the snack bar's launch about half of those stores have either picked up or are in the process of signing on the new line — which is currently sold online.
"As Honey Stinger's first 'not-so-guilty pleasure' snack, our new [bar] combines all the best ingredients into one delicious bar," Bill Gamber Jr., Honey Stinger co-founder and CEO, told NOSH. "We are confident that our loyal customers and newcomers alike will love their great taste and crunchy texture."
The brand was inspired to expand its snack offerings after seeing success with its waffles, which launched in 2010. Overall the company's waffle business has seen double digit growth each year for the past four years, with the help of added flavors, gluten free options and expanded distribution. Co-founder and marketing head of Honey Stinger Len Zanni, said the company wanted to go deeper in this more indulgent space to reach more natural food shoppers without alienating their current customers. In early product testing with the brand's loyal brand advocates and athletes, referred to as "The Hive," the bar received highly favorable reviews, Zanni said.
"Snack foods appeal to a wide variety of customers from the performance athlete to the parent shopping for good lunchbox items for their kid," he said. "When everybody loves them across that kind of spectrum we feel like we are onto something."
According the brand's research, Honey Stinger's current core customers are extreme sport or endurance athletes, hikers, outdoor enthusiasts and weekend warriors. As a result, much of the company's distribution strategy thus far has focused more on outdoor channels rather than just grocery. Zanni said he hopes the new line will help open doors to more natural retailers and grocers, where not only their current, active customers are shopping, but also a wider audience of shoppers looking for more naturally sweetened products. Good nutrition panels for many mean no or low sugar claims. According to research from Nielsen, products making low glycemic claims grew nine percent in the last year, with consumers choosing products using natural sweeteners over other alternative sweeteners.
"We still believe there is a lot of room to grow in those sport and outdoor categories," Zanni said. "But there is certainly a crossover to natural foods and larger grocery, especially in markets that is pretty well inclusive of our demographic who embraces an active lifestyle and is looking for good nutrition panels."