Hershey's Game Plan for Winning in E-Commerce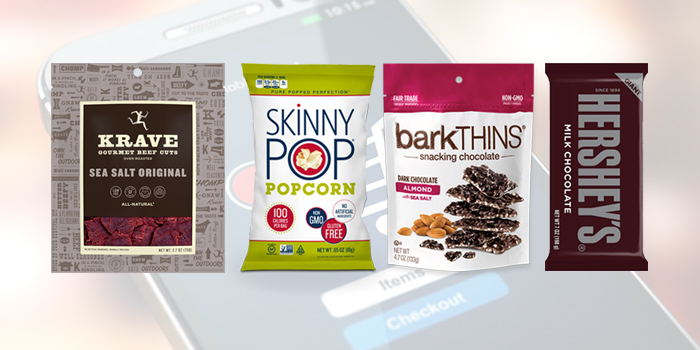 In March 2017, Hershey CEO Michele Buck announced her vision for the confectionary powerhouse to grow into a broader snacking company. Already, it had acquired Krave jerky and Bark Thins, and later that year would add Amplify Snack Brands.
But one more key transformation was clearly necessary at the time of the announcement — aside from innovation and acquisition, the company needed to revamp its approach to digital commerce. A year later, the company says it has made some strides in the e-comm discipline.
During the company's annual Analyst Event last week, Buck, along with Doug Straton, the company's chief digital commerce officer, showed attendees why they think the company is positioning itself to become a leader in the e-commerce space — and what other brands can learn from its transformation to a digital-first operation. Here are four ways Hershey's is transforming how it thinks about e-commerce and online marketing.
Find opportunities to (natch!) "think differently."
For Hershey's, thinking differently started with culture and team. Straton said it has restructured its departments so that digital-focused employees have been integrated directly into the company's sales and marketing sectors, creating cross-functional business units. Straton explained that the shift allows teams to rapidly execute projects faster than a traditional "downstream" approach would and builds a culture grounded in data.
Other consumer-facing strategies are being re-evaluated as well. While Hershey's products have traditionally been sold individually at retail, selling online offers the opportunity to sell larger quantities. As a result, earlier this year the company launched online-only value packs. The pack, Straton said, has seen greater repeat purchases, largely in part because 80 percent of all online orders are sourced from "favorites" or previous shopping trip lists.
"There is a big piece of winning here that is us taking the core capabilities that have created an advantage for us in the marketplace to date," said Buck, "and being able to leverage them in the digital world."
Bridge the gap between on and offline.
When it comes to retail, Hershey no longer sees a separation between online and offline shopping. By creating a seamless transition between all platforms, Buck said, people spend six times more money than they do during their normal shopping trips.
Half of all U.S. retail sales, digital and in-store, are digitally influenced in some way — at the least, through online research. To capitalize on this, Hershey's is now investing more in online marketing tactics such as SEO and digital advertisements.
"Think about customer partnership and category management," Buck said. "If you think about this space, many of those things are applicable. There is still a shelf to be managed — it's not only a digital shelf in a physical world, but it's a digital shelf of what you see when you look at the screen."
To get more share of the rapidly expanding e-commerce market, there's a need to provide customers with an experience online that's as true and consistent as possible to the product they choose at the physical store shelf. Because customers are searching for these products differently between the platforms, brands like Hershey's are focusing on not only product categorization — the aisle is not the only "filter" anymore — but also categories like price, certifications, diet attributes and size that could affect where it's placed on a digital shelf.
Reimagine the impulse buy.
Impulse buying manifests itself online in a different way. Click-and-collect is a huge opportunity for brands selling products generally considered impulse items, Straton said. While click-and-collect may seem like a small channel, with just under 10 percent of the population currently using it, that's nearly the size of the drug channel, according to Straton.
One downside to the click-and-collect shopping method is that a quarter of shoppers have cut back on snack purchases because they are able to avoid checkout lines. To better target those consumers, Hershey's said it's developing digital and text prompts for add-ons, like a single Hershey's bar, both during checkout and before the customer picks up the order.
Other potentially helpful prompts and value-added reminders Hershey's is testing with retailers includes reorder reminders, subscription services, and even a "recipe-to-basket" program, which cross references a customer's basket and Hershey's recipe database to let customers know what items they could add to their order to make a recipe at home.
"We are not ignoring impulse, but we can't think of it in the same way," Straton said. "Behaviors are different so we need to interrupt in a way that simplifies things or is not so in-your-face."
Create content to meet data demands.
While most of Hershey's communication with customers comes via a retailer, the company said there is also great value in speaking to consumers directly. That's why over the next year, Hershey's will be focusing on bolstering its original content and library of recipes in order to build a community of shoppers, according to Straton.
In addition to building customer loyalty, getting customers to visit Hershey's website directly arms the company with another tool to succeed in e-commerce: immediate and direct information about their customers.
"Data acquisition and developing relationships with people are the lifeblood of businesses and from this standpoint we think we can win with our iconic brands," Straton said. "Then you get smarter campaigns, sales lifts and returns on investments."