At Expo West, Unilever Sows Seeds In Snacks & Sustainability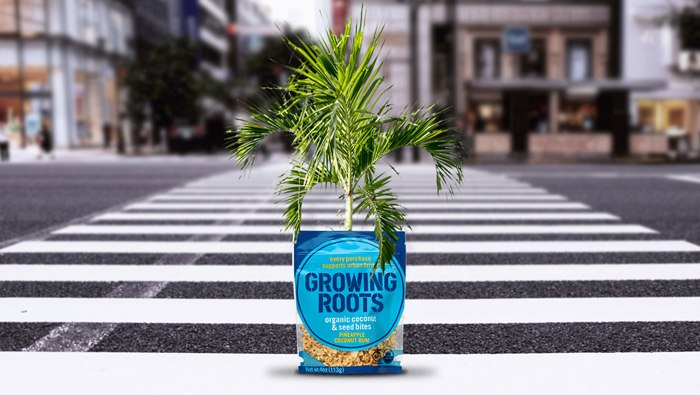 Young, emerging brands dominated the North Hall at Natural Products Expo West 2018 butt amidst the sea of new companies, there was a CPG giant: Unilever, which took its place among the early stage companies for the debut of a new organic snack brand, Growing Roots.
The line of plant-based bites and clusters, which launched on ShopRite shelves this month ahead of a nationwide rollout later this year, comes in four exotic flavors: cocoa chipotle, pineapple coconut rum, maple bourbon and coconut curry. Each 4 oz. package will retail for $3.99.
Marketing director Ryu Yokoi oversees the Foods Transformation Agenda for Unilever North America. He told NOSH that the line was inspired by the company's mission of supporting urban health initiatives.
"Our mission in Foods is around what we call sustainable nutrition. We want to sell food that tastes good, does good and doesn't cost the Earth," Yokoi said. "There are a lot of [companies] that do [Corporate social responsibility] (CSR) but we really believe and are committed to this idea of a sustainable living company and that we should build sustainable business models that can drive products that really have purpose at their core."
In 2016, Unilever dedicated $4.1 million — a sum the company said at the time was the "most significant commitment from an individual corporate entity in New York history" — to support six urban farms in New York City Housing Authority developments. The donation was made as part of a public-private partnership with New York's Building Healthy Communities program and nonprofit Green City Force. In addition, Unilever employees have since committed thousands of hours to help build five of the six gardens in locations ranging from the Bronx to Staten Island to Red Hook, Brooklyn.
Last year, Yokoi was tasked with creating a line of products, which became Growing Roots, that aligned with the program goals as a way of strengthening the relationship. Fifty percent of proceeds from the new line will go towards scaling Unilever's work with urban gardening associations around the country.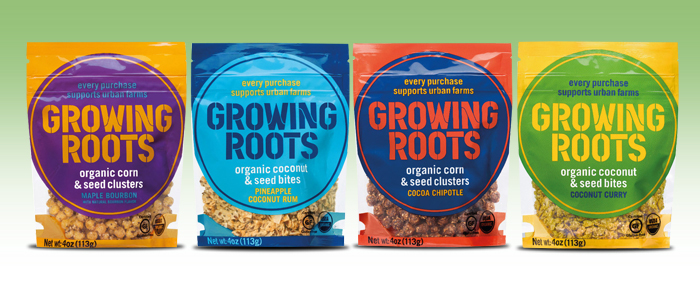 In developing Growing Roots, Yokoi and his team drew from a key gardening element: seeds. After testing multiple categories, they decided snacks had won out on flavor, taste and consumer appeal.
To identify the target consumer for Growing Roots, Unilever used psychographics, a form of market research that classifies groups based on psychological criteria. From the packaging — which features the stencils used on garden sheds — to certifications, including vegan and organic, Yokoi said the line is designed to speak to "foodies" who want to "vote with their wallets."
That choice led the team to embrace a unique, global flavor profile for the line. Yokoi said he wanted to "swing for the fences" because Unilever research showed that socially conscious consumers want a product that is an "experience" to eat.
On a more basic level, the flavors also serve to differentiate Growing Roots from its competitors.
"I wanted every bag, when you opened it, to really hit you with something interesting and different," Yokoi told NOSH. "If we're going to win it's going to be because people with [this civic] mindset hear about us and we've tried to design to appeal with them for a flavor standpoint that they'll stick with us."
The launch at Expo West comes as Unilever has committed to wider a "Sustainable Living Plan" (USLP). By 2020, the program aims to help more than a billion people take action to improve their health, halve the environmental impact of Unilever products and enhance the livelihood of millions of people. As of 2018, the company has stated, its sustainable living brands are growing 50 percent faster than the rest of the business and delivered more than 60 percent of the company's growth in 2016.
As the leader of the Foods Transformation agenda, Yokoi himself has been tasked with reshaping Unilever's category portfolio with food products that taste great, benefit communities and are sustainably sourced.
While Growing Roots is just one part of USLP and the company's portfolio, Yokoi says, if successful, the brand could easily translate to other categories. All products in the portfolio would likely be plant-based and organic.
"This is our proof of concept," he said. "Our hope is that when we're [at Expo West] next year, we can talk to you about all of our other products."