Dean Foods Acquires Majority Share of Good Karma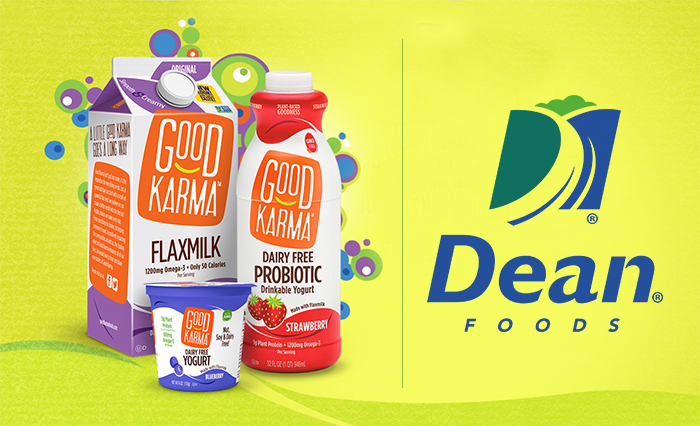 Dean Foods Company announced today that it has increased its ownership percentage and taken a majority stake in flax-based dairy brand Good Karma. The company previously acquired a minority share of the Good Karma brand in May 2017.
Good Karma will continue to operate out of its Boulder, Colo., headquarters as an independent company led by its current leadership team. Previous Good Karma investor, 2x Consumer Products Growth Partners, will also continue to be a "material investor" in the brand, according to Dean Foods.
The possibility of a deal became apparent earlier this year when Dean Foods CEO Ralph Scozzafava told Bloomberg that the company was considering acquiring a majority stake in the brand and would be making that decision within the "next few months."
Dean Foods, one of the largest dairy companies in the U.S., has increasingly looked to diversify its portfolio beyond cow's milk products and position itself further into the natural food space. In 2016, the company announced a joint venture with Organic Valley Dairy to distribute its products and in 2017 the company acquired Uncle Matt's Organic, an organic juice brand.
"Diversification to higher-growth, on-trend products is a key focus for Dean Foods," Scozzafava said in a statement. "Our investment in Good Karma is just one example of how we are executing against one of the major pillars of our strategic plan to build and buy strong brands."
Good Karma has also worked to increase its portfolio over the last five years. Previously a private label producer of non-dairy milk, the company switched to become a branded CPG company in 2014. In the same year, it brought on CEO Doug Radi, a veteran of Rudi's, Horizon Organic and WhiteWave Foods. Under Radi, the company added flax milk yogurts in 2016 and then in late 2017 added three shelf stable ready-to-drink (RTD) formats of a new flax milk and protein beverage.
For Dean Foods, the investment has acted as a return to the plant-based space. Almost 10 years ago, Dean Foods sold plant-based protein brand Morningstar and spun off its WhiteWave division, which included soy milk brand Silk.
In turn, for Good Karma, the relationship with Dean Foods allowed the company to expand its distribution both across the U.S. as well as into more conventional retailers. Radi said in a statement that the further investment will only accelerate that growth.
"We are excited about how this partnership continues to give us the opportunity to advance our mission of inspiring goodness by making our flax-based non-dairy beverages and yogurts more accessible across the U.S," Radi said. "Through this partnership, we believe we're better positioned to support families looking for plant-based options that are free of allergens."
Sharon Kieffer, managing partner of 2x Consumer Products Growth Partners, said the company was excited to have Dean Foods help Good Karma grow its distribution and help with brand building and product innovation.
"As an investment partner focused on emerging consumer products businesses, we saw the potential in Good Karma several years ago due to its category-leading fast growth and high levels of differentiation set against other plant-based brands," she said. "We are excited to have Dean Foods as a now even larger investor and distribution partner supporting Good Karma."