Daily Harvest "Experiments" with New Products and Retail Concept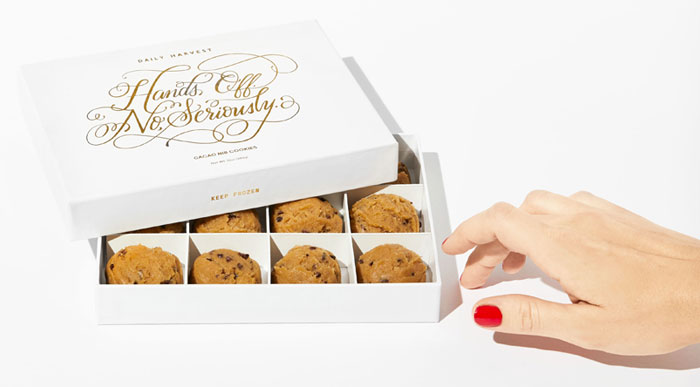 Daily Harvest is breaking out of the cup.
Last week, the direct-to-consumer brand launched its first product not sold in its traditional cup format and the first to not require a subscription to the service. In addition, this week the brand opens The Refueling Station, an interactive retail space.
The first of these "experiments," as founder and CEO Rachel Drori has dubbed them, are frozen cookies. Shipped in boxes with witty slogans such as "get your own, these are mine," the cookies are available in chocolate chia, cacao nib and coconut lemon. Customers can purchase three boxes of 12 cookies for $48 (with shipping included) and unlike Daily Harvest's other products (which include smoothie, lattes, soups and overnight oats) no subscription to the meal service is required.
Though they can be eaten raw, the cookies are Daily Harvest's first product to require an oven.
While Drori had been planning a cookie product for two years, she told NOSH that the company decided to bring them to market after high customer demand. Daily Harvest plans to to sell the cookies through the holidays, and, depending on performance, will consider adding them on a permanent basis.
"The way we've thought about our collections and what we put out into the world is really from customer need. We co-create everything that we do with our customers," Drori told NOSH. "We're saying 'Our customers come first. This is something you really wanted and we're going to find a way to put it out into the world and see what happens.'"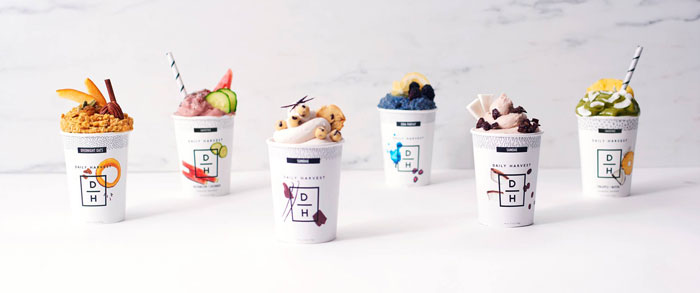 Experimenting, Drori said, is standard practice for Daily Harvest, which boasts an average eight week innovation cycle. However, she added, that experimentation has to be grounded in customer feedback and insights, which is part of the thinking behind the upcoming launch of a temporary pop-up store called The Refueling Station in New York City this week.
The store concept and aesthetic is inspired by gas stations, which is where Drori says many consumers look for convenient, easy-to-prepare foods. Anyone can visit the store for free and try samples of Daily Harvest products. Consumers can also purchase single cups exclusively at the store. Drori said that the store will serve to heighten brand awareness and help Daily Harvest shape future innovation strategy.
"We want to stand up IRL [In real life] alongside our customers in a scaled way different then just bringing a customer into our office. We want to talk to our customers in an offline environment and understand how they want to interact with Daily Harvest," Drori said. "It's not about creating Instagram fodder. It's about how do [consumers] experience the brand. We can tell them that we are solving this modern eating dilemma, but instead we've turned the gas station on its head to tell our brand story."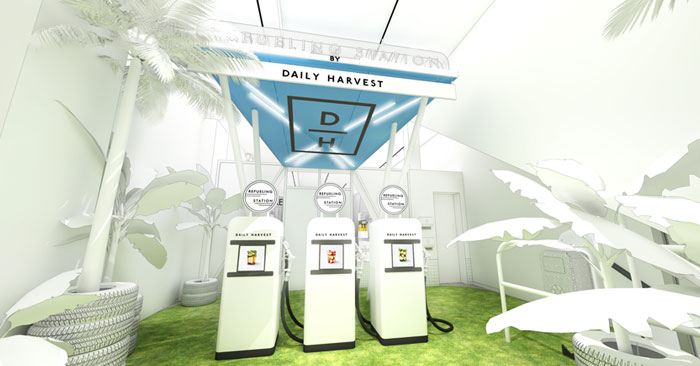 While some might look at these experiments and wonder if Daily Harvest is reacting to increased competition in the smoothie cup space, Drori told NOSH that the plan for Daily Harvest was always to offer a variety of convenient, healthy frozen "food solutions." She added that experiences such as the Refueling Station deepen the relationships the company has with its shoppers — something its competitors can't replicate.
"When you've got the bull by the horns and an audience that's really excited about what you are doing, people are going to copy you. But it's all in the execution. It's all in the emotional connection," Drori said. "We're going to keep our heads down and continue to deliver what we do best which is incredible food for our customers so they feel taken care of and that we're letting them live their busy lives."