Copper Cow Closes Multi-Million Dollar Round To Expand Sales Channels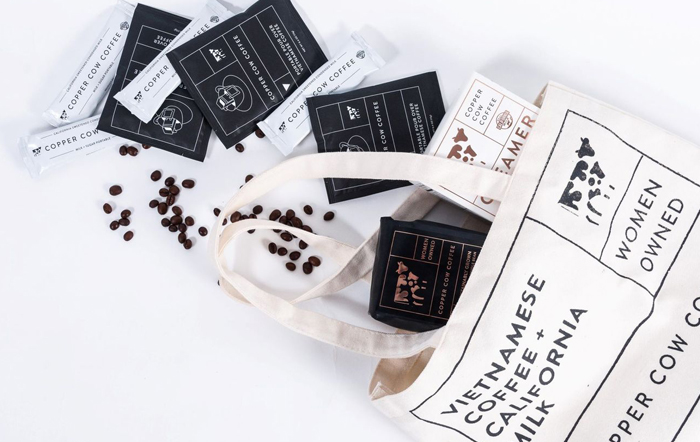 Vietnamese-inspired coffee brand Copper Cow Coffee today announced the close of a $2 million round of funding today. The round was led by Silverton Partners, which contributed half of the capital, with CRCM Ventures, Montage Ventures, AmplifyHer Ventures and Social Starts also taking part.
Copper Cow previously raised $1 million from friends and family, angel investors and from its participation in accelerator program 500 Startups. The 18 month-old brand has seen fast growth, scaling to 3,000 stores since its inception in 2016.
Founder and CEO Debbie Wei Mullin told NOSH that the capital is necessary to scale the brand's e-commerce and office sales. As a result of this focus, Mullin said she chose to seek investment from firms with strong backgrounds in e-commerce and technology rather then traditional CPG venture groups.
Copper Cow's core SKUs — a Vietnamese coffee kit, available with or without condensed milk — both involve a single use, biodegradable pour over filter that is prefilled with sustainably sourced Vietnamese coffee. The brand also produces a Thai iced tea kit in partnership with Tea Drops.
Wei Mullin told NOSH that the brand's coffee aims to deliver consumers the convenience and portability of instant coffee with superior taste and on-trend pour over experience. Additionally, she added, Copper Cow's light weight gives the brand an advantage in e-commerce over ready-to-drink options, which naturally incur higher shipping costs.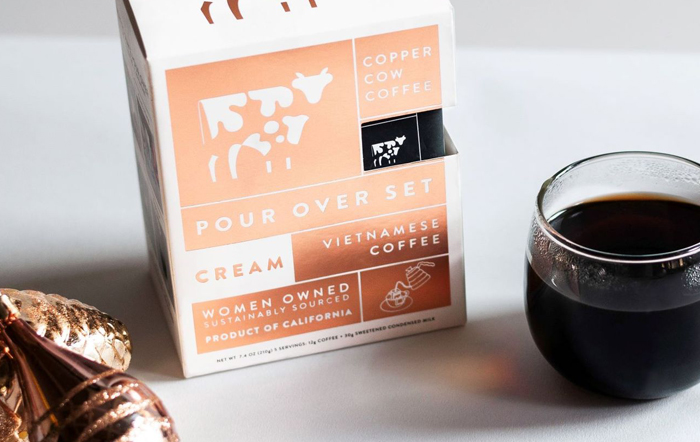 In addition to online, Wei Mullin also plans to explore coffee subscriptions for offices. Two of the brand's largest clients currently include tech companies Lyft and Masterclass. For these customers, the company offers a $125 "brew station" containing 50 Vietnamese coffee pour over filters and 50 sweetened condensed milk packets packaged in a display tray.
"Office coffee is actually half of the U.S. coffee market." Wei Mullin said. "[But] I also know that my core buyer — an under 35 year-old specialty coffee drinker — is going to prefer to buy things online. They are going to want an omnichannel experience, but overall they are going to want to spend more of their dollars online rather than in-store or other channels."
Over the next year, Wei Mullin expects her online and office sales to outpace those in traditional retail channels
That's not to say retail is not a focus for the brand, which has added roughly 1,000 stores every six months. Wei Mullin says the increased consumer interest in Asian-American brands and pour over coffee has created an environment where Copper Cow's unique offering is eagerly accepted by buyers.
The brand's popularity with two core segments of shoppers — specialty coffee drinkers and Asian-American consumers — has provided access to retailers that range from Williams-Sonoma and Cost Plus World Market to Walmart, with the latter adding Copper Cow to its "Asian" grocery set in over one thousand stores since September.
"Asian-Americans are one of the highest growing income demographics in the U.S. and have the highest growth in terms of their consumption power," Wei Mullin said. "So people shopping in the Asian section are either going to be an Asian-American, who for for Walmart shopper is going to have a higher price point that they are willing to spend, as well as what I'll call an 'Asian enthusiast,' who tend to be more traveled and tend to be more savvy about understanding the quality of ingredients and are going to be willing to spend more for a better quality product."