CircleUp Partners with Retailers on Product Discovery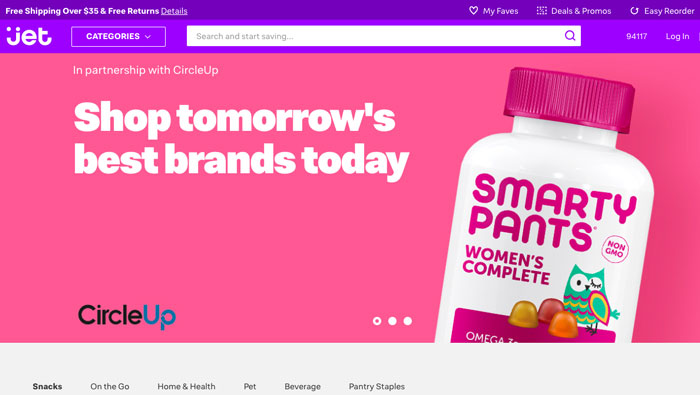 Helio is moonlighting.
The proprietary machine learning investment algorithm developed by CircleUp to identify potential investment targets has a new part-time gig. It's been farmed out over the past year to a set of retailers to help them stock shelves with undiscovered but potentially worthy products.
In 2017 the company quietly rolled out several partnerships with retailers, including most recently Jet.com, to help, in a quantifiable way, discover what products should be on shelf.
"Given the ecosystem, we know there is a real pain point around discoverability, sourcing in early stage consumer," Jon Scherr, head of strategic partnerships at CircleUp, told NOSH. "Whether its in retail, in merchandising or distributors, the reality is early stage consumer products is a fairly fragmented space."
Currently the program has roughly seven retailers involved, ranging from Jet.com, to unnamed grocery stores coffee chain. Beyond Jet.com, where CircleUp has a dedicated "aisle" to highlight "tomorrow's best brands," the company also works with Amazon.com as well as Bed, Bath and Beyond.
Scherr said that the company maintains objectivity when assisting retailers and has no loyalty to brands that also take part in investment or loan offerings. Helio simply identifies the best brands and CircleUp passes them along. Currently the algorithm is monitoring over a million brands, so the pool is deep.
He believes that the algorithm will put brands on a more equal playing field. For example, Scherr said, the process gives brands who are in less geographically advantageous locations — i.e. not major metropolitans known for natural food communities — the potential to shine. A brand in Wichita, Kansas has just as much potential as the one in Boulder, Colo. he said.
Instead what matters is the data points Helio is monitoring. While this does include sales, other elements such as founders, investment, packaging, nutrition facts and more all play a role.
The relationship with each retailer varies. Some have approached CircleUp for very specific categories, such as functional beverages, while others are "less surgical," Scherr said, and simply want to know in general who to approach. That's especially the case with online retailers who have "endless aisles," he added.
Retailers agree that they don't want to lose consumers for lack of a unique brand.
"We are constantly looking at ways to integrate into our consumer's lives and enhance their shopping experience – both through a premium assortment of brands as well as through more personalized and curated experiences," Katie Daleo, Director, Retail Marketing at Jet.com, told NOSH. "Consumers come to Jet to get their everyday essentials, but also expect to find cool, unique and emerging brands that are up and coming. We have a dedicated strategy behind helping consumers discover these brands, and CircleUp's Helio technology helps us put forward a selection of them."
Discovering new brands has been a focus for numerous retailers over the past year but how each has gone about that process varies. Kroger recently launched a new portal and symposium series to find emerging natural and local brands; meanwhile, Efficient Collaborative Retail Marketing (ECRM), which connects buyers and brands through 1-on-1 meetings, acquired RangeMe, a software that allows buyers to discover new CPG products. RangeMe is currently used by retailers including Target, Whole Foods, Albertsons, Jet.com and most recently, GNC.
Despite Helio's side gig with retailers, Scherr said that CircleUp will stay the course with a business model centered around financial services. Nevertheless, the CircleUp team realized that many of the same features already built into Helio for investing purposes would lend themselves to the inbound requests they were receiving from retailers.
It also will further help develop Helio's own modeling as any success, or failure, in retail can be fed back into the algorithm.
"Essentially what we're trying to do is go from building predictive modeling, essentially saying that 'this is the company you should put a dollar behind' to prescriptive analytics, which is essentially helping brands and other partners in the ecosystem prescribe how to win. What that means is understanding not just what brand is going to be a breakout, but for a brand in a particular category, at a particular stage, what's the sequence of distribution, for example." Scherr said. "A lot of the work that we're doing now… is to get to a point where we can look at packaging differentiation, ingredient differentiation and correlate that against the growth of a business."