The Checkout: Sweet Natural Trading Targets Sugar with Latest E-Comm Play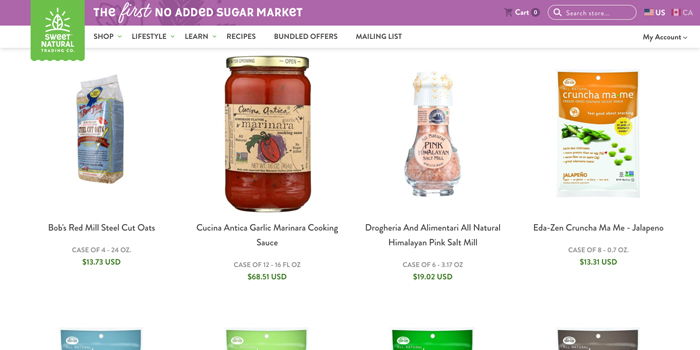 Welcome to The Checkout: an express lane for weekly news you need to know, always 10 items or less.
Success in the food industry is about serving customers; giving them what they want when they want it — and cutting what they don't. That was the theme for much of this week's news from brands, retailers and government agencies alike.
From a new online marketplace built around no-added sugar products, to retailers working to make their stores more accessible, here are some of this week's top stories that you should know.
Sweet Natural Trading Launches No-Added Sugar E-Commerce Market
Almost half of consumers strongly want to reduce their sugar consumption, according to a white paper recently published by Kerry. Natural sweetener producer Sweet Natural Trading Company is looking to capitalize on this consumer concern with the launch of its own digital marketplace for items with no-added sugar, aspartame or sucralose.
The market, which launched this week, sells Sweet Natural's own line of all natural sweeteners as well as third-party branded items that fit the company's ethos.
"The motivation there was if we really want to make a dent in obesity and diabetes than we have to go beyond tabletop sweeteners," Sweet Natural Trading CEO Steven Haasz told NOSH. "Personally at home, we probably buy our sweeteners every six months; it's not a high velocity turning item, but when you go into the pantry at home there are all those snacks and so many other products that people are consuming that we have to look at to make a difference."
Sweet Natural Trading was launched in Ontario, Canada, 10 years ago under the name Xylitol Canada Inc. In 2017, the company received capital from a group of investors including Haasz and, under his leadership, underwent a rebrand and mission overhaul to focus on disrupting refined, added sugar consumption and reducing lifestyle diseases.
The new digital marketplace will also collect consumer data that will be used to shape Sweet Natural Trading's innovation pipeline. The company is already working to expand beyond sweeteners with a relaunch of its confectionary line of gums, mints and hard candies in 2019.
"What I'm hoping, as we start to focus on marketing the marketplace, is that we will have enough data to see what people are buying," he said. "If we do want to expand out categories, what other products can we put under our own brand? I think the site will give us a good indication on some of those behaviors."
FDA Launches New Export Certification Program for Food
The Food and Drug Administration (FDA) just made it easier for U.S. food companies to trade with foreign partners. FDA Commissioner Scott Gottlieb announced today a new export certification program for certain FDA-regulated food products that gives U.S. exporters another tool to facilitate business with countries that import American food products.
In 1996, Congress passed a law allowing any person who exports a drug, animal drug or device to request the FDA certify in writing that the exported product meets certain requirements. However, the provision did not include FDA-regulated foods. When Congress passed the FDA Food Safety Modernization Act (FSMA) in 2011, foods were added to the list. The FDA's new certification implements the FSMA amendment.
"While American food standards are among the most stringent in the world, the FDA recognizes that some U.S. trading partners seek additional assurance that imported food products are produced under applicable requirements, and may request specific language or product information on export certificates," Gottlieb said in a statement. "The new export certification program will continue the FDA's efforts to help facilitate American global exports and boost our nation's economy."
The certification comes at a time when many farmers and food producers have been feeling the strains of the Trump administration's ongoing tariff war with major trade partners including Canada, China, the European Union and Turkey. This new system may encourage trade and guarantee the quality of U.S. goods during a time when international business is becoming slower and more expensive due to politics.
Cave Shake Releases Snack Bars
Cave Shake is making its first foray into the food space. This week the ketogenic meal replacement brand released a line of Coconut Pecan Collagen refrigerated bars. One Cave Bar contains 130 calories, medium chain triglyceride (MCT) oil, and 8 grams of sugar. It is available in two-packs on the company's website for $4.99 and will debut in retail accounts later this year.
According to Cave Shake CEO Holly Heath, the line has been received positively in test runs and is intended to offer keto, paleo, and low-carb consumers a grab-and-go snack option. The bar is also the company's first product to contain collagen.
"Keto is honestly very easy if you're someone who has access to a stove, fresh produce, and meats everyday, but as business owners we're running around like crazy," Heath said. "The whole idea behind the bars was to add another product we could enjoy ourselves."
Cave Shake is not the first beverage brand to diversify its product offerings by entering the bar category. In 2017, probiotic shot company GoodBelly secured a licensing agreement with General Mills to produce and sell a line of branded bars.
Retailers Promote Store Accessibility
Three retailers are trying to make their stores more accessible and customer-friendly in different ways.
North Carolina-based Food Lion announced on Wednesday the completion of its $168 million remodeling project of 105 area stores. The locations now feature new signage and product groupings to make locating items easier, a more efficient checkout process, expanded product offerings, and walk-in garden coolers to keep produce fresher longer. The capital investment was also used to hire 4,000 additional employees and support community initiatives.
Later in the week, Kroger announced plans to expand its partnership with grocery delivery service Instacart by 75 additional stores by late October, doubling its current capacity.
Wegman's tackled accessibility in a different way: The Rochester, New York-based retailer became the first grocer to offer technology to help visually impaired customers navigate its Northeast stores. Wegman's partnered with Aira, a mobile app that connects blind and low-vision shoppers with a remote agent who, through the customer's smartphone camera, can assist shoppers in navigating the store and and finding items, according to Winsight Grocery Business.
FDA Commissioner Gottlieb: California's Cancer Warning on Coffee Misleads Consumers
FDA Commissioner Gottlieb this week said in a release "if a state law purports to require food labeling to include a false or misleading statement, the FDA may decide to step in." That time is apparently now.
Dietary guidelines published by the U.S. Department of Health and Human Services and the U.S. Department of Agriculture states that consuming three to five cups of coffee a day can be incorporated into healthy eating patterns. However, in March a California judge sided with a nonprofit organization called the Council for Education and Research on Toxics that argued that coffee contains high levels of acrylamide, a cancer-causing chemical compound produced during the roasting process. The judge then ruled that coffee falls under the state's Proposition 65, which requires that certain products contain cancer warnings if they will expose consumers to chemicals that California health authorities have identified as causing cancer.
In a release published earlier this week, Gottlieb said coffee should be exempt from Proposition 65, referring to numerous studies that have found moderate coffee consumption is not associated with an increased risk of major chronic diseases.
"Such a warning could mislead consumers to believe that drinking coffee could be dangerous to their health when it actually could provide health benefits," Gottlieb said. "Misleading labeling on food violates the Federal Food, Drug, and Cosmetic Act. No state law can require food to bear a warning that violates federal law."
BevNET reporter Brad Avery contributed to additional reporting for this article.