The Checkout: Campbell Soup CEO Steps Down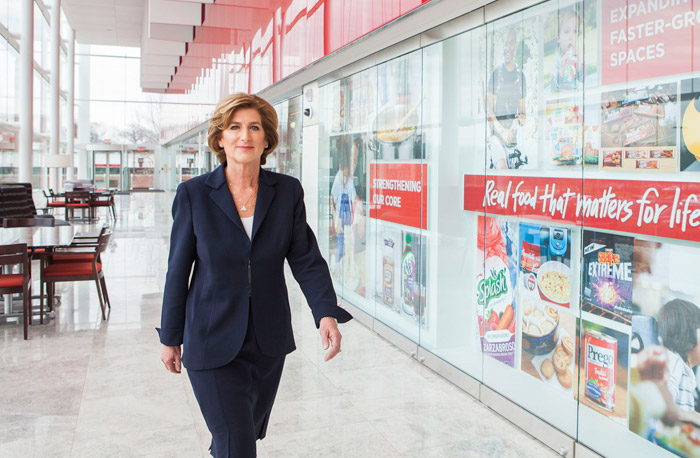 Welcome to The Checkout: an express lane for weekly news you need to know, always 10 items or less.
Players big and small are trying to evolve to meet changing consumer tastes and desires. To do so, however, some are shaking things up. From leadership changes at Campbell's to cookie rebrands and innovation announcements, here's this week's top natural food news.
Denise Morrison Retires As Campbell's CEO
Campbell Soup Company CEO Denise Morrison announced today that she will be retiring from the the soup and snack food conglomerate — effective immediately. She is stepping down as the company launches a strategic review in order to attempt to revive sales that have been under pressure thanks to changes in consumers' taste and needs.
Morrison has been CEO since 2011. Keith McLoughlin, a board member since 2016, will step in as interim CEO while the search the food giant's next leader commences. In her tenure, the company focused on positioning itself as a stronger player in the better-for-you and snack categories, but has since seen declining soup, fresh food and juice sales. As of last Friday, the company was hit with lower-than-expected quarterly earnings again. It lowered its earnings projections for the year, in part , the company said, due to the acquisition of the snack company Snyder's-Lance Inc. in December 2017.
The leadership change comes shortly after Campbell's announced a "strategic reorganization" in April, which named a new president for its struggling Campbell Fresh division, which includes brands such as Bolthouse Farms and Garden Fresh Gourmet, and its U.S. refrigerated soup business. The new structure also puts Campbell's core business operations — including soup, simple meals, shelf-stable beverages and snacks — under the leadership of Luca Mignini, who was promoted from president of global biscuits and snacks to COO. In Morrison's absence, Mignini will focus on the core soup business and the integration of Snyder's Lance and Pacific Foods companies.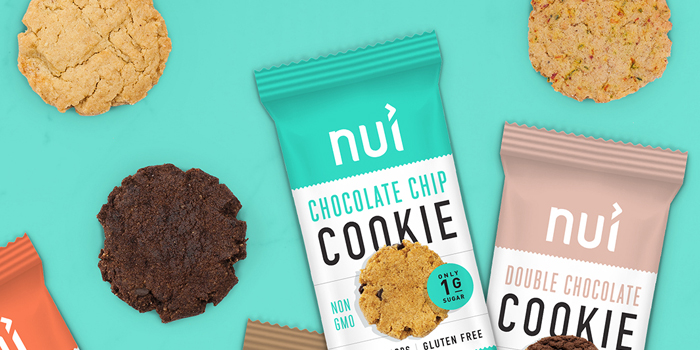 Keto Kookie Rebrands to Nui
Emerging high fat, low carb cookie brand The Keto Kookie has changed its name and look to better resonate with a larger group of consumers.
The two-year-old brand formerly known as Keto Kookie announced earlier this week that it has rebrand to Nui Foods. Cofounder Victor Macias told NOSH that though the product's formulations have no changed and still fit a ketogenic diet, the company wanted to focus its messaging on its low sugar attributes. The cookies, available in peanut butter, chocolate chip, snickerdoodle and double chocolate, are sweetened with the sugar alcohols monk fruit and erythritol.
"We asked ourselves how do we grow the message and how do we meet more people," Macias said. "So we were like, 'What if we lower the barrier to entry and just focus on the fact that it is low sugar?' You look at beverages like Bai or Coke Zero Sugar, there is a lot of opportunity and a lot of potential to impact more people if we just focus on that fact. It removes the barrier of 'what's keto?' and 'can me or my kid have this or not?'"
With the name Nui, which stands for "greatness and abundance," and its new design with brighter colors, Macias said he hopes the brand comes off as more approachable. The rebrand was funded by the company's recent kickstarter fundraising efforts.
Nui will continue to sell via its ecommerce platform, according to Macias. Before the end of 2018, the company also hopes to bring its cookies to Amazon.
Farm Bill Fails
Today, the the U.S. House of Representatives failed to pass the 2018 Farm Bill in large part due to tensions over changes in work requirements for food stamp programs and an on-the-floor gamble for unrelated immigration reform.
Less than 24 hours before the House got ready to vote on the bill, another highly debated amendment regarding subsidies and price controls for U.S. sugar farmers, was also defeated.
The amendment would have curtailed an 80-year-old industry subsidy designed to protect sugar growers and producers by setting a minimum price for sugar and offering loans to producers. The U.S. Sugar Program also places limits on foreign imports of sugar while simultaneously restricting domestic production. Big candy and food manufacturers have been calling for reform for years in order to have the flexibility to bring sugar into the U.S. without penalty.
The Alliance for Fair Sugar was created by industry leaders in March to lobby for the Sugar Policy Modernization Act. The alliance released a statement about the House's decision via Twitter on Thursday evening.
"Unfortunately, the vote count on the amendment reflects politics as usual in Washington – from backroom deals to bitter partisanship on major pieces of legislation," the coalition wrote. "We are committed to continuing this fight. Members of Congress on both sides of the aisle and a broad-based group of small, family-owned businesses and manufacturers, retailers, food and beverage companies, trade associations, [etc.] still believe American small businesses deserve a fair sugar policy that works for everyone in the supply chain – from farm to the retail shelf."
The coalition said it will continue to lobby for the amendment in the Senate.
Nestlé Adds Allergen-Free Cookie Dough Line
Allergen-free baking companies like Enjoy Life Foods have a new competitor by a familiar name: Toll House.
The Nestlé owned baking brand announced this week that it's created a Simply Delicious Morsels line made with only three ingredients: cocoa butter, cane sugar and chocolate. The morsels, available in Semi-Sweet and 67 percent Dark Chocolate, are free of the eight major food allergens, as well as free-from preservatives, artificial flavors and colors. The new line will sell for $4.99 and is expected to hit shelves nationwide in June, according to the company.
"We believe the exceptional taste of Nestlé Toll House should be enjoyed and shared by everyone," Haig Basmadjian, marketing director for Toll House, said via a release. "Simply Delicious Morsels are a great option for bakers who want to feel confident that the ingredients they are using are high-quality, taste great and are safe for all."
Why the WHO Wants to Ban Trans Fats
The World Health Organization (WHO) wants to make trans fats Public Enemy No. 1 in the global food supply.
On Monday, WHO, along with the Bloomberg Philanthropies and the Gates Foundation-funded health nonprofit Resolve to Save Lives (an initiative of Vital Strategies), launched Replace, a guide to eliminating trans fat from the global food supply by 2023. This is the first time ever that global health officials have asked countries to completely remove an ingredient from all foods.
Trans fats can currently be found in cooking oils and hydrogenated oils such as those found in butter alternatives like margarine. The fates have been a topic of discussion across the industry for research connecting trans fats to health issues and heart disease. If successful, advocates for the initiative believe the 10 million lives worldwide would be saved thanks to the reduction of cardiovascular disease alone.
The news shortly preceded the Food and Drug Administration's denial today of a petition by the Grocery Manufacturers Association, which sought to continue the usage of some artificial trans fats in food.