Venice Brands Makes First Investment in Osso Good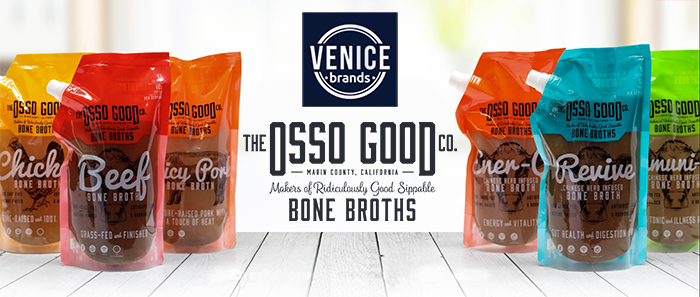 This week Venice Brands, a new consumer-focused VC fund, announced an investment in The Osso Good Company, a producer of frozen bone broths.
In addition to putting dry powder behind the bone broth company, the deal marks the first investment for Venice, which was launched in January of this year and is an offshoot of Monogram Capital.
Terms of the deal were not disclosed but Greg Willsey, Venice Brands CEO and Monogram Capital Equity Partner, told NOSH that Venice Brands typically writes checks of $1 to $5 million in exchange for 25 to 40 percent of a company.
The deal with Osso was appealing for more than just the product itself. "With this brand, I love the very high quality ingredients, the proprietary production process, and the unique and delicious flavor profiles," Willsey told NOSH. "When I look at the data it's very compelling but most of all, when you're doing this and you think about who you want to partner with, you want to partner with nice, genuine mission driven, honest people like [the founders of Osso]."
Osso Co-Founder and CFO Toran Hilmer said the feeling is mutual. He and his co-founders, husband and wife Meredith Cochran and Jazz Hilmer, appreciated that Venice was encouraging of the brand's drive to use sustainable ingredients and mission of giving back to non-profits.
Currently Osso is only sold in a half dozen retail locations and does much of its sales direct to consumer. The brand, which started in early 2015, has seen rapid growth and sold 100,000 units in 2016, according to the founders. Osso sells more traditional bone broth offerings, such as chicken or beef, but also has varieties that are "Chinese herb infused" and pull ingredients from eastern medicine.
In 2017 and 2018 the brand plans to expand into brick-and-mortar retail and embark on consumer education. Like many emerging categories, bone broth doesn't yet have a "home" in retailers, with brands being sold in meat aisles, beverage coolers, in the shelf stable broth set and in the frozen foods department. Osso helps to shore up the frozen space as a broth outpost, alongside brands like Bonafide Provisions and Bare Bones.
Hilmer said that while frozen allows the Osso to sell a fresher product, it can sometimes be hard to overcome hurdles with consumers who perceive it to be otherwise.
"It's harder to educate consumers about a frozen product. They think because it's frozen there might be additives or salt added… it's going to be a tougher road to educate the consumer about us, but we are ready to do it and Bonafide and Bare Bones are helping to start that conversation," Hilmer said. "We 100 percent want that product quality to remain and we believe the only way to do that is to remain frozen, compete there and then expand into other possible products that align with our company, possibly into a refrigerated area."
As part of its investment in brands, Venice plans to take a strong role in helping place leadership talent within their portfolio brands, refining the supply chain and assisting with distribution. Wilsey told NOSH that he estimates two thirds of Venice's deal will be "control deals" and the others they will pre-negotiate to jointly build the team.
This differs from Monogram deals, which are in later stage companies. Part of impetus to start Venice, said Willsey, was that the group was seeing interest from earlier stage brands that were too small for Monogram.
"We don't always know exactly what size some companies are when we're first talking to them. And so we've had a conversations with numerous companies that fall below Monogram's threshold," Willsey said. "We see lot of companies where the founder has caught on to something and there's a real opportunity to get in earlier, to get a greater share of the company, to help shape the strategic direction of it, to build out the team and to help them avoid a ton of pitfalls that these companies often have."
Additionally, built into Venice deals is participation rights for future funding. This creates a pipeline of possible deals for Monogram as a Venice backed brand may one day "graduate" to a Monogram portfolio company. Because Venice invests in earlier stage brands, each company requires more attention and assistance. As a result, Venice will do fewer deals per year so that it has enough bandwidth to strategically invest in each portfolio company.
In terms of the capital for each deal, unlike some other groups that use a fund model, Willsey said, Venice currently seeks strategic, value-added capital from a handful of individuals and family offices for each investment.
"I think the way we think about Venice Brands is that there's a spectrum of investing in the early stage. On one end of the extreme is where there's no real focus on curation or value addition post close. But you get a really broad portfolio of companies which can be very attractive," Willsey said. "And then on the far right is folks like us. We're much more selective, we're doing fewer investments, we want to be very involved and have an edge before we do it."